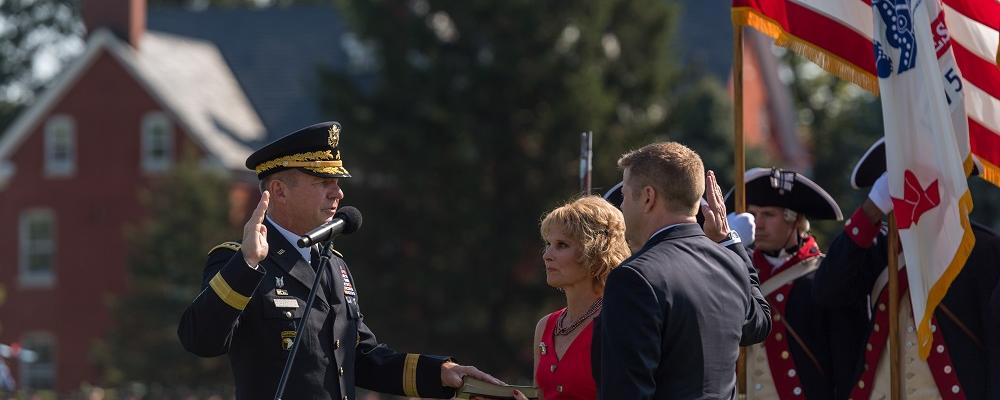 The Army has a new chief of staff and a new top priority.
While Gen. Mark A. Milley became known as the "readiness chief" as he pushed to dramatically increase the readiness of units and soldiers, his replacement as chief of staff said his focus will be on the people who make up the force.
Gen. James C. McConville, who was sworn in as the Army's new senior leader Friday outlined his priorities in a memo to the Army team.
"People are always my No. 1 priority," the general wrote. "Our Army's people are our greatest strength and our most important weapon system. Our people are our soldiers, family members, Department of the Army civilians, and soldiers for life (retirees and veterans). We must take care of our people and treat each other with dignity and respect. It is our people who will deliver on our readiness, modernization and reform efforts."
As vice chief of staff of the Army, McConville has been a central figure in efforts to introduce an improved talent management system that is being rolled out first to National Guard units. He is also the first aviator to serve as Army chief.
But a new leader doesn't mean the Army is leaving readiness behind. McConville listed readiness, modernization and reform and three other priorities.
"Army leaders have a sacred obligation to build cohesive teams that are highly trained, disciplined and fit that can win on any battlefield," he said. "Cohesive teams drive tactical to strategic readiness and enable dynamic force employment. We must be ready to defeat any adversary, anywhere, whenever called upon, under any condition."
McConville ended his message with the words "People first — winning matters — Army strong!"
Milley had served as chief of staff of the Army since 2016 and will next serve as chairman of the Joint Chiefs of Staff.
He repeatedly stressed readiness as his No. 1 priority. During his tenure, the Army increased the number of ready brigades from two to 25, introduced policies aimed at improving the percentage of the force able to be deployed, began to implement a new physical fitness test and stood up U.S. Army Futures Command to oversee its modernization priorities.
In addition to McConville, the Army also welcomed a new top NCO in Sgt. Maj. of the Army Michael A. Grinston, who formerly served as the senior enlisted leader of U.S. Army Forces Command.
In a ceremony at Joint Base Myer-Henderson Hall, Virginia, senior Army leaders praised Milley and outgoing Sgt. Maj. of the Army Daniel A. Dailey.
Acting Army Secretary Ryan D. McCarthy, who hosted the ceremony, said McConville will be charged with continuing modernization efforts while also addressing a host of personnel issues, including "sexual harassment and assault, suicide, domestic violence and more."