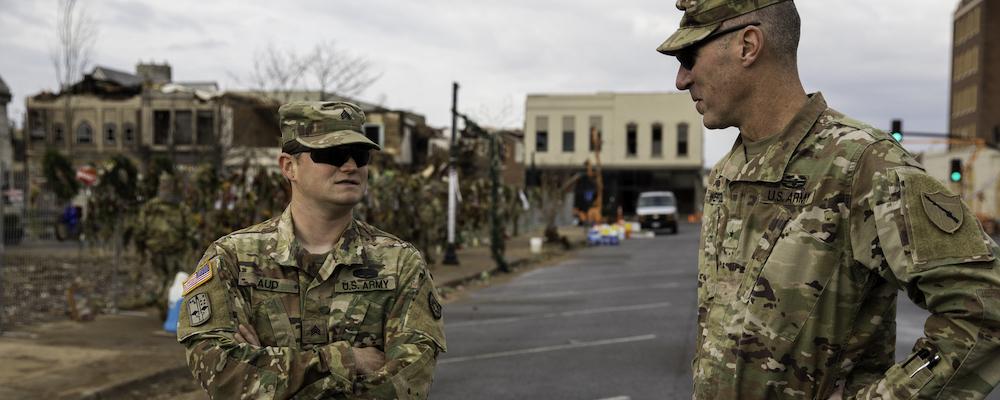 There's some good news in the annual defense policy act for members of the Army National Guard on or interested in temporary active-duty assignments.
Signed by the president last week, the fiscal 2022 National Defense Authorization Act includes a provision that expands access to the Army's Tour of Duty website, which is an online job board for individual deployment opportunities and short tours of active duty.
The specific language gives the Army a year to open ToD to service members using personal devices. Currently, it's open only to those on government networks, which limits the ability of traditional Guardsmen and Reservists to reach the site.
The provision comes from the Reservists Opportunity Act, introduced last year by Sen. Jacky Rosen, D-Nevada, and Sen. Joni Ernst, R-Iowa, in the Senate and Rep. Tim Ryan, D-Ohio, and Rep. Chris Jacobs, R-N.Y., in the House.
NGAUS strongly supported the bill.
Additional NDAA language will increase the active-duty for operational support, or ADOS, limit from three years in a four-year period to five years over six.
Rep. Kai Kahele, D-Hawaii, spearheaded the effort in Congress.
The association supports the change; the legislative staff provided technical assistance to the authors of the provision.
But NGAUS is concerned that the Army Guard has to continue to rely on ADOS — and in many cases, part-time members on their own time — to fulfill day-to-day requirements.
Currently, only 15% of the Army Guard's personnel strength is full time (permanent Active Guard and Reserve members or dual-status federal technicians), by far the smallest percentage of the seven reserve components.
The NDAA also brings Guard soldiers and airmen incentive-pay parity with their active-component counterparts.
Guardsmen are expected to meet the same standards as their active-component counterparts but have long only received fractional amounts of incentive and special-duty pay. Changing that was a NGAUS legislative priority this year.
The original legislation was introduced by Sen. Tammy Duckworth, D-Ill., and Sen. Catherine Cortez Masto, D-Nevada, in the Senate and Ryan and Rep. Steve Palazzo, R-Miss., the co-chairs of the House National Guard and Reserve Caucus, in the House.
The new law will put thousands of additional dollars in the pockets of flight crews and many other Guard soldiers and airmen; however, it won't occur immediately. A late addition to the provision gives the services until Sept. 30, 2022, to develop implementation language.