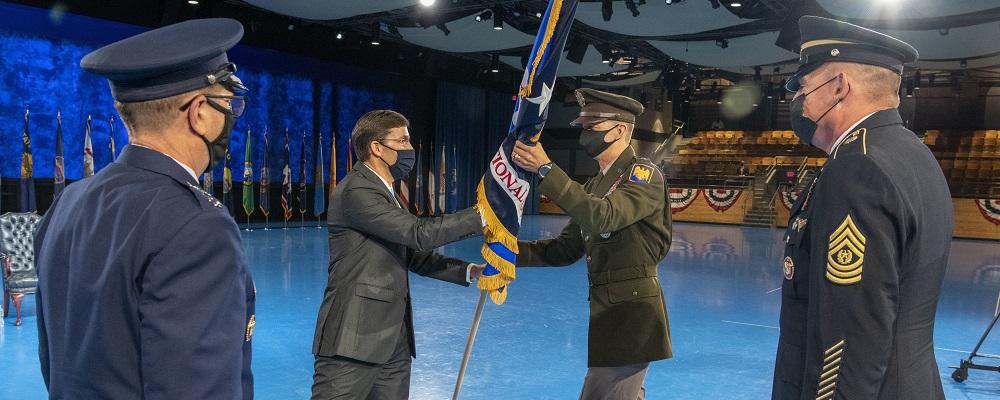 The National Guard Bureau welcomed a new leader Monday during a unique ceremony shaped by the ongoing COVID-19 pandemic.
Army Gen. Daniel Hokanson succeeded Air Force Gen. Joseph Lengyel as NGB chief at Fort Myer, Virginia. The small gathering of attendees followed social distancing protocols and participants wore masks for much of the event. A large audience watched online.
The newest member of the Joint Chiefs of Staff, Hokanson was promoted during the ceremony to four-star general. He previously served as the director of the Army Guard and as vice chief of the Guard Bureau.
Lengyel, who had served as NGB chief since August 2016, ended his 38-year career as the Guard's senior officer.
Defense Secretary Mark Esper, who hosted the ceremony, praised both men and the 450,000 Guardsmen who have most recently worked amid unprecedented crises.
Esper noted that Guardsmen have responded to hurricanes, erupting volcanoes, floods, wildfires, the ongoing pandemic and civil unrest during Lengyel's tenure. That's amid continuing overseas missions and countless other local responses.
Lengyel "laid the foundation for an extraordinary response at a time our nation needed it most," said Esper, a former Guardsman. "The Guard helped stem the spread of the virus and saved lives."
Hokanson, the former adjutant general of Oregon, will now take the reins amid unprecedented and challenging times, the defense secretary said.
"The Guard is in good hands," he said, praising Hokanson's character, competence and wealth of experience.
Lengyel said he enjoyed every minute of his time as chief. He praised Hokanson and the Guardsmen who continue to serve around the globe.
"You are simply spectacular," he said of those service members. "You are the nation's on-call force and our strategic depth. And you are always ready, always there."
"You make things better for Americans when they need your help," he added.
In his first remarks as chief, Hokanson thanked his predecessor and those who have afforded him the opportunity to lead the Guard.
"This is an important and pivotal time in the history of the National Guard," he said. "We have never been busier or more visible."
And the missions have never been more complex, Hokanson added.
"What we do now and what we do next will help shape the nation's future," he said.
Hokanson is one of three new Guard leaders taking their positions this summer. 
Lt. Gen. Michael Loh of Colorado succeeded Lt. Gen. L. Scott Rice as the Air Guard director last week. Maj. Gen. Jon Jensen of Minnesota is expected to be promoted and assume the job of Army Guard director this week. And Lt. Gen. Marc Sasseville of the District of Columbia will become the NGB vice chief.