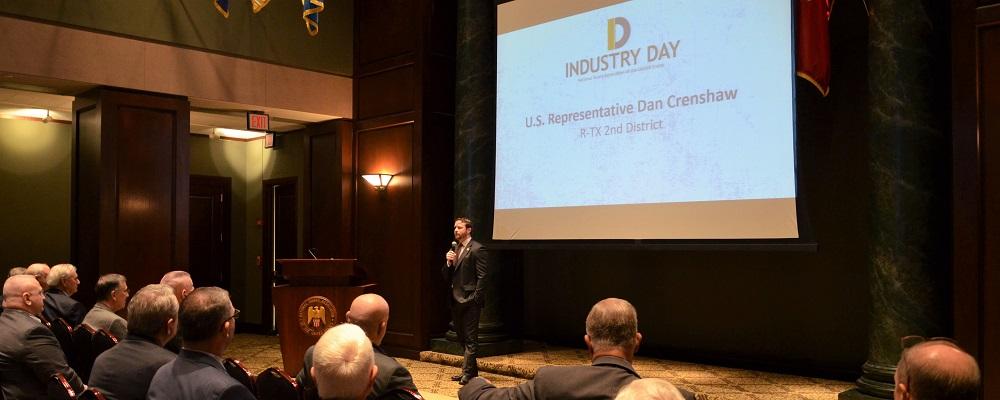 Army and Air Force leaders spoke to NGAUS industry partners as part of the 23rd Annual Industry Day at the National Guard Memorial.
Approximately 225 attendees representing companies large and small are attending the two-day event at the National Guard Memorial, the NGAUS headquarters in Washington, D.C., which culminates Tuesday evening.
Guest speakers included representatives from key decision-makers in the Pentagon, the National Guard Bureau and other organizations that help drive acquisition of new and updated equipment for Guardsmen in the 54 states, territories and the District of Columbia.
Rep. Dan Crenshaw, R-Texas, helped welcome attendees on Tuesday morning. A former Navy SEAL and Purple Heart recipient, Crenshaw currently serves on the House Homeland Security Committee.
The first-year congressman spoke of current threats facing the country, including ongoing counterinsurgency operations and the expanding influences of Iran, China and Russia.
Crenshaw also highlighted threats from within the country, including what he calls "victimhood mentality" and "identity politics."
And he spoke of the ongoing stalemate in Congress over funding that delayed budget approvals in favor of a continuing resolution that locks in funding at previous levels, with no new projects.
"It's a common refrain that the CR is bad for the military, but rarely does anybody go a layer deeper and say, 'We didn't get this because of the CR,'" Crenshaw said. "You really have to tie it to a story that matters and that's comprehensible to people outside the military."
"The reality is a lot of the disagreement goes well beyond the military, it bleeds over into many other issues. This month it happens to be the impeachment, a year ago it was the border," he added. "We'll always find something to mess with each other about in Congress and that's an unfortunate reality that we deal with as part of a democracy.
"Maybe we should have a separate process for national defense spending entirely so it's not wrapped up in these very heated political debates," Crenshaw said. "I think that's the direction we have to be looking at."
Other leaders focused on the future of Air and Army Guards and the military's acquisition process.
Industry Day offers a unique chance for companies to hear about the needs of the Guard from leaders but also serves as a reminder that the relationship goes both ways.
"Our cooperation with industry is crucial to our success," said Maj. Gen. Jon Mott, the assistant to the director of the Air Guard. "We cannot do the job we do without your assistance… Use this machine called NGAUS to help you move forward."
Other speakers included representatives from the Air National Guard Air Force Reserve Command Test Center and Army Futures Command.
Industry Day is a key part of NGAUS's corporate program, which includes more than 300 companies as annual corporate members. The association also hosts an annual exhibition alongside its general conference and has a Corporate Advisory Panel that helps advise the NGAUS board.