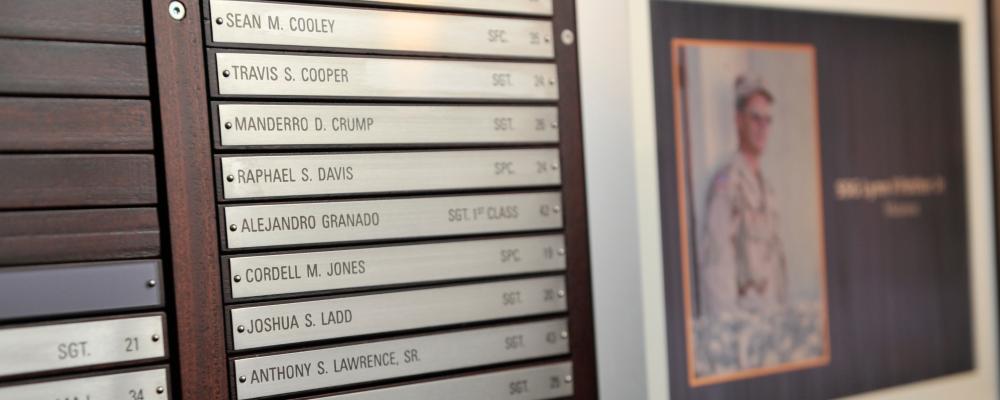 When National Guard Educational Foundation Officials designed the 9/11 Era Gallery in the National Guard Memorial Museum in Washington, D.C., one exhibit was a must: A wall with the name of every Guardsman killed in the war on terror.
The Vietnam Veterans Memorial Wall was the inspiration. It would be a place where people could learn the toll of the Guard's contributions and family and friends would discover their fallen
loved ones were not forgotten.
The finished product features each Guardsman's name, rank and age at the time of their death on a brushed-steel plate affixed to a small block of mahogany. The blocks form that wall of names grouped by state and territory with those killed Sept. 11 at the end. The wall also includes a slideshow of approximately 200 images provided by families of the fallen.
There were 763 names on the Memorial Wall when it opened in December 2012. Today, there are 791. Every name is on the pages that follow as it appears in the gallery that tells the current
chapter of the Guard story.
Source: Defense Department Casualty Reports
ALABAMA
ADRIAN AVILA, SPC, 19
AUBREY D. BELL, SGT, 33
PAUL J. BUECHE, SPC, 19
HERBERT R. CLAUNCH, 1ST SGT, 58
TOMMY LITTLE, STAFF SGT, 47
RONALD LUCE, CAPT, 27
JOHN EDWARD MCGEE, STAFF SGT, 36
FREDDY MACKEY, MASTER SGT, 53
WAID C. RAMSEY, CAPT, 41
CHRISTOPHER TAYLOR, SPC, 25
ALASKA
WILLIAM F. BROWN, STAFF SGT, 54
JAIME L. CAMPBELL, 1ST LT, 25
GEORGE W. DAUMA JR., SGT 1ST CLASS, 37
MICHAEL I. EDWARDS, SPC, 26
JACOB E. MELSON, SPC, 22
CHESTER W. TROXEL, CW4, 44
ARIZONA
HOWARD PAUL ALLEN, SGT, 31
CHARLES R. BROWNING, STAFF SGT, 31
DARREL D. KASSON, STAFF SGT, 43
MYKEL F. MILLER, PFC, 19
THOMAS D. RABJOHN, STAFF SGT, 39
JEREMIAH WAYNE ROBINSON, CPL, 20
ELIJAH TAI WAH WONG, SGT, 42
ARKANSAS
RONALD W. BAKER, SGT, 34
HESLEY BOX, JR., STAFF SGT, 44
STACEY C. BRANDON, STAFF SGT, 35
JOHN GARY BROWN, SGT 1ST CLASS, 43
JIMMY D. BUIE, CPL, 43
JAMES CLAY, SGT, 25
RUSSELL L. COLLIER, SGT, 48
ARTHUR L. FELDER, CAPT, 36
PATRICK W. KORDSMEIER, CW4, 49
WILLIAM W. LABADIE, SGT 1ST CLASS, 45
JOSHUA S. MARCUM, SPC, 33
JOHN RAY MASSEY, SGT, 29
JEREMY W. MCHALFFEY, SPC, 28
KENNETH A. MELTON, SGT, 30
TROY L. MIRANDA, SGT, 1ST CLASS 44
BILLY J. ORTON, STAFF SGT, 41
DEREK JAMES PLOWMAN, SPC, 20
WILLIAM T. ROBBINS, STAFF SGT, 31
LYLE W. RYMER II, SPC, 24
ERICH S. SMALLWOOD, SGT, 23
MICHAEL A. SMITH, SGT, 24
MICHAEL VERNON TAYLOR, MAJ, 40
WILLIAM THOMAS WARREN, SGT MAJ, 48
ANTHONY WOODHAM, SGT 1ST CLASS, 37
CALIFORNIA
ROCCO MARTIN BARNES, MAJ, 51
JERRY L. BONIFACIO, JR., STAFF SGT, 28
MARCELINO CORNIEL, SGT, 23
ARNOLD DUPLANTIER II, SGT, 26
CARLO F. EUGENIO, SGT, 29
SHAKERE TAFFARI GUY, SGT, 23
RAYMOND D. HILL, CAPT, 39
ERIC MORGEN HOLKE, SGT, 31
TIMOTHY C. KISER, SGT, 37
RHYS WILLIAM KLASNO, SGT, 20
ISAAC SHAWN LAWSON, SGT 1ST CLASS, 35
PATRICK R. MCCAFFREY, SGT, 34
MICHAEL MIHALAKIS, SPC, 18
PAUL CHRISTIAN NEUBAUER, STAFF SGT, 40
MICHAEL C. OTTOLINI, SGT 1ST CLASS, 45
DAVID PERRY STAFF, SGT, 36
ERIC U. RAMIREZ, SPC, 31
JOSE RANGEL, STAFF SGT, 43
RUDY AUGUSTINE SALCIDO, SGT 1ST CLASS, 31
DANIEL RONALD SCHEILE, SGT 1ST CLASS, 37
DENNIS LEE SELLEN, JR., SGT, 20
ALFREDO BARAJAS SILVA, STAFF SGT, 35
MIKE TAKESHI SONODA, SGT, 34
QUOC BINH TRAN, SGT, 26
ANDRE D. TYSON, 1ST LT, 33
DANIEL P. UNGER, SPC, 19
MICHAEL W. VEGA, 1ST LT, 41
SEAN M. WALSH, SPC, 21
CHRISTOPHER DWAYNE YOUNG, SGT, 20
COLORADO
DAVE R. CARTER, CW4, 47
LIAM J. NEVINS, STAFF SGT, 32
LUIS R. REYES, SGT, 26
DANIEL A. ROMERO, SGT 1ST CLASS, 30
JON L. STILES, SGT, 38
CONNECTICUT
FELIX M. DELGRECO, SGT, 22
ROBERT W. HOYT, SPC, 21
JOSEPH E. PHANEUF, STAFF SGT, 38
EDWIN RIVERA, STAFF SGT, 28
DISTRICT OF COLUMBIA
DARRYL T. DENT, SPC, 21
ROBIN L. TOWNS, SR., SGT 1ST CLASS, 52
FLORIDA
ROBERT R. ARMSTRONG, JR., STAFF SGT, 52
DENNIS J. BOLES, SGT, 46
PETER F. BOLOGNA, PVT, 24
LLOYD S. CLEMENTS, JR., SGT 1ST CLASS, 55
DARYL A. DAVIS, SPC, 20
KENNY A. FIKE, 1ST SGT, 55
JOSEPH F. FUERST, III SGT 1ST CLASS, 26
WILLIAM E. HOFFMAN, MASTER SGT, 54
JEFFREY W. HOLMES, SGT, 29
MARCO MILLER, SGT, 36
PAUL L. NEALY, STAFF SGT, 58
RICHARD D. O'BRIEN, MASTER SGT, 57
JOHN TRAVIS RIVERO, CPL, 23
DANIEL A. SUPLEE, SGT 1ST CLASS, 39
BRANDON J. WADMAN, PFC, 19
JEFFREY M. WERSHOW, SPC, 22
MARC C. WHISENANT, SPC, 23
ROBERT A. WISE, SPC, 21
ROY A. WOOD, SGT, 47
GEORGIA
VICTOR ANTHONIO ANDERSON, SGT 1ST CLASS, 39
JOHN CURTIS BEALE, STAFF SGT, 39
JOHN DAVID BLAIR, 1ST SGT, 38
CHRISTOPHER KERMIN BOONE, SPC, 34
JACQUES EARL BRUNSON, PFC, 30
BROCK HENRY CHAVERS, SGT, 25
JOSHUA PAUL DINGLER, SPC, 19
PHILIP ALLAN DODSON, SPC, 42
GEORGE RAY DRAUGHN, SGT, 29
AMOS COLLINS EDWARDS, STAFF SGT, 41
ALEX FRENCH IV STAFF, SGT, 31
CARL RAY FULLER, SGT, 44
MARCUS SHAWN FUTRELL, SPC, 20
JERRY LEWIS GANEY, SGT, 29
MATTHEW VINCENT GIBBS, PFC, 21
CHARLES CRUM GILLICAN, SGT, 35
JONATHAN CHRISTOPHER HAGGIN, SPC, 26
ROBERT LEE HOLLAR, STAFF SGT, 35
DAVID HOLMES, SGT, 34
KEVIN MICHAEL JENRETTE, MAJ, 37
ISAAC LEE JOHNSON, SPC, 24
DAVID RANDALL JONES, SGT, 45
JEFFREY WILLIAM JORDAN, SPC, 21
JAMES ONDRA KINLOW, SPC, 35
CHAD MICHAEL MERCER, SGT, 25
DENNIS PAUL MERCK, STAFF SGT, 38
RAYMUNDO PORRAS MORALES, CPL, 34
EDGAR N. ROBERTS, JR., SGT. 1ST CLASS, 39
PAUL ANTHONY SAYLOR, SPC, 21
RONNIE LEE SHELLEY, SPC, 34
CHANNING GARRETT SINGLETARY, SPC, 30
MICHAEL JAMES STOKELY, SPC, 23
THOMAS JAMES STRICKLAND, SGT, 27
JOHN FRANK THOMAS, SPC, 33
PHILIP LAMAR TRAVIS, SGT, 41
CHARLES HOUGHTON WARREN,STAFF SGT, 36
DAVY NATHANIEL WEAVER, SGT 1ST CLASS, 39
CHRISTOPHER R. WILLOUGHBY, SGT 1ST CLASS, 29
GUAM
EUGENE AGUON, SGT, 23
DWAYNE FLORES, SPC, 22
GREGORY D. FEJERAN, SGT, 28
CHRISTOPHER J. FERNANDEZ, SGT, 28
BRIAN S. LEON GUERRERO, SGT, 34
SAMSON A. MORA, SGT, 28
HAWAII
DEYSON K. CARIAGA, SGT, 20
DREW M. SCOBIE, SGT, 25
CWISLYN K. WALTER, SPC, 19
IDAHO
NATHAN R. BEYERS, SGT, 24
VIRGIL R. CASE, STAFF SGT, 37
CARRIE L. FRENCH, CPL, 19
JOSEPH "ART" MOORE, CHAPLAIN (LT. COL.), 54
NICHOLAS W. NEWBY, SPC, 20
JAMES D. RIEKENA, SPC, 22
GREGORY LEWIS STONE, MAJ, 40
ILLINOIS
CHRISTOPHER ABEYTA, SGT, 23
JASON BURKHOLDER, STAFF SGT, 27
NORMAN CAIN, SPC, 22
JESSICA CAWVEY, SGT, 21
WILLIAM CHANEY, SGT 1ST CLASS, 59
JACOB FRAZIER, STAFF SGT, 24
LANDIS GARRISON, SGT, 23
KEVIN GRIECO, STAFF SGT, 35
JAMES GRIJALVA, SPC, 26
JOSHUA HARRIS, SGT, 21
CHESTER HOSFORD, SGT, 35
JESSICA HOUSBY, SGT, 23
CHARLES LAMB, SPC, 23
JOSHUA MELTON, STAFF SGT, 26
SHAWNA MORRISON, SGT, 26
SCHUYLER PATCH, SGT, 25
IVORY PHIPPS, STAFF SGT, 44
BRANDON RAMSEY, SPC, 21
JEREMY RIDLEN, SPC, 23
SIMONE ROBINSON, SGT, 21
BRIAN ROMINES, SGT, 20
LUKASZ SACZEK, SGT, 23
ASHLEY SIETSEMA, SPC, 20
BRIAN SLAVENAS, 1ST LT, 30
GERRICK SMITH, SGT, 19
PAUL SMITH, STAFF SGT, 43
JARED SOUTHWORTH, 1ST LT, 26
SCOTT STREAM, SGT, 39
CHRISTOPHER TALBERT, SGT, 24
JASON VAZQUEZ, STAFF SGT, 25
KYLE WEHRLY, SGT 1ST CLASS, 28
ROBERT WEINGER, SGT, 24
DERWIN WILLIAMS, 1ST LT, 41
BRIAN WRIGHT, SPC, 19
INDIANA
RICHARD BLAKLEY, STAFF SGT, 36
CRAIG A. BOLING, SGT 1ST CLASS, 38
GERALD J. CASSIDY, SGT, 32
BRIAN CLEMENS, SPC, 19
ARRONN D. FIELDS, SPC, 27
MICHAEL T. FISCUS, CAPT, 36
JOSEPH A. FORD, SGT, 23
GARY M. HENRY, SGT, 34
BRETT M. HERSHEY, SGT, 23
MICHAEL T. HIESTER, MASTER SGT, 33
WILLIAM JEFFRIES, SPC, 39
BRADLEY D. KING, STAFF SGT, 36
RANDALL R. LANE, STAFF SGT, 43
BRIAN J. LEONHARDT, SGT, 21

JEFFREY MCLOCHLIN, SGT MAJ, 45
JONATHAN D. MENKE, SPC, 22
JONATHAN M. METZGER, STAFF SGT, 32
BRIAN K. MILLER, STAFF SGT, 37
PAUL S. PABLA, STAFF SGT, 23
CHRISTOPHER A. PATTERSON, SPC, 20
SERGIO E. PEREZ, SPC, 21
JOSEPH PROCTOR, SGT, 36
DARRELL SMITH, CPL, 28
SCOTT D. SMITH, SGT, 23
NORMAN K. SNYDER, SPC, 21
NICHOLAS A. TAYLOR, SPC, 20
ROBERT J. TAUTERIS, JR., SPC, 44
IOWA
ROBERT W. BRIGGS, SGT, 42
CASEY BYERS, SGT, 22
SCOTT M. CARNEY, MASTER SGT, 37
DUSTIN SCOT COLBY, PFC, 20
ADAM D. CRAIG, SGT, 23
PAUL F. FISHER, SGT, 39
MARILYN L. GABBARD, CSM, 46
SETH K. GARCEAU, SGT, 27
R. BRIAN GIENAU, 2ND LT, 29
JAMES A. JUSTICE, STAFF SGT, 32
JAMES C. KEARNEY, III SPC, 22
DAVID M. KIRCHHOFF, PFC, 31
JOSHUA L. KNOWLES, SPC, 23
BRENT M. MAHER, SGT, 31
JOHN W. MILLER, SGT, 21
DONALD L. NICHOLS, SGT, 21
SCOTT E. NISELY, MAJ, 48
TERRYL L. PASKER, SGT 1ST CLASS, 39
BRUCE J. POLLEMA, STAFF SGT, 30
DANIEL L. SESKER, SGT, 22
AARON A. SISSEL, SGT, 22
BRUCE A. SMITH, CW4, 41
KAMPHA B. SOURIVONG, SGT, 20
GREGORY L. TULL, SGT, 20
KANSAS
TRAVIS S. BACHMAN, STAFF SGT, 30
DAVID RUSSELL BERRY, STAFF SGT, 37
DON ALLEN CLARY, SGT, 21
JESSIE DAVILA, SPC, 29
BERNARD LEE DEGHAND, SGT 1ST CLASS, 42
COURTNEY DEAN FINCH, SGT, 27
DERRICK JOSEPH LUTTERS, SPC, 24
RONALD ANDREW SCHMIDT, SPC, 18
CLINTON LEE WISDOM, STAFF SGT, 39
JOHN EDWARD WOOD, SPC, 37
KENTUCKY
CLAYTON LEE ADAMKAVICIUS, CAPT, 43
WILLIAM ALVIN ALLERS III, STAFF SGT, 28
BROCK A. BEERY, STAFF SGT, 30
NICHOLAS CARNES, STAFF SGT, 26
THOMAS WADE CLEMONS, STAFF SGT, 37
CLINTON WAYNE CUBERT, MASTER SGT, 38
MICHAEL RAY HAYES, SPC, 29
ROBERT L. HENDERSON II, 1ST LT, 33
ALVA LORENZY HOLLAND, PFC, 24
JONATHAN ADAM HUGHES, SGT, 21
CHARLES JASON JONES, SGT 1ST CLASS, 29
CHRISTOPHER A. MATERO, SGT, 31
RYAN JAY MONTGOMERY, SGT, 22
SAMMIE E. PHILLIPS, PFC, 19
DARRIN K. POTTER, SGT, 24
TIMOTHY J. ROGERS, PFC, 19
JAMES A. SHERRILL, SGT, 27
RANDOLPH A. SIGLEY, JR., SGT, 28
GLENN SCOTT STANFILL, SGT, 42
ERIC LEE TOTH, SGT, 21
MARTIN A. TRACY, SGT, 33
DANIEL WALLACE, SGT, 27
DELMAR WHITE, STAFF SGT, 37
LOUISIANA
CHRISTOPHER JAMES BABIN, STAFF SGT, 27
CHRISTOPHER WILLIAM BARNETT, 1ST LT, 32
FRANKLIN BARNETT, SGT, 29
BRADLEY BERGERON, SGT, 25
KURT COMEAUX, SGT 1ST CLASS, 34
RONALD WAYNE CULVER, JR., MAJ, 44
CHRISTOPHER R. DRAKE, SPC, 20
MICHAEL SCOTT EVANS II, SGT, 22
HUEY FASSBENDER, SGT, 24
ROBIN VINCENT FELL, SPC, 22
ARMAND LUKE FRICKEY, SGT, 20
TERRELL WAYNE GILMORE, SPC, 38
LEE MYLES GODBOLT, SGT, 22
PETER JAMES HAHN, STAFF SGT, 31
BRYANT JAMAL HAYNES, SPC, 21
PAUL MARTIN HELTZEL, SGT, 39
MICHAEL HENNEN, SGT 1ST CLASS, 26
THOMAS HOPKINS, SPC, 35
FLOYD KNIGHTEN, SGT, 55
CHRISTOPHER LANGLEY, SPC, 24
WILLIAM F. MANUEL, STAFF SGT, 34
BILLY J. MCGLOTHLIN, STAFF SGT, 40
WARREN MURPHY, SGT, 29
DAVID JOSEPH MURRAY, SPC, 23
CRAIG LEWIS NELSON, SGT, 21
NICHOLAS JOSEPH OLIVIER, STAFF SGT, 26
CHARLES M. PANZICA, STAFF SGT, 40
KRISTIAN E. PARKER, PFC, 23
CHRISTOPHER JAMES RAMSEY, SPC, 20
JONATHAN RAY REED, STAFF SGT, 25
MATTHEW ALLEN ROBERTS, SGT, 30
RIKI ROSS, SENIOR AIRMAN, 22
BERNARD LEON SEMBLY II, SPC, 25
ISIAH JOSEPH SINCLAIR, SGT, 31
JONNIE L. STILES, SGT, 38
MILTON E. SUGGS, CW4, 41
ROBERT WESLEY SWEENEY, STAFF SGT, 22
MONICA TERRY, SGT, 25
SETH RANDELL TRAHAN, SGT, 20
JORDAN E. TUTTLE, SGT, 22
VINCENT ZEZULKA, STAFF SGT, 33
MAINE
PATRICK D. DAMON, CAPT, 41
THOMAS J. DOSTIE, SGT, 20
CHRISTOPHER D. GELINEAU, SGT, 23
MICHAEL D. JONES, 1ST SGT, 43
DALE J. KELLY, JR., STAFF SGT, 48
RICHARD K. PARKER, SGT, 26
LYNN R. POULIN, SR., STAFF SGT, 47
DAVID M. VEVERKA, STAFF SGT, 25
MARYLAND
SAMUEL L. BOSWELL, CPL, 20
COLLIN J. BOWEN SGT, 1ST CLASS, 38
BERNARD L. CEO, CPL, 23
BRIAN CONNER, STAFF SGT, 36
KENNETH CROPPER, STAFF SGT, 49
ROGER W. HALLER, CSM, 49
ROBERT J. MARCHANTI, II MAJ, 48
MICHAEL J. MCMULLEN, STAFF SGT, 25
CARLTON D. NEWMAN, PFC, 21
MATTHEW A. PUCINO, STAFF SGT, 34
WILLIAM B. WOODS, JR., SGT 1ST CLASS, 31
MASSACHUSETTS
ROBERT J. BARRETT, SGT, 21
JEFFREY R. CALERO, MAJ, 34
KEVIN A. DUPONT, MASTER SGT, 52
CIARA M. DURKIN, CPL, 30
JOSE R. FELICIANO, SPC, 19
ETHAN L. GONCALO, PFC, 21
EDWARD S. GRACE, SGT, 39
MICHAEL J. KELLEY, SGT, 26
TREMAYNE KING, SPC, 27
SCOTT A. MILLER, SGT, 35
THEODORE L. PERREAULT, SGT, 33
MATTHEW M. POLLINI, SPC, 21
DENNIS C. POULIN, SPC, 26
ROBERT E. ROONEY, SGT 1ST CLASS, 43
MICHIGAN
SPENCER C. AKERS, SGT, 35
WILSON A. ALGRIM, SPC, 21
TIMOTHY BROWN, SPC, 23
DANE CARVER, SPC, 20
JOHN DEARING, PFC, 21
DUANE J. DREASKY, STAFF SGT, 31
CRAIG FRANK, SGT, 24
RICHARD GOWARD, SPC, 32
MATTHEW L. HILTON, SGT 1ST CLASS, 37
RICKY KIEFFER, STAFF SGT, 36
BOBBY MEJIA II, SPC, 20
LOWELL T. MILLER II, CAPT, 35
JAMES D. PRIESTAP, SGT 1ST CLASS, 39
BRADLEY N. SHILLING, SPC, 22
MATTHEW R. SOPER, SGT, 25
BRANDON L. STOUT, SPC, 23
MICHAEL SUTTER, STAFF SGT, 28
CHAD J. VOLLMER, SGT, 24
MATTHEW WEBBER, SGT, 23
THOMAS G. WRIGHT, SGT, 38
JOSHUA YOUMANS, SGT, 26
MINNESOTA
GEORGE W. CAULEY, SPC, 24
DAVID F. DAY, STAFF SGT, 25
DANIEL P. DREVNICK, SPC, 22
JOSHUA R. HANSON, STAFF SGT, 27
TAD T. HERVAS, MAJ, 48
BRENT W. KOCH, SGT, 22
JESSE M. LHOTKA, SGT, 24
BRYAN T. MCDONOUGH, SGT, 22
MICHAEL METTILLE, SGT MAJ, 44
KYLE R. MILLER, SGT, 19
JACOB L. PFINGSTEN, SGT, 22
GREG N. RIEWER, STAFF SGT 28
COREY RYSTAD, SGT, 20
DENNIS LEE TELLOCK, SGT MAJ, 59
JASON G. TIMMERMAN, 1ST LT, 24
NICHOLAS D. TURCOTTE, SGT, 23
JAMES D. WERTISH, SPC, 20
CARLOS E. WILCOX IV, SPC, 27
JAMES M. WOSIKA, JR., STAFF SGT, 24
MISSISSIPPI
LARRY R. ARNOLD, SR, SGT, 46
ROMEO A. BARNES, SGT 1ST CLASS, 42
WESLEY S. BARRETT, PFC, 19
BRYAN E. BARRON, SPC, 26
LERANDO J. BROWN, SPC, 27
JAMES A. CHANCE III, SPC, 25
SEAN M. COOLEY, SGT FIRST CLASS, 35
TRAVIS S. COOPER, SGT, 24
MANDERRO D. CRUMP, SGT, 26
RAPHAEL S. DAVIS, SPC, 24
ALEJANDRO GRANADO, SGT 1ST CLASS, 42
CORDELL M. JONES, SPC, 19
JOSHUA S. LADD, SGT, 20
ANTHONY S. LAWRENCE, SR., SGT, 43
TERRANCE D. LEE, SR., SGT, 25
AUDREY D. LUNSFORD, SPC, 29
ROBERT A. MCNAIL, SPC, 30
ROBERT C. ONETO-SIKORSKI, 1ST LT, 33
TIMOTHY R. OSBEY, SGT, 34
SABURANT PARKER, STAFF SGT, 43
ROBERT S. PUGH, SGT, 25
JOSEPH A. RAHAIM, SPC, 22
CHRISTOPHER L. ROBINSON, STAFF SGT, 36
WILLIAM C. SPILLERS, SGT 1ST CLASS, 39
MATTHEW R. STOVALL, 1ST LT, 25
SEVERIN W. SUMMERS III, SGT 1ST CLASS, 43
BILLY A. SUTTON, SGT 1ST CLASS, 42
CHRISTOPHER, L. TISDALE SPC, 29
SAMUEL TOWNSEND, SGT 1ST CLASS, 61
DANIEL R. VARNADO, SPC, 23
TROY L. WILEMON, CSM, 57
TERRY A. WOODSON, MASTER SGT, 54
MISSOURI
DEBRA BANASZAK, 1ST LT, 35
MICHAEL BARRY, SGT, 29
PAUL F. BROOKS, STAFF SGT, 34
ROBERT WAYNE CROW, SPC, 42
MICHAEL FUGA, SGT 1ST CLASS, 47
ALVA GAYLORD, PVT, 25
DENIS KISSELOFF, SPC, 45
JOSHUA NEUSCHE, SPC, 20
LAWRENCE PARRISH, STAFF SGT, 36
ROBERT WAYNE PHARRIS, SGT 1ST CLASS, 48
BRADLEY SKELTON, SGT, 40
MATTHEW STRAUGHTER, SPC, 27
JAMES EARL YOUNG, SGT 1ST CLASS, 49
MONTANA
TRAVIS M. ARNDT, SGT, 23
ROBBIE D. MCNARY, MASTER SGT, 42
NEBRASKA
WILLIAM BAILEY III, SPC, 29
GERMAINE DEBRO, SGT, 33
JEREMY FISCHER, STAFF SGT, 26
JOSHUA FORD, SGT, 20
PATRICK HAMBURGER, STAFF SGT, 30
JEFFREY HANSEN, STAFF SGT, 31
RAYMOND HEUCK, SPC, 21
TRICIA JAMESON, SGT 1ST CLASS, 34
OMAR A. JONES, SGT, 28
BLAKE KELLY, SPC, 21
RANDY MATHENY, SGT, 20
ROBERT C. SCHLOTE, SGT, 26
JACOB SCHMUECKER, SGT, 27
LINDA TARANGO-GRIESS, MASTER SGT, 33
NEVADA
ANTHONY S. COMETA, SPC, 21
JOHN M. FLYNN, CW3, 36
PATRICK D. STEWART, SGT, 35
NEW HAMPSHIRE
ALAN BURGESS, SPC, 24
SCOTT DIMOND, CPL, 39
JEREMIAH HOLMES, SGT, 27
DAVID STELMAT, SGT, 27
NEW JERSEY
FRANK T. CARVILL, STAFF SGT, 51
RYAN E. DOLTZ, SGT, 26
CHRISTOPHER M. DUFFY, SPC, 26
JORGE M. OLIVEIRA, STAFF SGT, 33
HUMBERTO F. TIMOTEO, STAFF SGT, 25
NEW MEXICO
JOSEPH L. GALLEGOS, SPC, 39
PERNELL J. HERRERA, SGT, 33
MARSHALL WESTBROOK, SGT, 43
NEW YORK
LEONARD W. ADAMS, SGT, 42
SEGUN F. AKINTADE, SPC, 34
AZHAR ALI, SPC, 27
LOUIS E. ALLEN, 1ST LT, 34
JOSEPH O. BEHNKE, SGT, 45
LOUIS M. BONACASA, STAFF SGT, 31
DASHAN J. BRIGGS, STAFF SGT, 30
NATHAN P. BROWN, SPC, 21
CHRISTIAN P. ENGELDRUM, STAFF SGT, 39
PHILLIP T. ESPOSITO, CAPT, 30
DANIEL FARKAS, 1ST LT, 42
DAVID M. FISHER, SGT, 21
MANNY HORNEDO, SGT, 27
HENRY E. IRIZARRY, STAFF SGT, 38
ANTHONY N. KALLADEEN, SGT, 26
ALAIN L. KAMOLVATHIN, SPC, 21
JONATHAN KELLER, SGT, 29
DENISE A. LANNAMAN, SGT, 46
JOSEPH G. LEMM, TECHNICAL SGT, 45
TODD LOBRAICO, JR, STAFF SGT, 22
WAI P. LWIN, SPC, 27
ANTHONY L. MANGANO, SPC, 36
JOSEPH A. MCKAY, SGT 1ST CLASS, 51
HEATH A. MCMILLIN, SGT, 29
FRANCIS C. OBAJI, PFC, 21
ANDREAS B. O'KEEFFE, CAPT, 37
MARK C. PALMATEER, SGT, 38
CHRISTOPHER J. RAGUSO, MASTER SGT, 39
HERNANDO RIOS, PFC, 29
NELSON D. RODRIGUEZ RAMIREZ, SGT, 22
DAVID L. ROUSTUM, SGT, 22
BENJAMIN C. SCHUSTER, PFC, 21
ANDREW SEABROOKS, SGT, 36
DEON TAYLOR, SGT, 30
JOSEPH THEINERT, 1ST LT, 24
WILFREDO F. URBINA, SPC, 29
MICHAEL A. UVANNI, SGT, 27
JASON VON ZERNECK, SPC, 33
KENNETH G. VONRONN, SGT, 20
JAMES L. WILEY, LT COL, 46
MICHAEL L. WILLIAMS, SPC, 46
CHRISTOPHER T. ZANETIS, CAPT, 37
NORTH CAROLINA
ROGER ADAMS, SGT, 36
JUAN BALDEOSINGH, SGT, 30
LEEVI BARNARD, 1ST LT, 28
DARRY BENSON, SGT, 46
ROBERT BITTIKER, SGT, 39
PAUL BROOKS, STAFF SGT, 34
THOMAS J. BUTLER, SGT, 25
JOCELYN CARRASQUILLO, SPC, 28
CHRISTOPHER CASH, SR., CAPT, 36
DANIEL DESENS, SPC, 20
LANCE EAKES, SGT, 25
BOBBY FRANKLIN, STAFF SGT, 38
JASON GEORGE, MAJ, 38
JEREMY HARDISON, SGT, 23
DONNA RAE JOHNSON, STAFF SGT, 29
EDWARD KRAMER, SGT 1ST CLASS, 39
ADAM MARION, PFC, 26
EMANUEL PICKETT, STAFF SGT, 34
THOMAS RAY, SGT, 40
JOSHUA SCHMITT, SGT, 26
JAMES A. SLAPE, SGT, 23
DAVID STELMAT, SGT, 27
MICHAEL VOSS, STAFF SGT, 35
BRANDON WALLACE, SGT, 27
ASHLEY I. WHITE STUMPF, 1ST LT, 24
DAVID WILLIAMS, SGT, 26
NORTH DAKOTA
PHILIP D. BROWN, SPC, 21
JON PAUL FETTIG, SPC, 30
NATHAN J. GOODIRON, CPL, 25
KENNETH W. HENDRICKSON, STAFF SGT, 41
MICHAEL L. HERMANSON, SPC, 21
JAMES J. HOLMES, SPC, 28
CHRISTOPHER K. KLEINWACHTER, CPL, 29
LANCE J. KOENIG, STAFF SGT, 33
DARREN M. LINDE, SGT 1ST CLASS, 41
CURTIS R. MEHRER, CPL, 21
TYLER J. ORGAARD, SPC, 20
KEITH L. SMETTE, SGT, 25
TRAVIS A. VAN ZOEST, SGT, 21
CODY L. WENTZ, SPC, 21
OHIO
MICHAEL C. BARKEY, SGT, 22
TODD M. BATES, SPC, 20
SAMUEL R. BOWEN, PFC, 38
DANIEL B. CRABTREE, SGT 1ST CLASS, 31
SHAWN T. HANNON, SGT 1ST CLASS, 44
JEREMY M. HODGE, SGT, 20
RYAN A. MARTIN, SPC, 22
DANIEL J. PRATT, SGT 1ST CLASS, 48
AARON T. REESE, STAFF SGT, 31
JEFFERY J. RIECK, SGT 1ST CLASS, 45
NICHOLAS J. ROZANSKI, CAPT, 36
KEVIN SONNENBERG, LT COL, 42
ANTHONY M. VINNEDGE, SGT, 24
CHARLES L. WILKINS, III 1ST LT, 38
OKLAHOMA
KYLE A. BRINLEE, SPC, 21
FRANCISCO J. BRISENO-ALVAREZ, JR., SPC, 27
SARINA N. BUTCHER, SPC, 19
JOE L. CUNNINGHAM, 2ND LT, 27
DANIEL M. ESHBAUGH, SGT, 43
JERED W. EWY, 2ND LT, 33
CHRISTOPHER D. GAILEY, SGT, 26
CHRISTOPHER D. HORTON, SPC, 26
BUDDY HUGHIE, SGT, 25
BRET D. ISENHOWER, SGT, 26
DAMON T. LEEHAN, 1ST LT, 30
KIRK A. OWEN, STAFF SGT, 37
ANTHONY DEL MAR PETERSON, SGT, 24
TONY J. POTTER, JR., PFC, 20
MYCAL L. PRINCE, SGT, 28
BRADY J. RUDOLF, CW3, 37
JOSHUA M. SEALS, SPC, 21
MICHAEL E. THOMPSON, CPL, 23
AUGUSTUS J. VICARI, SPC, 22
OREGON
TANE BAUM, STAFF SGT, 30
KEVIN D. DAVIS, STAFF SGT, 41
BRUNO G. DE SOLENNI, CAPT, 32
JUSTIN EYERLY, SGT, 23
BEJAMIN ISENBERG, SGT, 27
DAVID W. JOHNSON, SGT, 37
ANDREW EVAN LARA, SPC, 25
KEN LEISTEN, PFC, 20
JUSTIN LINDEN, SPC, 22
NATHANIEL B. LINDSEY, STAFF SGT, 38
TAYLOR D. MARKS, SPC, 19
ERIK MCCRAE, 1ST LT, 25
ERIC MCKINLEY, SPC, 24
NATHAN NAKIS, SPC, 19
LONG N. NGUYEN, SGT, 27
JOHN B. OGBURN III, SGT, 45
ADRIAN B. STUMP, WARRANT OFFICER, 22
MARK C. WARREN, SGT 1ST CLASS, 44
DAVID J. WEISENBURG, STAFF SGT, 26
EARL D. WERNER, SGT, 38
PENNSYLVANIA
BRENT ALLEN ADAMS, SGT 1ST CLASS, 40
JAN MICHAEL ARGONISH, SGT, 26
DANIEL LAVERNE ARNOLD, STAFF SGT, 27
SHERWOOD RUSSELL BAKER, SGT, 30
SCOTT ROWEN BALL, MASTER SGT, 38
MARK CONRAD BAUM, STAFF SGT, 32
KEITH ALLEN BENNETT, STAFF SGT, 32
RICHARD JOSEPH BERRETTINI, LT. COL, 52
OLIVER J. BROWN, SPC, 19
DANIEL ANTHONY BROZOVICH, SGT 1ST CLASS, 42
CARL FRANCIS CURRAN II, SGT, 22
JEFFREY FRANK DEPRIMO, 1ST LT, 35
NATHANIEL EDWARD DETAMPLE, PFC, 19
CHAD ALLEN EDMUNDSON, SPC, 20
MICHAEL EGAN, SGT, 36
WILLIAM LEE EVANS, SPC, 22
WILLIAM VALENTIN FERNANDEZ, SGT, 37
ROBERT JAMES FIKE, SGT 1ST CLASS, 38
DEREK DAVID HOLLAND, SPC, 20
BRYAN ALAN HOOVER, SGT 1ST CLASS, 29
BRAHIM JAMAL JEFFCOAT, SGT, 25
MARK JOSEPH KASECKY, SPC, 20
EDWARD W. KOEHLER III, SGT, 47
KURT E. KROUT, SPC, 43
JOHN KULICK, SPC, 35
DANIEL RUSSELL LIGHTNER, JR., SGT 1ST CLASS, 28
RANDY DONALD MCCAULLEY, SGT 1ST CLASS, 44
MICHAEL ERICH MCLAUGHLIN, LT COL, 44
MARK WILLIAM MELCHER, SPC, 34
CARL JAMES MORGAIN, SGT, 40
BRIAN KEITH MOWERY, STAFF SGT, 49
RYAN SCOTT OSTROM, STAFF SGT, 25
GENNARO PELLEGRINI, JR., CPL, 31
GEORGE ANTHONY PUGLIESE, SGT 1ST CLASS, 39
MATTHEW RUFFNER, CW3, 34
ERIC WENTWORTH SLEBODNIK SGT. 21
FRANCIS JOSEPH STRAUB, JR. SGT. 24
SEAN MICHAEL THOMAS MASTER SGT. 33
KENNETH ROWLAND VANGIESEN STAFF SGT. 30
LEE ALLEN WIEGAND SPC. 20
JARETT YODER CW2 26
PUERTO RICO
ROBERTO DIAZ BORIA, SGT, 47
JOSE CINTRON, STAFF SGT, 38
JOSE DELGADO, SGT, 41
JULIAN INGLES, MASTER SGT, 52
RICHARD P. ORENGO, SPC, 32
MILTON RIVERA, STAFF SGT, 52
RHODE ISLAND
MICHAEL ANDRADE, SPC, 28
CHARLES T. CALDWELL, SGT, 38
JOSEPH CAMARA, SGT, 40
TIMOTHY R. MCGILL, STAFF SGT, 30
CHRISTOPHER S. POTTS, STAFF SGT, 38
DENNIS P. WEICHEL, JR., SPC, 29
SOUTH CAROLINA
ALGERNON ADAMS, PVT, 36
JAMES BULLARD, STAFF SGT, 28
WILLIE HARLEY, STAFF SGT, 48
STEPHEN HIGH, SGT, 45
SHAWN HILL, SGT, 37
PATRICK LEACH, CW4, 39
DAVID LEIMBACH, SPC, 38
JEROME LEMON, STAFF SGT, 42
JOHN DAVID MEADOR, II SGT, 36
EDWARD PHILPOT, SGT, 38
LUTHER RABON, SGT, 31
RYAN DAVID RAWL, 1ST LT, 30
ANDREW SHIELDS, 1ST LT, 25
CHRYSTAL STOUT, SPC, 23
THOMAS THIGPEN, SR., MASTER SGT, 52
MATTHEW BRADFORD THOMAS, SGT 1ST CLASS, 30
SOUTH DAKOTA
CORY W. BROOKS, STAFF SGT, 32
DANIEL M. CUKA, STAFF SGT, 27
DENNIS G. JENSEN, SPC, 21
ALLEN D. KOKESH, JR., SGT, 21
DENNIS MORGAN, SGT, 22
PAUL J. PILLEN, CW2, 28
RICHARD L. SCHILD, SGT 1ST CLASS, 40
GREGORY ALLEN WAGNER, STAFF SGT, 35
TENNESSEE
MARCUS R. ALFORD, CAPT, 28
NATHAN J. BAILEY, STAFF SGT, 46
JAMES DUSTIN CARROLL, SGT, 23
MARK O. EDWARDS, SGT 1ST CLASS, 40
WILLIAM ERIC EMMERT, 1ST LT, 36
WILLIAM TIMOTHY FLANIGAN, CW3, 37
BILLIE JEAN GRINDER, CW2, 25
ASBURY F. HAWN II, STAFF SGT, 35
JOSEPH D. HUNT, SGT, 27
STEPHEN C. KENNEDY, SGT 1ST CLASS, 35
DUSTIN DANIEL LAIRD, SGT, 23
VICTOIR PATRIC LIEURANCE, STAFF SGT, 34
DAVID L. LOYD, STAFF SGT, 44
STEPHEN R. MADDIES, SGT, 41
DAVID CLAY PRESCOTT, JR., SGT, 40
GARY LEE REESE, JR., SGT, 22
ROGER D. ROWE, SGT, 54
ALFRED B. SILER, SGT, 33
SHANNON D. TAYLOR, SGT, 30
PAUL W. THOMASON III, SGT, 37
MICHAEL W. TINSLEY, STAFF SGT, 49
ROBERT WESLEY TUCKER, SGT, 20
TEXAS
SEAN BERRY, STAFF SGT, 26
ALEX J. COX, SGT, 38
CORRY A. EDWARDS, CW2, 38
CHRISTOPHER L. EVERETT, STAFF SGT, 23
TOMMY I. FOLKS, JR., SGT 1ST CLASS, 31
TOMAS GARCES, SGT, 19
JAIME GONZALEZ, JR. SGT, 40
SHAWN A. GRAHAM, STAFF SGT, 34
ANTHONY G. GREEN, SGT, 28
CHRISTOPHER D. LOZA, SGT, 24
SEAN E. LYERLY, CAPT, 31
ANTHONY MASON, STAFF SGT, 37
STEVE MORIN, JR., SGT, 34
GORDON E. OGLESBY, JR., CHAPLAIN (LT. COL.), 57
JULIO C. ORDONEZ, SGT. MAJ, 54
CHRIS N. STAATS, STAFF SGT, 32
ROBERT VALLEJO II, CAPT, 28
UTAH
CLAYTON S. BARNES, CW2, 30
JAMES R. LINDER, CW2, 33
SCOTT B. LUNDELL, 2ND LT, 35
ALAN ROGERS, STAFF SGT, 49
RYAN B. STARK, SPC, 27
BRENT TAYLOR, MAJ, 39
JAMES E. THODE, SGT 1ST CLASS, 45
BRANDON JAMES, THOMAS SGT, 27
RONALD T. WOOD, SGT 1ST CLASS, 28
VERMONT
ALAN BEAN, SGT, 22
CHRIS CHAPIN, MASTER SGT, 39
STEVEN DELUZIO, SGT, 25
MARK DOOLEY, 1ST LT, 27
RYAN GRADY, SPC, 25
JAMIE GRAY, STAFF SGT, 29
JOSHUA JOHNSON, SGT, 24
SCOTT MCLAUGHLIN, SGT, 29
CHRISTOPHER MERCHANT, SGT 1ST CLASS, 32
WILLIAM NORMANDY, SGT, 42
MARK PROCOPIO, 2ND LT, 28
KEVIN SHEEHAN, STAFF SGT, 36
TRISTAN SOUTHWORTH, SGT, 21
JOHN STONE, MASTER SGT, 52
VIRGIN ISLANDS
DAVID C. CANEGATA III, LT COL, 50
FLOYD EVERETT LAKE, SGT 1ST CLASS, 43
VIRGINIA
JESSE A. AULT, SGT, 28
DEREK R. BANKS, SGT, 24
BOBBY E. BEASLEY, SGT, 36
DARRYL D. BOOKER, SGT 1ST CLASS, 37
CRAIG W. CHERRY, STAFF SGT, 39
JONATHAN FORDE, SGT, 26
KYLE HEMAUER, PFC, 21
PAUL M. KELLY, COL, 45
DAVID E. LAMBERT, SGT, 39
JAMES R. LEEP, JR., STAFF SGT, 44
CHARLES LEWIS, JR., SPC, 25
NICHOLAS C. MASON, SGT, 20
JEREMIAH E. MCNEAL, STAFF SGT, 23
DAVID A. RUHREN, SGT, 20
WASHINGTON
DAMIEN T. FICEK, SGT, 26
MATTHEW Q. MCCLINTOCK, SGT 1ST CLASS, 30
DONALD R. MCCUNE, SPC, 20
JEREMIAH W. SCHMUNK, SPC, 20
JEFFREY R. SHAVER, SGT, 26
WILLIAM SPENCER, SGT, 40
SAMUEL D. STONE, SPC, 20
GLENN J. WATKINS, CPL, 22
WEST VIRGINIA
DEFOREST L. TALBERT, SGT, 22
GENE A. VANCE, STAFF SGT, 38
WISCONSIN
RYAN ADAMS, SGT, 26
ROBERT BASHAM, STAFF SGT, 22
STEPHEN CASTNER, SPC, 27
RYAN JOPEK, SGT, 20
CHARLES KAUFMAN, SPC, 20
BRIAN NASEMAN, MASTER SGT, 36
TODD OLSON, STAFF SGT, 36
ANDREW WALLACE, SGT, 25
MICHAEL WENDLING, SPC, 20
MICHELLE WITMER, SPC, 20
WYOMING
BRUCE E. HAYS, CAPT, 42
ROBERT L. LUCERO, CAPT, 34
ANDREW L. MCADAMS, CW3, 27
CHARLES E. MUNIER, LT COL, 50
MICHAEL C. PARROTT, STAFF SGT, 49
THEODORE A. SPATOL, STAFF SGT, 59
PENTAGON
INDIANA
CANFIELD "BUD" BOONE, COL, 53
MARYLAND
WILLIAM RUTH, CW4, 57
WORLD TRADE CENTER
NEW YORK
GERARD BAPTISTE, 1ST LT, 35
LARRY BOWMAN, SGT, 46
ANDREW BRUNN, STAFF SGT, 28
JEROME M. DOMINGUEZ, STAFF SGT, 37
ROSHAN R. SINGH, SPC, 21