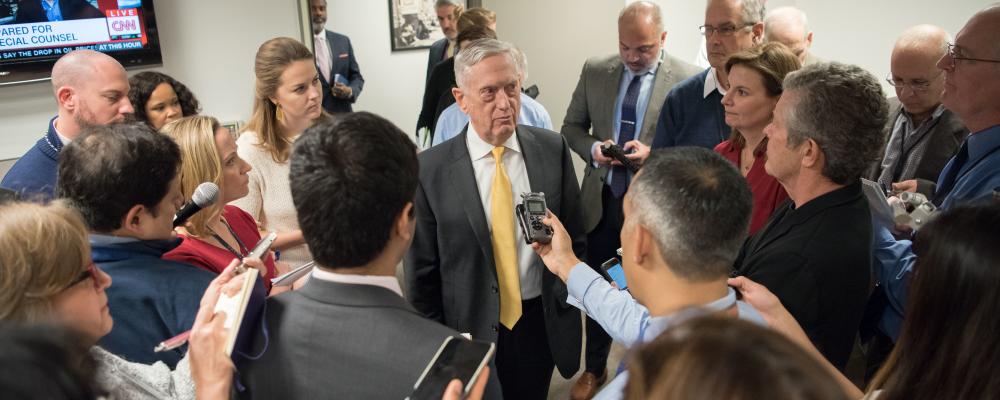 Defense Secretary James N. Mattis did not mince words in explaining how the Nov. 20 White House memo expanding the authorities of federal troops at the southern border would affect his forces. 
It would not mean, in his view, involvement in law enforcement, which would be illegal under federal law. But it would allow them to come to the aid of a Customs and Border Protection (CBP) agent under assault, he said. 
The memo instructs Mattis that all "Department of Defense military personnel" may "perform those military protective activities that the Secretary of Defense determines are reasonably necessary to ensure the protection of federal personnel, including a show or use of force (including lethal force, where necessary), crowd control, temporary detention and cursory search. Department of Defense personnel shall not, without further direction from the President, conduct traditional civilian law enforcement activities."
Mattis told reporters at the Pentagon on Nov. 21 that while the authorities for the some 5,800 federal troops along the border have expanded, the Standing Rules for the Use of Force for them have not changed.
There are also about 2,100 National Guardsmen supporting CBP in California, Arizona, New Mexico and Texas. They are under the administrative control of the governors of the states where they are serving, not federal authorities, which means they could legally participate in law enforcement.    
The memo directs Mattis to decide which authorities federal troops on the border may need to carry out their duties.
He said any use of the new authorities would be shaped by what follow-on requests he receives from Homeland Security Secretary Kirstjen Nielsen.
"I now have the authority to do more," Mattis said. "Now we'll see what [Nielsen] asks me for."
While the memo authorizes up to the lethal use of force, Mattis emphasized that the vast majority of federal forces on the border are not armed and it would stay that way. 
Any use of force, he said, would "probably" be handled by "unarmed" military police using shields and batons. 
"We are not doing law enforcement. We do not have arrest authority," Mattis said. "Now the governors could give their troops arrest authority, but there is no arrest authority under Posse Comitatus for the U.S. federal troops. That can be done, but it has to be done in accordance with the law."
The memo authorizes troops to provide "temporary detention and cursory search," something many legal scholars say they may not do under the 1878 Posse Comitatus Act, which prohibits federal troops from any law enforcement activities. 
Mattis said the use of troops in either role would be minimized to prevent them from crossing that line.
"Detention, I would put it in terms of minutes," Mattis said. "In other words, if someone's beating on a border patrolman and if we were in position to have to do something about it, we could stop them from beating on them and take them over and deliver them to a border patrolman who would then arrest them for it."