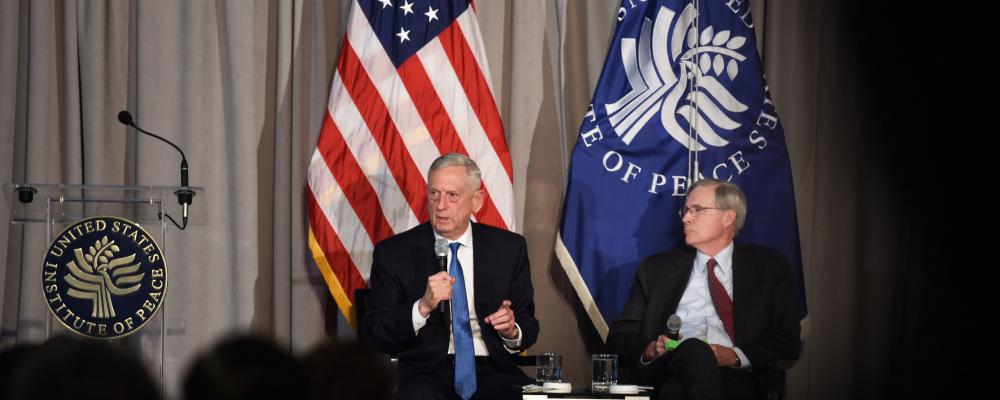 Defense Secretary James N. Mattis shared the logic behind the new National Defense Strategy during a discussion last week at the United States Institute of Peace in Washington, D.C. 
Released in January, the strategy sees Russia and China as the greatest threats, with Iran and North Korea as regional threats. Violent extremism rounds out the threat matrix.
The strategy is based on a return to great-power competition among the United States, Russia and China.
Mattis said officials looked at threats from three different angles: power, urgency and will.
(He made similar points when he addressed the 140th General Conference & Exhibition in August. That entire speech is available at www.youtube.com/user/NGAUS1878.)
"In terms of raw power right now, I look at Russia and the nuclear arsenal they have," he said. "I look at their activities over the last 10 years from Georgia and Crimea to the Donetsk Basin to Syria and I can go on and on and on. In terms of just power, I think it is Russia that we have to look at and address."
There are two threats that are most urgent right now: North Korea and the continuing fight against violent extremism.
North Korea's nuclear and missile program―in clear violation of U.N. sanctions―remains a problem, and the current fight against violent extremists from the Islamic State to Al-Qaeda to Boko Haram to other transnational terror groups must be fought.
"In terms of will, clearly it is China," he said, which he added is different than Russia. 
"Russia wants security around its periphery by causing insecurity among other nations," he said. "They want a veto authority over the economic, the diplomatic and the security decisions of the nations around them.
"China seems to want some sort of tribute states around them," he continued. "We are looking for how do we work with China. I think 15 years from now we will be remembered most for how…we set the conditions for a positive relationship with China."
The United States is looking for ways to cooperate with China, and that has been beneficial to both countries, Mattis said.
He pointed, as an example, to China's vote against the North Korean nuclear program in the U.N Security Council. He also pointed to the United States' continuing freedom of navigation operations in international waters and airspace as an example of how the United States will confront China when it must.
"I have met with my counterpart in Beijing and in Singapore 10 days ago, and he will be here 10 days from now to continue that dialogue as we sort it out," Mattis said.
Also part of the strategy are U.S. strengths, and foremost among them is the country's network of alliances and friends around the world. This network requires constant tending, the secretary said.