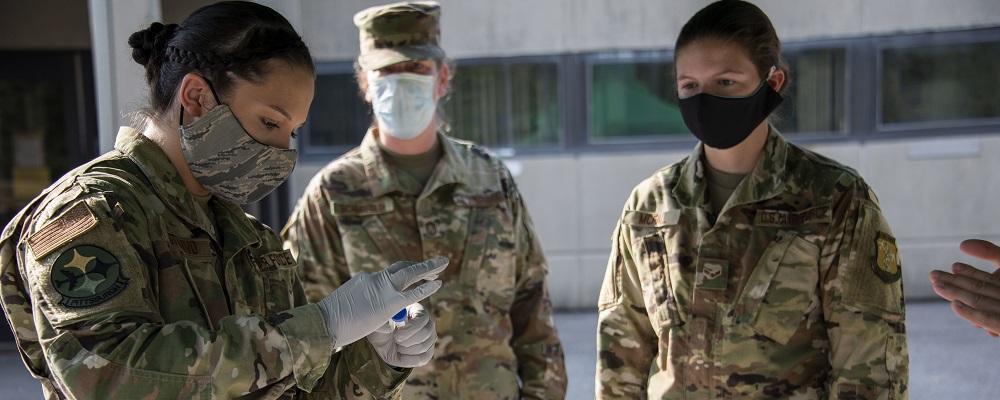 House Democrats have introduced a bill that would direct the Pentagon to fully fund the costs of states using the National Guard for coronavirus missions.
The bill was introduced earlier this week by Rep. Cheri Bustos, D-Ill., Rep. Deb Haaland, D-N.M., and Rep. Max Rose, D-N.Y. Rose is a Guardsman who previously reported for a COVID-19-related mission.
H.R. 8091 is co-sponsored by a group of 19 Democrats. It comes as lawmakers and outside groups continue to push the White House to reverse a plan to only partially cover Guard deployments related to the pandemic.
That effort, which has involved both Democrats and Republicans, was launched after President Trump announced plans to have most states pay 25% of the costs of the deployments. The federal government has previously covered costs for the missions through the use of Title 32, which provides federal funding and benefits but keeps Guardsmen under the command and control of their home states.
Trump has exempted Texas and Florida from the funding requirement and later announced he would provide full funding for California, Arizona and Connecticut through September.
Bustos told Stars and Stripes the bill ensures states can fight the pandemic on equal footing.
"This administration needs to learn that it is responsible for every state and territory in our nation, not just those from which it hopes to curry favor," she said. "In the middle of a pandemic, this administration decided to play political games and give preferential treatment to some states over others. Without providing any public health or economic justifications, it has burdened some cash-strapped states with a bill while exempting others – even though the [coronavirus] pandemic has wreaked havoc on every budget."
At least three groups of lawmakers have previously penned letters asking the president to rethink his decisions. The piecemeal approach has also drawn criticism from the National Governors Association.