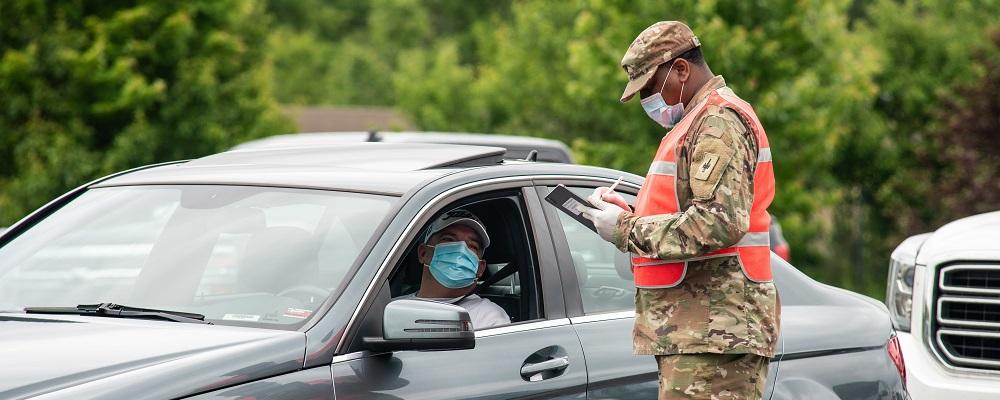 A growing chorus of lawmakers is asking the White House to reverse plans to reduce federal support for Guard deployments related to the coronavirus pandemic.
Dozens of members of Congress, both Democrats and Republicans, have sounded an alarm over the funding cuts, which could lead some states to pull back on their Guard missions.
The federal government has previously covered costs for coronavirus missions through the use of Title 32, which provides federal funding and benefits for Guardsmen but keeps them under the command and control of their home states. While authorizations for such missions now last through the end of the year, most states will have to start paying 25% of the costs on Aug. 22.
President Trump has exempted Texas and Florida from that requirement and will continue to provide full funding through the end of December. He later announced he would provide full funding for California, Arizona and Connecticut through September.
The piecemeal approach has drawn criticism from lawmakers and the National Governors Association, which has advocated for a "fair and equitable" distribution of Title 32 support.
At least three groups of lawmakers have penned letters to Trump asking for him to rethink his decisions.
Senate Democrats, led by Sen. Patrick Leahy of Vermont, asked that the White House restore 100% federal cost share for the use of the Guard during Title 32 coronavirus missions. Leahy is co-chair of the Senate Guard Caucus.
Another letter was led by Rep. Adam Smith, D-Wash., the chair of the House Armed Services Committee. It was signed by 100 members of the House, including four Republicans. And a third was penned by Smith and Rep. Peter DeFazio, D-Ore, who is chair of the House Committee on Transportation and Infrastructure.
"An estimated 25,000 National Guard troops are currently deployed throughout the country selflessly providing crucial assistance to state and local government COVID-19 responses," the latest letter reads. "These states and territories, which are already under immense financial strain due to COVID-19, will have difficulty providing all the needed services to their communities if they are burdened with the additional costs of the National Guard's crucial assistance."