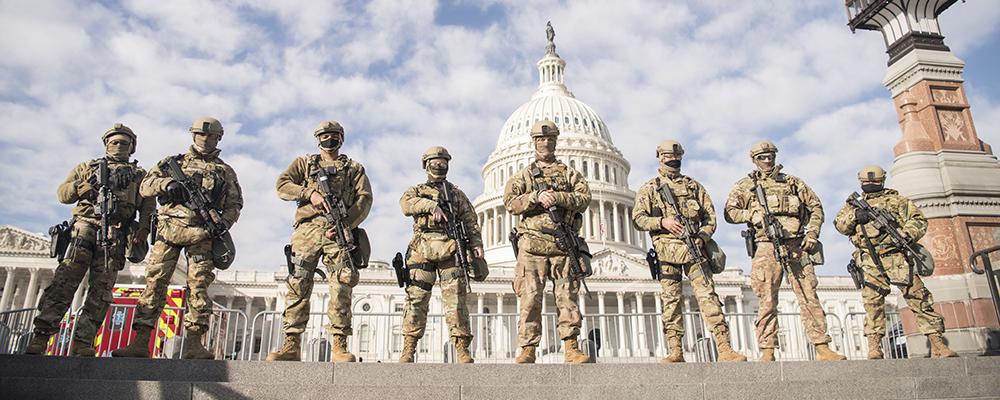 The National Guard's security mission at the U.S. Capitol is set to end next week, but Guardsmen may not be gone from the nation's capital very long.
In March, a security review of congressional operations recommended the creation of a Guard quick reaction force to help defend Capitol Hill by "mobilizing military police from Guard elements across the United States on rotations of three to six months."
Last week, Democratic leaders included $200 million in new funding to set up the unit, "a ground force equivalent of the 113th Wing within the District of Columbia Air National Guard at Joint Base Andrews, which defends National Capital Region airspace."
The top Republicans on both the House and Senate Armed Services committees quickly came out against the idea, which is aimed at augmenting the defensive response of the Capitol Police.
"Security of the Capitol Complex must remain the responsibility of federal civilian law enforcement," Rep. Mike D. Rogers, R-Ala., and Sen. James M. Inhofe, R-Okla., said in a joint statement.
"We cannot and should not militarize the security of the Capitol Complex," they said. "Further, Congress has held precisely no hearings to examine the creation of a quick reaction force to weigh costs, benefits, and fundamental questions about its nature and responsibilities."
NGAUS is also against the proposal, saying in a statement Wednesday that "Guard soldiers and airmen should perform law enforcement only as a last resort."
The association's chairman, retired Maj. Gen. Michael McGuire, and its president, retired Brig. Gen. J. Roy Robinson, said a QRF "would be another personnel-intensive requirement on our force as well as a detractor from the Guard's main mission of serving as the primary reserve of the Army and Air Force."
About 2,300 Guard soldiers and airmen are currently stationed on Capitol Hill, winding down the final days of a more than four-month mission to help secure congressional offices. All troops are scheduled to leave by May 23.
Nearly 26,000 were stationed around Washington, D.C., at the height of operations, prompted by the Jan. 6 attack on Congress and the inauguration of President Joe Biden two weeks later.
The supplemental funding also includes $521 million for Guard expenses related to the Capitol mission.
On Tuesday, Gen. Daniel R. Hokanson, the National Guard Bureau chief, told Congress that if the money is not delivered by the start of August, Guard units will have to delay or cancel planned training.