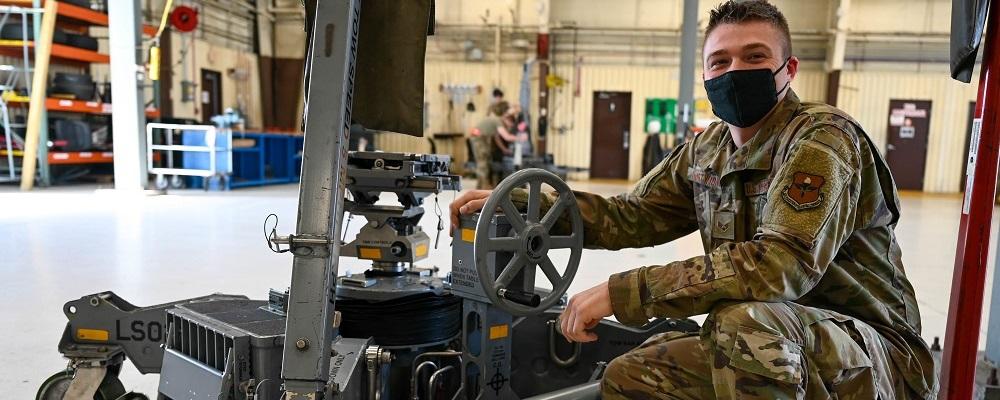 A bipartisan group of legislators has reintroduced a bill to connect members of the National Guard to in-demand skills training and employment assistance.
The Transition for Success Act, H.R. 4700, was authored by Rep. Cindy Axne, D-Iowa. The bill was also introduced last Congress and was included in the House version of the National Defense Authorization Act, but the measure was not part of the final version of that bill.
It now has the support of 13 co-sponsors representing both sides of the political aisle, as well as the backing of NGAUS, the Enlisted Association of the National Guard of the United States, the Reserve Officers Association and several major employers, including Microsoft, Amazon and the National Association of Homebuilders.
The legislation would open the Defense Department's SkillBridge program to members of the National Guard and Reserve who are within 180 days of transitioning out of the military. The program is currently only available to active component service members.
SkillBridge connects transitioning service members to in-demand skills training and prospective employers who are ready to hire.
Axne said the program has been successful and "It's only fair that we offer this same option to those who have chosen to serve our country in a reservist role or as members of the National Guard."
"The men and women of the Iowa National Guard protect our communities every single day, and their service should be afforded the same opportunities for success as other members of our armed forces," Axne said.
Co-sponsors of the legislation include Rep. William Timmons, R-S.C.; Rep. Conor Lamb, D-Pa.; Rep. Kelly Armstrong, R-N.D.; Rep. Tim Ryan, D-Ohio; Rep. Mariannette Miller-Meeks, R-Iowa; Rep. Susan Wild, D-Pa.; Rep. Mike Bost, R-Ill.; Rep. Andy Kim, D-N.J.; Rep. Gregory Murphy, R-N.C.; Del. Michael San Nicolas, D-Guam; Rep. Angie Craig, D-Minn.; Rep. Elissa Slotkin, D-Mich.; and Rep. Abigail Spanberger, D-Va.
Timmons is a current member of the South Carolina National Guard. Ryan is co-chair of the House National Guard and Reserve Caucus.
"For many servicemembers, the SkillBridge program has provided the training and resources they need to help transition to civilian life," Timmons said. "Members of the National Guard and Reserves should also be able to access this critical service. Expanding this program will help ensure that each of our veterans has the opportunity to succeed after service."
Ryan said the bill was a no-brainer.
"This bipartisan and zero-cost bill will allow the National Guard and Reserve to participate in SkillBridge-a highly successful civilian skills training program," he said. "We owe our transitioning service members, regardless of component, the opportunity to succeed."