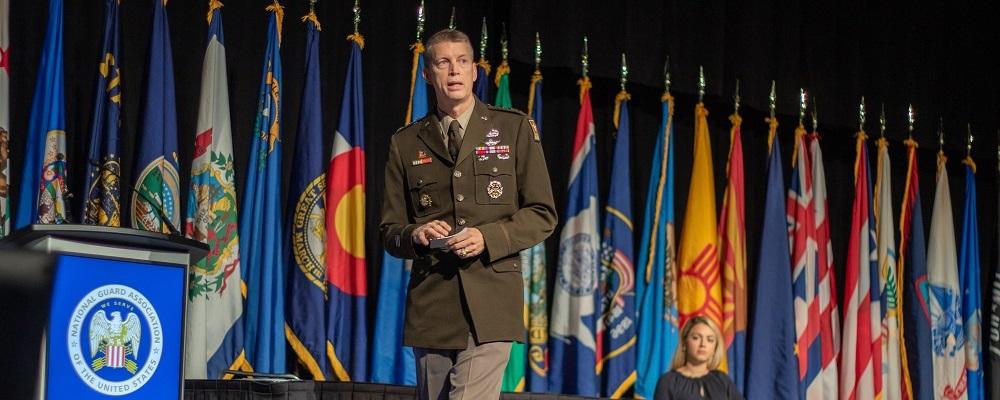 The chief of the National Guard Bureau addressed congressional concerns about aging aircraft, a Space National Guard and more during a Senate hearing last week.
Gen. Daniel R. Hokanson spoke to the Senate Appropriations Defense Subcommittee on May 18, alongside leaders of the other reserve components.
Much of the hearing was focused on the efforts of the Guard, which have been numerous and spread across all states and territories over the past year.
Sen. Jon Tester, D-Mont., the subcommittee chair, said the nation owed the Guard a debt of gratitude for its pandemic response. It was a sentiment shared by many on the committee, who repeatedly praised soldiers and airmen for their work not only amid the COVID-19 pandemic, but natural disasters, civil unrest and overseas missions.
Despite the numerous domestic missions, Hokanson said the Guard continued to train and met every overseas deployment requirement, despite having more Guardsmen mobilized than at any time since World War II.
He said his top legislative priority was ensuring every Guardsman has access to health care through TRICARE Reserve Select. Several senators said they supported that effort.
Hokanson fielded questions on the Guard's cyber force, the cost of the then-ongoing Capitol security mission and addressed concerns over the cost of a potential Space National Guard.
Sen. Richard Shelby, R-Ala., asked the general about a Congressional Budget Office estimate that placed the cost for such a force at $100 million per year.
"The actual cost is about $200,000 and that's just to change the name tapes on their uniforms, the sign outside their buildings and the flags of the units," Hokanson said. "The units already exist, they're already performing the mission today. We don't need any additional MILCON or infrastructure. We're basically just taking the folks doing the mission today and instead of Air Force it'll say Space Force on their name tag."
Hokanson also updated senators on the mission on the southern border.
Thousands of Guardsmen who have been rotating to the border since 2018 are set to go home by Sept. 30, when the mission is set to end, he said.
But there is likely to be some sort of military presence at the border beyond that, as the Department of Homeland Security has requested an extension.
Hokanson said the request is currently working its way through the Pentagon to determine how it can be filled, with a possible option being the use of active-component forces.
Other questions focused on modernization efforts for aging KC-135 Statotankers and C-130H Hercules cargo planes, as well as concerns over the brand new KC-46 Pegasus tanker, which has been plagued by numerous issues since it was introduced in 2019.
Hokanson said the planes were critical to the nation's defense.