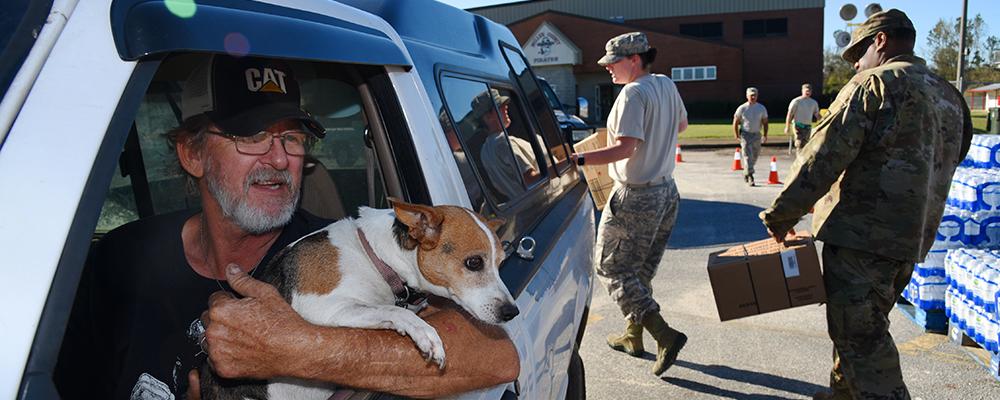 About 4,400 National Guardsmen from 11 states are still helping local authorities today in Florida and Georgia respond to the destruction caused by Hurricane Michael last week.
The storm and its 155 mph winds slammed into the Florida panhandle Wednesday, tossing cars and boats, toppling trees and power lines, and lifting housing and other structures off their foundations.    
Michael took at least 17 lives and caused insured property damage estimated at $8 billion. Both numbers could climb as authorities lack a full accounting because power and cell-phone service has yet to be fully restored in areas hardest hit.
Guardsmen have cleared debris, helped distribute food and water, provided security, and assisted with aerial reconnaissance.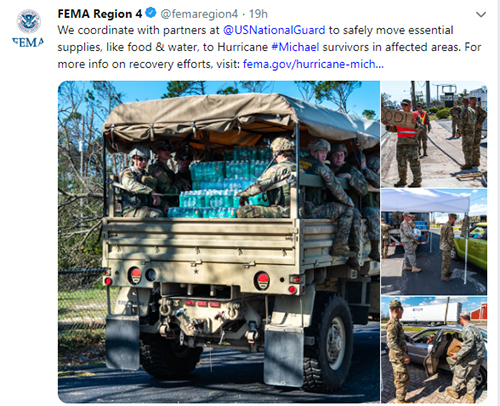 Those on duty today included soldiers and airmen from Alabama, Arkansas, Florida, Georgia, Kansas, Minnesota, Ohio, Louisiana, New York, Mississippi and Wisconsin, according to the National Guard Bureau.   
Florida Guardsmen were in the air in the immediate aftermath of the storm. 
"It gives us a bird's eye view of where to start," said 1st Lt. Curtis Burnside. "There are different parts of the area that are cut off from the mainland, so we need to get to those people first and use the engineer assets we have to move there.
"Once we get that secured and cleared, then we can start moving across the area to help other people."
By Oct. 13, the Florida National Guard had nine points of distribution in Panama City, Florida, alone. Each POD included 20 soldiers handing food and bottle water to local citizens. 
"We've been able to reach out to the local people and give them a spark of hope by providing food and water to them," said Staff Sgt. Terrance A. Francis, a member of 2nd Battalion, 124th Infantry, 53rd Infantry Brigade Combat Team.
"This could happen to anybody, even me," said Spc. Jeffery Simon, another member of the unit. "[Distributing food and water] is of great importance to me, I can see how the people of Panama City have been affected. They need help and that is what we are here for, I would hope the National Guard would help my family if something like this happened in my hometown."
Among the hardest areas was Tyndall Air Force Base, Florida, about 12 miles east of Panama City. The base is home to the Air Force's F-22 Raptor schoolhouse. Not all of the stealth fighters could be moved before the storm, which significantly damaged hangars, other building and some aircraft on the base.  
Among the units involved in the F-22 training at Tyndall is the Florida Air Guard's 325th Fighter Wing Associate Unit. The Florida Air Guard's 101st Air and Space Operations Group is also located on the base.