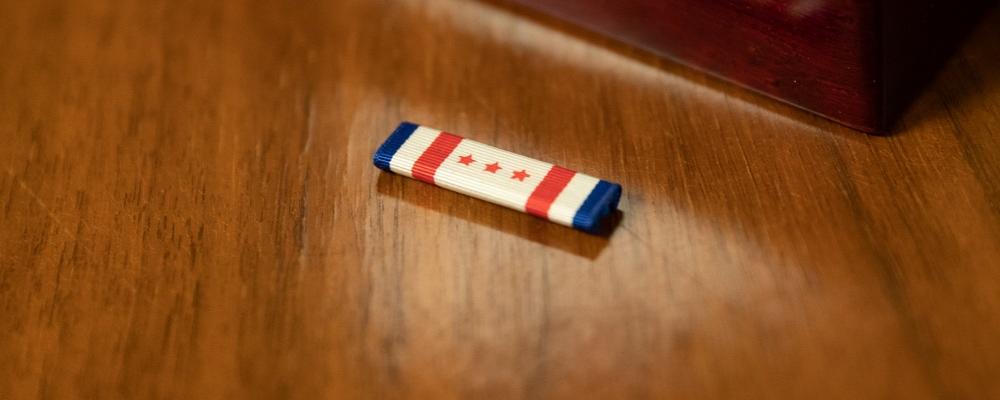 National Guard soldiers and airmen who deployed to support the inauguration of President Joe Biden are now eligible for a new award.
The D.C. National Guard Presidential Inauguration Support Ribbon can be worn when a service member is not on federal Title 10 orders. It is to be displayed on dress uniforms after federal and home state medals and ribbons.
More than 26,000 Guardsmen from all 50 states, three territories and the District of Columbia provided support to the inauguration. The ribbon was developed well before the event, officials said, and was approved by the Army Institute of Heraldry late last year.
It features red, white and blue vertical bands at each end of the ribbon and three red stars centered horizontally on a white background. The three stars represent the D.C. flag and the red, white and blue colors represent the U.S. flag.
"The ribbon is to recognize the sacrifice of Guardsmen who leave their businesses, their families, their educations — to come here and ensure the peaceful transition of presidential power," said Maj. Gen. William J. Walker, the commanding general of the D.C. National Guard. "They're part of a security apparatus in support of the U.S. Secret Service. For many, it's a once-in-a-career opportunity, and I think this ribbon is befitting of their time, energy and effort to support democracy."
Officials said the ribbon also recognizes the Guard's historical ties to the inauguration. Guard units have been involved in presidential inaugurations since George Washington, who was escorted to New York by militia groups.
The D.C. Guard traces its role in the event to 1861, when local Guardsmen escorted President Lincoln to the Capitol for his inauguration.
Walker said the award is currently only for those who participated in the 59th Presidential Inauguration earlier this year, but said regulations may be changed to allow it to be rewarded retroactively to those who took part in previous inaugurations.
"We believe that it is fitting to award those Guardsmen," he said. "Any Guardsmen alive should be given this award in recognition of their service during the inaugural periods established by the Presidential Inaugural Committee. And it's something they should look back on fondly for their participation in history."