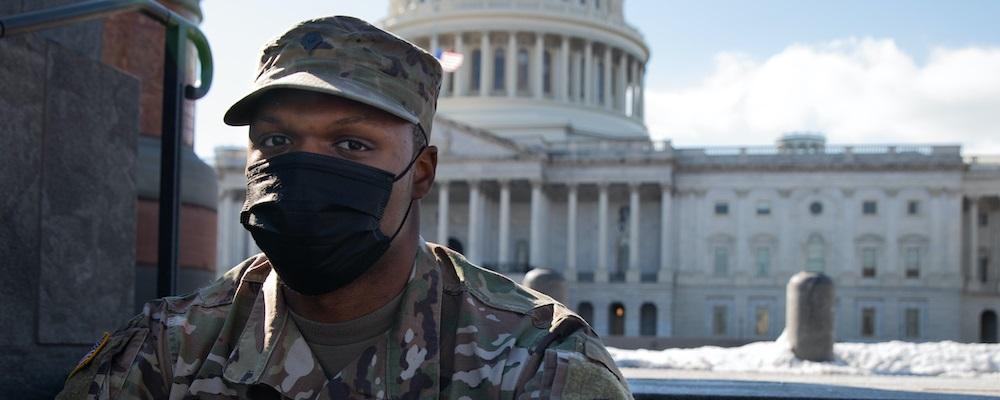 Defense Secretary Lloyd Austin said Friday that there has been no request to keep National Guard troops at the U.S. Capitol beyond mid-March.
That followed reports that some of the soldiers and airmen currently deployed to D.C. since the deadly riot on the Capitol on Jan. 6 could stay indefinitely, even as officials and lawmakers questioned the existence of threats to justify the deployments.
Approximately 5,200 soldiers and airmen remain in Washington, D.C., for the post-inaugural support mission. They will be set to go home in the coming weeks.
"Right now, in terms of our expected stay, it is March 12," Austin said during remarks at the Pentagon. "We don't have an additional requirement or requests from another federal agency to provide them support."
Austin declined to address whether there have been any credible threats that require the mission to be extended.
"My plan is to not keep [troops] there one day longer than is necessary, but they know and understand that if our lawmakers … need protection, they stand ready to provide that protection," he said.
At the mission's peak, more than 26,000 Guardsmen from all 50 states, Guam, Puerto Rico, the U.S. Virgin Islands and the District of Columbia were on duty in the city to provide support ahead of and through the inauguration of President Joe Biden.
The length of the mission has been openly questioned by Republican lawmakers. And the legality has been debated by some Guard leaders, including Maj. Gen. Michael McGuire, the Arizona adjutant general and NGAUS chairman of the board.
In a letter to the National Guard Bureau, McGuire said his state was unable to find an appropriate legal authority to justify the support of law enforcement efforts in D.C.
Republicans, including two drilling Guardsmen, questioned the use of the Guard amid an unprecedented year dominated by a nationwide pandemic and ongoing domestic and overseas missions.
 "As you know better than anyone, our National Guard men and women are deployed on short notice and pulled away from their families and jobs," said Rep. Michael Waltz, R-Fla., a lieutenant colonel in the Maryland Army Guard. "Further, the Guard has endured unprecedented stress on the force in the past year given COVID-19, social unrest, natural disasters, and ongoing overseas requirements."
"The National Guard should be used as an option of absolute last resort," he added.
In addition to Waltz, the letter was also signed by Rep. William Timmons, R-S.C., who serves in the South Carolina Air Guard.