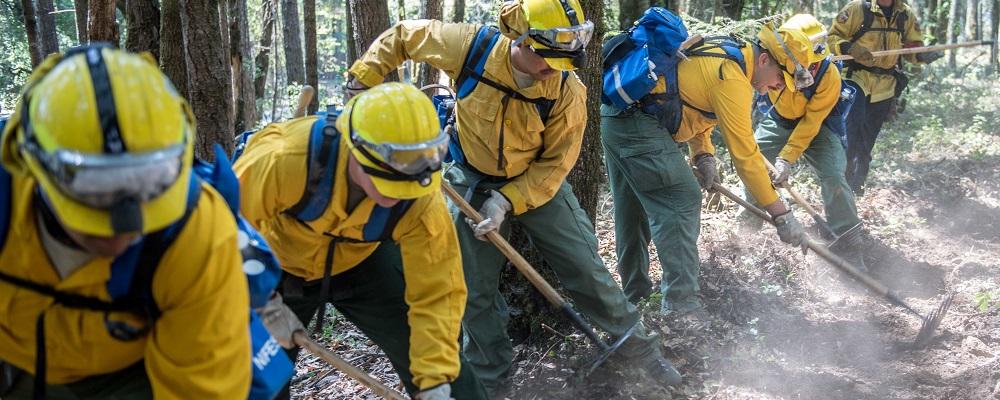 California National Guard helicopter crews rescued more than 300 people trapped by large wildfires across the state over the Labor Day weekend.
The rescue missions are part of the Guard's response to the historic fires, which have already burned close to 2.3 million acres this year, which is an area larger than the state of Delaware.
"1987 was one of the worst fire seasons on record, and currently they're on pace to exceed that," said Gen. Daniel R. Hokanson, the chief of the National Guard Bureau while speaking to reporters.
Hokanson personally toured active fire sites in the state last week. 
At least 1,300 guardsmen from five states — Colorado, Idaho, Nevada, Utah and Wyoming — are in California battling the blazes in a variety of roles.
Guard helicopters and C-130 cargo planes are performing rescue missions, aerial firefighting and resupply runs throughout the state. They are also being used to insert small groups of firefighters into hot spots. 
About 560 Air and Army Guardsmen are on the ground serving as "type II" hand crews backing up civilian firefighters. Another 560 California Guardsmen are currently in training to work as firefighters as well. 
The Guard is also responsible for managing the airspace over the fires and clearing unburned fuel from potential hot spots.
The California Air Guard has been providing emergency managers with up-to-date information and imagery of the fires using both manned and unmanned aircraft. The Guard is also using space-based assets such as National Geospatial-Intelligence Agency satellites to monitor the blazes.
"We've been doing this since 2018, and are becoming pretty good at it," said Maj. Gen. David S. Baldwin, the adjutant general of California.
Baldwin said the California Air Guard works closely with the agency to utilize its surveillance satellites "in an unclassified mode" to spot new fires. 
Many of the fires currently burning are not contained, and future weather conditions in the state will offer no relief for the responders.
"Unfortunately the weather is going to continue to be hot here in California, fortunately no recent lightning," Hokanson said, adding, "The concern is the Santa Ana winds coming up a little bit later this year and the concern with the temperatures, if they continue."
Some of the fires have hit Guardsmen close to home. And the mission illustrates the close relationship Guard units have with their communities.
"Being Californians, being Americans, we love being able to support our neighbors," said 2nd Lt. James Brown, a California Air Guardsmen who specializes in using intelligence assets to fight fires. "Some of our guys live in these affected areas, so it's their neighborhoods they are being able to look out for."
In addition to the historic fire season, many California Guardsmen are still performing COVID-19 support missions, including operating 23 food banks, manning COVID-19 test sites and supporting skilled nursing facilities. 
"This really is just one of the small groups of the 64,000 National Guardsmen across our nation and overseas who are on duty today," Hokanson said. "That includes over 18,000 deployed, we've got over 18,000 still working COVID-19 and just over 1,200 performing civil disturbance operations. We still have close to 4,000 responding to Hurricane Laura."