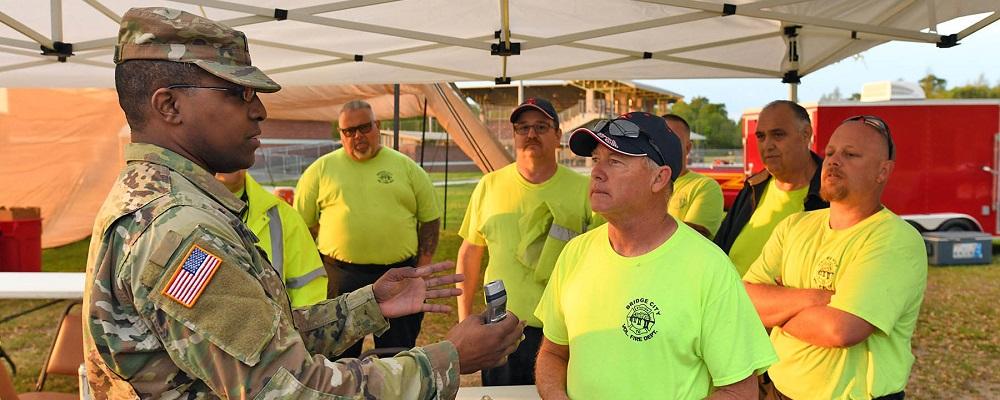 Thousands of National Guardsmen are currently deployed in support of the fight against the COVID-19 pandemic, but in many cases, their leaders are engaged in another fight.
Governors and adjutants general across several states have had to shoot down rumors of statewide and nationwide quarantines, martial law and other conspiracy theories since the novel coronavirus began spreading throughout the country.
The rumors have spread largely through social media, which is filled with images of routine operations construed as more nefarious undertakings.
Gen. Joseph Lengyel, the chief of the National Guard Bureau, has repeatedly said no Guardsmen are being used to enforce quarantine or shelter-in-place activities.
"I hear unfounded rumors about #NationalGuard troops supporting a nationwide quarantine," Lengyel tweeted on Friday. "Let me be clear: There has been no such discussion."
Other leaders have made similar statements. In Ohio, Gov. Mike DeWine said martial law rumors are constant.
"Every day I get rumors and I get texts, emails and calls so let me do my daily National Guard rumor put down," he said Thursday, according to media reports.
"The National Guard is not involved in carrying weapons," the governor added. "You may see them carrying groceries."
"It's important to emphasize what we're doing and what we're not doing is enforcing martial law," added Maj. Gen. John C. Harris Jr., the adjutant general of Ohio, who spoke to ABC 6 in Ohio. "The rumors are going rampant out there on social media. It's important we correct those and folks understand that these Guardsmen they will see in their communities are from their communities. It's their coworkers, it's their neighbors, it's their friends and family."
Rumors have taken hold across the nation, from Washington to Texas to New York and seemingly all points in between.
"Emergencies are scary enough. Let's not add to the fear by spreading misinformation," the Washington National Guard said in a social media message last week. "[The Washington National Guard] is your neighbor, your friend and we want what's best for our communities — we live here too. Let's put aside the rumors about martial law or military rule. IT'S JUST NOT TRUE."