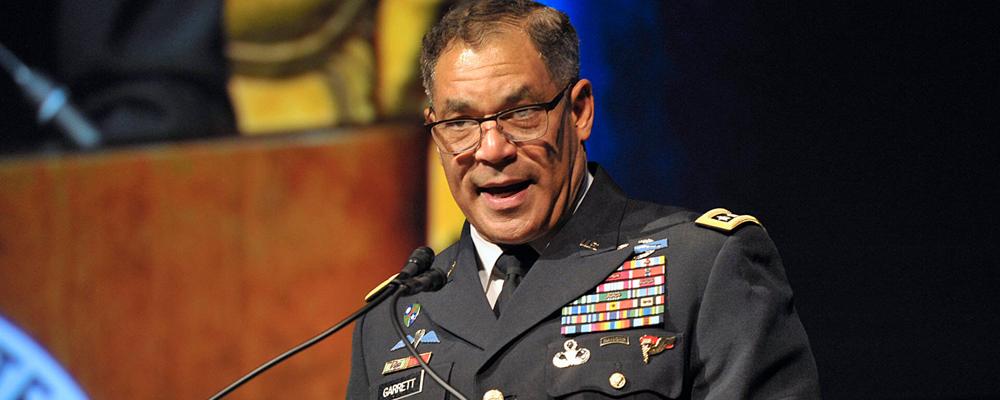 The U.S. military would have lost in Iraq and Afghanistan long ago were it not for the Army National Guard and Army Reserve, a four-star general said at the Association of the U.S. Army Annual Meeting this week.
Gen. Michael X. Garrett, the commander of U.S. Army Forces Command, made the remark while speaking at the Maj. Gen. Robert G. Moorhead National Guard/Army Reserve Breakfast on Monday.
FORSCOM is the Army's largest organization, with command over 215,000 active-component soldiers and 190,000 Reserve soldiers, as well as training and readiness oversight for the Army National Guard.
"Readiness is the primary responsibility," of the command, Garrett said. And he acknowledged that key role Guardsmen and Reservists play in that readiness and discussed efforts to relieve stresses caused by years of high demand of reserve component soldiers.
Lt. Gen. Daniel Hokanson, the director of the Army National Guard, and Lt. Gen. Charles Luckey, chief of the Army Reserve, also spoke during the breakfast, during which outstanding Guard and Reserve units were recognized.
One unit from each component was honored with the Gen. Walter T. Kerwin Jr. Readiness Award, recognizing the unit with the highest level of readiness in 2018. The award is presented in cooperation with AUSA, NGAUS and the Reserve Officers Association.
This year's Guard recipient was the South Dakota Army Guard's 139th Brigade Support Battalion. The 139th supported numerous training exercises and relief efforts in Puerto Rico in 2017 following Hurricane Maria.
Hokanson said Guard units like the 139th continue to be an essential part of the Army. For the second consecutive year, Guard units completed four rotations at combat training centers, 25,000 Guardsmen supported 71 exercises around the world, 22,000 deployed to combatant commands and 20,000 remain deployed today.
Guardsmen also contributed 1.8 million man-days of state active duty to support governors across all 54 states, territories and the District of Columbia.
Garrett said he has gained an incredible respect for the professionalism and dedication of the nation's citizen-soldiers.
"We have men and women that have complete and separate lives, who I am able to very comfortably send anywhere in the world on any mission," he said. "Know that I am very appreciative of everything that you all do and amazed at how well you do it."
Garrett noted that 26,000 Guard and Reserve soldiers are currently deployed and that their efforts are indispensable. But at the same time, he said he recognizes the stresses caused by the high demand — especially among armor and Stryker brigade combat teams.
"I'm looking for more things I can take off your plate," Garrett said.
Hokanson said other units, too, will migrate longer dwell times. And he said leaders are working to reduce or eliminate mandatory training that can overtake the Guard's limited training opportunities.
"We owe it to our soldiers to do whatever we can to maximize our drill periods and annual training," he said.
But Hokanson said the Guard also needs more full-time support to maintain combat vehicles and other equipment and must upgrade its aging Guard facilities.
More full-time support would increase readiness by ensuring units spend more time training and less time preparing to train, Hokanson said. Replacing old readiness centers could have a similar impact.
"Nearly half of the Army's poor or failing facilities are in the Army Guard," he said. "And we must address this so our soldiers can be more efficient and effective in training and can better maintain their equipment."
Garrett also spoke of other changes coming to the Total Army, including new talent management efforts and a renewed priority on physical fitness, as evidence by the new physical fitness test and the Army's Holistic Health and Fitness pilot program, which has integrated training coaches and nutritionists into some battalions.
That program has seen reduced injuries and improved Army Combat Fitness Test scores, Garrett said. But there are no illusions that what works for the active component will also work in reserve component units that are spread over a larger geographical area and serve part-time.
He said leaders are now meeting to determine what such a program may look like in the Guard and Reserve.