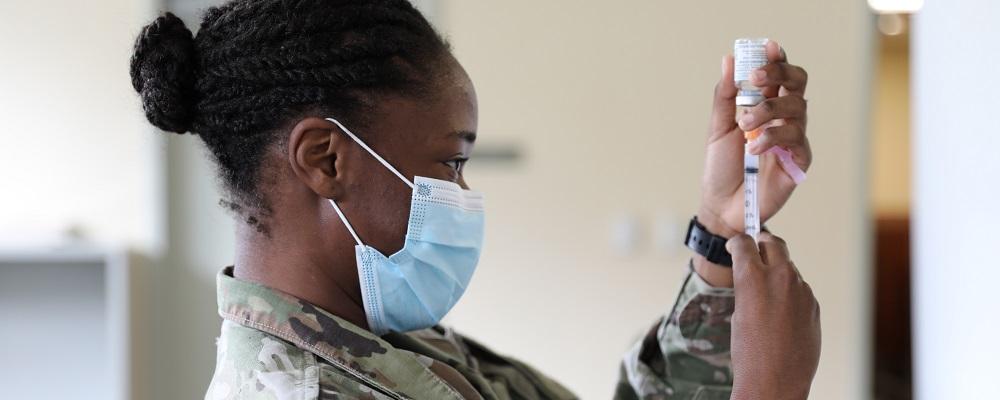 The National Guard has now vaccinated more than 6 million members of the general population, Guard officials announced last week.
More than 31,500 Guard soldiers and airmen remain on COVID-19 related duties. That includes 2,250 vaccinators staffing more than 1,000 fixed and mobile vaccination sites.
In many states, the Guard is helping to reach rural or vulnerable populations who may have limited access to vaccines otherwise.
The Nevada National Guard has launched mobile vaccination units to reach rural Indian tribes and other communities, offering walk-up shots on a first-come, first-served basis.
Other Guard forces have helped staff more large-scale operations, such as a massive drive-through clinic in Louisville, Kentucky, capable of giving 4,000 shots per day.
"For us, this mission is about Kentuckians helping Kentuckians," said Maj. Tiffany Campbell, who is leading a team of 35 Kentucky Guard soldiers and airmen at the site. "As members of the Kentucky National Guard, we live and work here, too, and we're grateful to help our friends and neighbors in any way we can. We'll continue to be here as long as we're needed to ensure a safe and effective vaccination program."
Guard leaders said the ongoing vaccinations were part of a team effort with local, state and federal officials.
"Each vaccination administered decreases the chance of another American dying from COVID-19," said Col. Larry Fletcher, the deputy director of the National Guard Bureau Office of the Joint Surgeon. "We have learned from the past year, and through the launch of the vaccine mission, it is a team effort. The partnerships — with FEMA, Health and Human Services, the U.S. Public Health Service as well as state and local governments — ensure that we meet mission requirements."
Guardsmen are serving across their states, working to ensure equal access to the vaccine.
"Since the very beginning, we have had a very high emphasis on health equity," said Col. Russell Kohl, the commander of the Missouri Air Guard's 131st Medical Group. "We've really focused our teams and activities on rural areas that essentially have no local health care infrastructure and then move into underserved populations – particularly in urban St. Louis and Kansas City."
But Kohl said the work isn't done.
"For the National Guard, there has never been an 'end of mission,'" he said. "We finish one mission and we go back home to our civilian jobs. But the next time our community needs us, we are right here again."