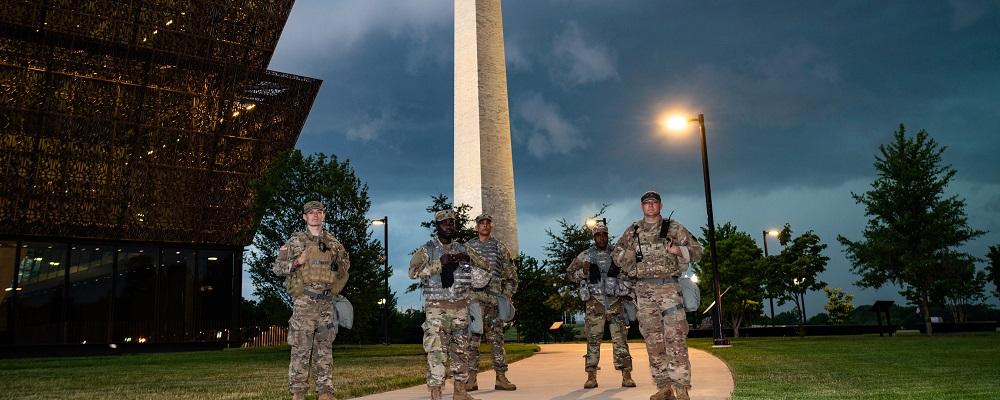 The number of Guardsmen supporting domestic missions continues to decline following a historic response, but some lawmakers are now questioning whether all of the Guardsmen ordered to duty amid nationwide protests were needed.
A group of nine Senate Democrats are asking the Trump administration for answers on the cost and legal justification of deployments of thousands of out-of-state Guardsmen to Washington, D.C.
The Guardsmen, who came from several states, were deployed after largely peaceful protests were marred by violence and vandalism in the nation's capital. Reports have estimated the cost of the deployments to be up to $2.6 million a day or potentially about $21 million.
Sen. Richard Blumenthal, D-Conn., Sen. Sherrod Brown, D-Ohio, Sen. Thomas Carper, D-Del., Sen. Patrick Leahy, D-Vt., Sen. Edward Markey, D-Mass., Sen. Jeffrey Merkley, D-Ore., Sen. Tom Udall, D-N.M., Sen. Chris Van Hollen, D-Md., and Sen. Ron Wyden, D-Ore., are asking for details on the deployments.
Leahy is the Democratic co-chair of the Senate National Guard Caucus.
The Guard mission in D.C. was part of a massive nationwide deployment of Guardsmen amid civil unrest following the death of George Floyd, an unarmed black man killed in police custody in Minnesota. The missions came during an equally large Guard response to the COVID-19 pandemic.
In all, more than 100,000 were deployed at the peak of both missions, nearly double the number of Guardsmen who responded domestically following Hurricane Katrina in 2005.
The senators are asking for the costs and legal justification for the deployments to D.C. The letter states that while Guardsmen from outside the District of Columbia were never formally federalized, they appeared to be under the command and control of Pentagon leadership and the president. 
Specifically, the senators are asking for "a full description of the chain of command from each unit up to the President and the Secretary of Defense; and, a detailed justification explaining how the President and Secretary of Defense have the authority to command National Guard personnel in Title 32 status."
Carper and Van Hollen went a step further than the letter, introducing legislation (S. 3981) that would strip the president's authority to control the D.C. National Guard, instead placing that power with the city's mayor. A similar bill has previously been introduced in the House of Representatives by Rep. Eleanor Holmes Norton, D-D.C.
"The President's use of force against peaceful protestors in D.C. was a gross violation of their First Amendment rights," Van Hollen said. "No governor would allow the President to march troops into their state without express approval — and yet, the District of Columbia is denied that basic right."