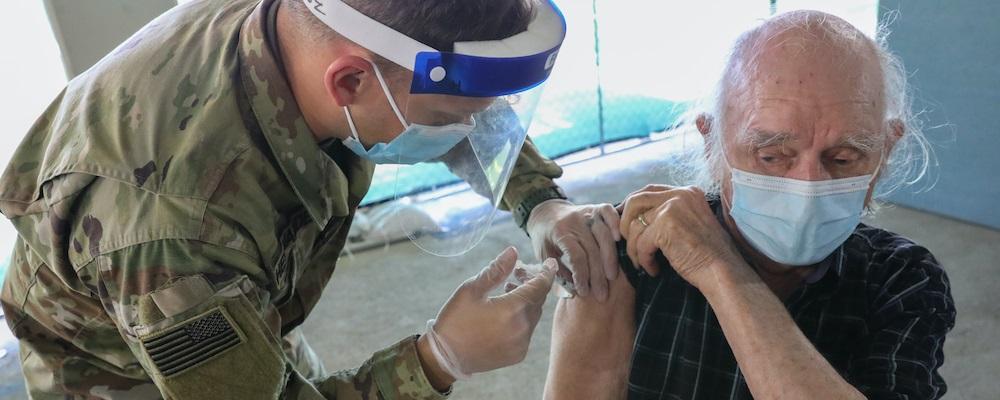 National Guard soldiers and airmen are vaccinating about 72,000 people each day as part of the latest phase of the nearly year-long effort to battle the COVID-19 pandemic.
But many across the nation, including those in uniform, are turning down the vaccine, despite the urging of health professionals.
Pentagon officials last week said they have administered more than 900,000 doses to troops, but that about a third of those offered the vaccine have turned it down. That percentage mirrors the civilian population.
Nearly 29,000 Guardsmen are currently involved in COVID-19 operations. That includes those manning vaccination sites and soldiers and airmen overseeing logistics and other support functions.
During a House Armed Services Committee hearing last week, defense officials detailed the ongoing efforts. And fielded questions of concern over the vaccination rollout.
"It's critical for our national security that every service member, as well as DoD civilian personnel and contractors, receive vaccines as soon as possible," said Rep. Mike Rogers, R-Ala.
Military leaders previously said service members could choose not to be vaccinated, but warned that may not be an option once vaccines have full Food and Drug Administration approval.
Both the Pfizer and Moderna vaccines are currently being used under an emergency use authorization.
Guard efforts to vaccinate the population, particularly in rural and underserved areas, are growing.
Maj. Gen. Steven Nordhaus, the director of operations at the National Guard Bureau, told HASC that Guard-run vaccination sites have grown to more than 350 across 43 states and territories.
Since the start of vaccination efforts, he estimated the Guard has administered over 1.2 million vaccines to the civilian population.
That's in addition to other COVID-related tasks the Guard has undertaken since early last year.
"In 2020 alone, our National Guard members tested nearly 13 million people, provided medical planning support to local communities and conducted warehouse operations to support the distribution of personal protective equipment and medical equipment to hospitals and community medical centers," he said. "The National Guard also provided nearly 550 million meals to families in need, disinfected over 9,600 long-term care facilities, and delivered nearly 37 million masks for front line workers."
In recent weeks, the active component has also increased its support to vaccination efforts.
But at the same time, reports indicate some deployed service members are having trouble getting vaccinated.
According to Military Times, some deployed troops who wish to be vaccinated have not been offered a shot.