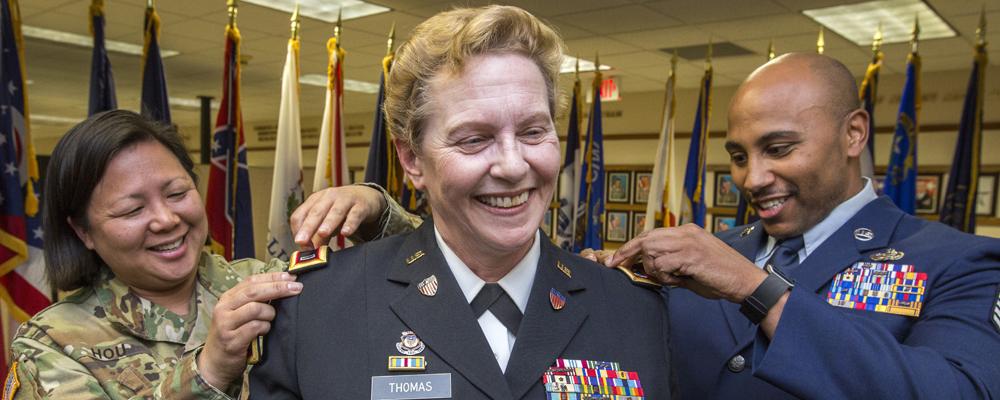 Sponsors of the National Guard Promotion Accountability Act in the House [H.R. 5713] and Senate [S.R. 2801] hope a solution to long delays plaguing promotions for Guard officers will be included in the fiscal 2019 National Defense Authorization Act.
The House and Senate versions of the NDAA will be reconciled this month. The final version will go to the entire Congress for more debate and an eventual vote.
Both versions of the NDAA addressed the long waits officers endure between their state promotions and the Pentagon's final approval of them. The House version adopts all of H.R. 5713, but the Senate bill includes less, only giving authority to service secretaries to backdate delayed promotions, but not making such action mandatory, as the House NDAA does.
National Guard, the NGAUS membership publication, sought comments from bill sponsors for the July edition as the negotiations were getting underway. Some of their remarks are published here.
"We've got a very strong marker laid down in the House NDAA that will be conferenced with the Senate NDAA bill," said Sen. Steve Daines, R-Mont., a sponsor of S.R. 2801 with Sen. Elizabeth Warren, D-Mass. "That is where we will need to bring this policy across the finish line."
Warren said, "I think this is a very important first step. I'm going to keep pushing this. This gives us now the capacity to go to the secretary of the Army or the secretary of the Air Force and say There is a problem and you now have authority to backdate."
Rep. Carol Shea-Porter, D-N.H., a sponsor of H.R. 5713, said the negotiations over the final NDAA will include advocates for her legislation,
"In the interim, we're not staying quiet about it," she said. "We'll be talking to our colleagues. On the Senate side, we have a couple champions."
Rep. Trent Kelly, R-Miss., also a sponsor of the House bill, says the White House's opposition to the legislation is probably due to a misunderstanding. The White House said the legislation would favor Guard officers over those in the active component.
"I think it's just a lack of understanding and I think we've got to educate people on it," said Kelly, a one-star general in the Mississippi Army National Guard.
He is hopeful for progress this year, but insists a defeat will not stop his effort to change the policy.
"I'm going to continue to push," he said. "It'll be back in there next year."