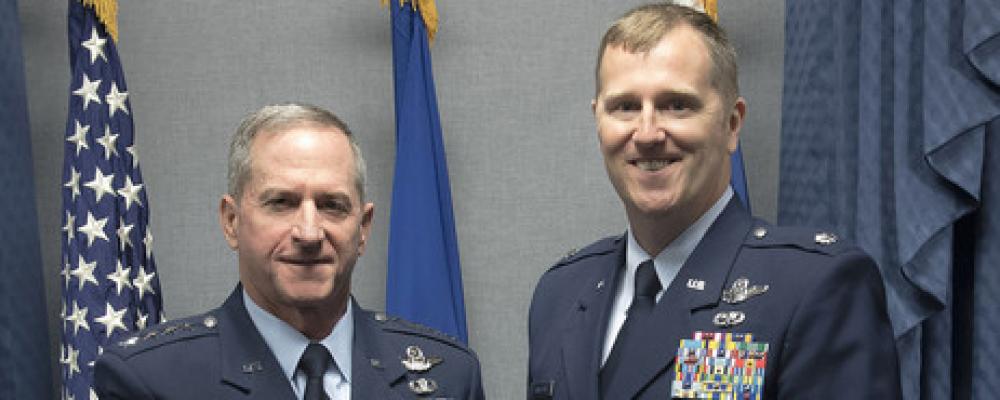 Lt. Col. Daniel Finnegan, the Vermont Air National Guard's 158th Fighter Wing plans officer, was presented the Koren Kolligian Jr. Trophy by Gen. David L. Goldfein, the Air Force chief of staff, at the Pentagon last week.
"The Kolligian Trophy is one of the most coveted of all aviation awards," Goldfein said. "Recipients are recognized for their extraordinary skill in averting or minimizing the impact of a flight mishap."
While deployed to Kuwait in 2017, Finnegan was performing a test flight in an F-16 Fighting Falcon when he experienced a complex in-flight emergency. Two minutes after takeoff, a major electrical fire broke out in his aircraft, melting the electrical circuits and severing connections to the power generators. The aircraft lost all displays and navigation instruments.
"I remember looking out the left side, seeing what I could see for visual references, which was nothing, and then hearing the emergency power unit fire," Finnegan said. "I looked around and the entire cockpit was blacked out."
With no instruments and initially no radio, there was no way to know how much power was left, where he was, at what speed the aircraft was traveling or whether the landing gear was down.
Surrounded by featureless terrain and with little visibility, Finnegan resorted to searching for landmarks to find home base. He eventually found a road that guided him back. With possibly only minutes before complete battery failure, Finnegan managed to regain some radio communication with the control tower and performed emergency landing-gear procedures.
He flew a low pass by the control tower to confirm the landing gear was down. He also discovered the speed brakes and both rear and leading edge flaps were inoperable. Finally, he successfully executed a heavy-weight landing on "feel" alone, sparing the aircraft from further damage.
"In the F-16, when you're slow, there's a feeling of sinking, and when you're fast, there's just a feeling of going fast. It was finding that happy medium that allowed me to get the aircraft on the ground and come to a full stop," Finnegan said.
The award was established in 1957 to honor 1st Lt. Koren Kolligian Jr., an Air Force pilot declared missing in the line of duty when his T-33 Shooting Star disappeared off the California coast Sept. 14, 1955.