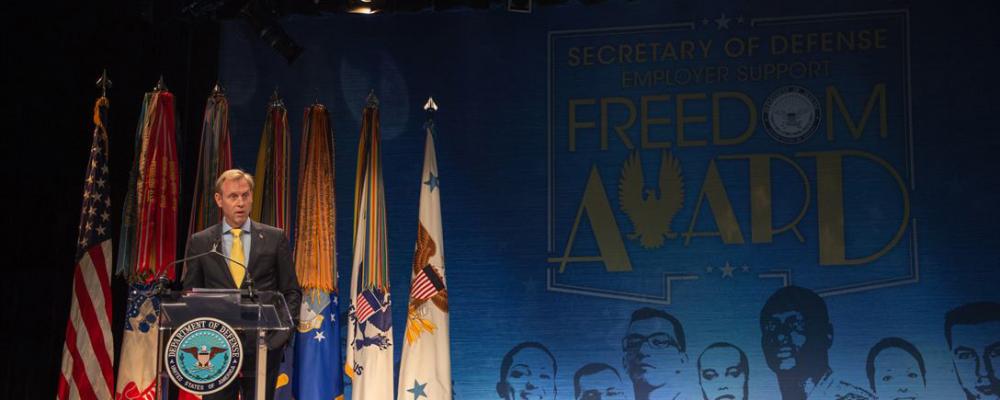 Thirty companies or organizations have been named as 2019 finalists for the highest Defense Department award an employer can receive for supporting Guard and Reserve employees.
The DoD's Employer Support of the Guard and Reserve program announced the finalists, representing large and small employers and government organizations from 21 states, last week.
ESGR will announce in mid-June which 15 employers from the finalists will receive the 2019 Secretary of Defense Employer Support Freedom Award.
ESGR's annual awards program has recognized 265 employers since 1996. This year, more than 2,400 nominations from all 50 states, three territories and the District of Columbia were submitted.
This year's finalists include:
•    Archer Daniels Midland of Chicago;
•    Barclays of New York;
•    Battlefield Vegas of Las Vegas;
•    Callison Tighe & Robinson of Columbia, South Carolina;
•    Central Washington University of Ellensburg, Washington;
•    Chevron of San Ramon, California;
•    Cleveland Cavaliers of Cleveland;
•    Cracker Barrel Old Country Stores of Lebanon, Tennessee;
•    Delta Solutions & Strategies of Colorado Springs, Colorado;
•    Direct Supply Inc. of Milwaukee;
•    Eversource Energy of Berlin, Connecticut;
•    Houston Police Department of Houston;
•    Kauai Auto Repair of Kalaheo, Hawaii;
•    League of Minnesota Cities of Saint Paul, Minnesota;
•    Levi Rodgers Real Estate Group @ RE/MAX Military City of San Antonio;
•    LG&E and KU Energy LLC of Louisville, Kentucky;
•    Nationwide Mutual Insurance Company of Columbus, Ohio;
•    Sanford Health of Sioux Falls, South Dakota;
•    Sparta Police Department of Sparta, Wisconsin;
•    State of Nevada of Carson City, Nevada;
•    The Independence Fund of Charlotte, North Carolina;
•    The Steel Network of Durham, North Carolina;
•    Topeka Police Department of Topeka, Kansas;
•    Travis Manion Foundation of Doylestown, Pennsylvania;
•    University Health System of San Antonio;
•    U.S. Department of Justice, Office of the U.S. Trustee of Columbus, Ohio;
•    Village of Ladd of Ladd, Illinois;
•    West Valley City of West Valley City, Utah; and 
•    Worcester Police Department of Worcester, Massachusetts.
For more information on ESGR, visit www.esgr.mil.