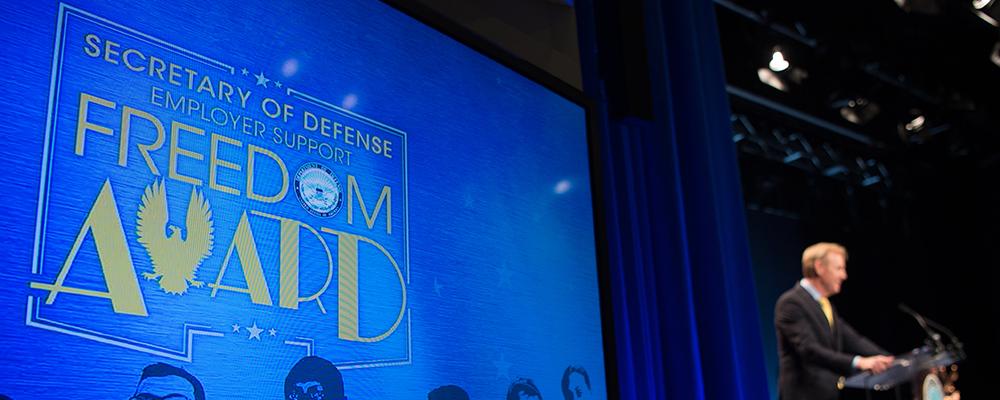 The Defense Department announced this week the 15 recipients of the 2018 Secretary of Defense Employer Support Freedom Award. It is the highest honor given to the employers of National Guard and Reserve members.

The winners were selected from more than 2,350 nominations from Guardsmen and Reservists and their families. They will be recognized during a ceremony Aug. 24 at the Pentagon.

"It is my pleasure to recognize these 15 outstanding civilian employers," Defense Secretary Jim Mattis said in a press release. "Our National Guard and Reserve members are a vital part of our defense strategy and deserve as much support as this country can provide. These 15 employers lead the way in providing that. We are grateful to them for their role in helping keep our nation safe and secure."

The 2018 recipients of the award are: Amazon, Seattle; AME Swiss Machining LLC, Ligonier, Indiana; ArgenTech Solutions, Inc., Newmarket, New Hampshire; Big Sky Advisors, St. Louis; Crystal Group, Inc., Hiawatha, Iowa; Duke Energy, Charlotte, North Carolina; Dunlap Police Department, Dunlap, Tennessee; FMI Corporation, Raleigh, North Carolina; Greencastle Associates Consulting, LLC, Malvern, Pennsylvania; Minnesota Department of Transportation, St. Paul, Minnesota; Slippery Rock University of Pennsylvania, Slippery Rock, Pennsylvania; South Charleston Police Department, South Charleston, West Virginia; Texas Department of Insurance, Austin, Texas; Werner Enterprises, Inc., Omaha, Nebraska; and Wicomico County Sheriff's Office, Salisbury, Maryland.

The award is presented by Employer Support for the Guard and Reserve, a Pentagon agency that promotes understanding between members of the reserve component and the people who employ them in their civilian careers. It helps resolve conflicts when they occur and educates both parties about laws governing military members in civilian jobs.