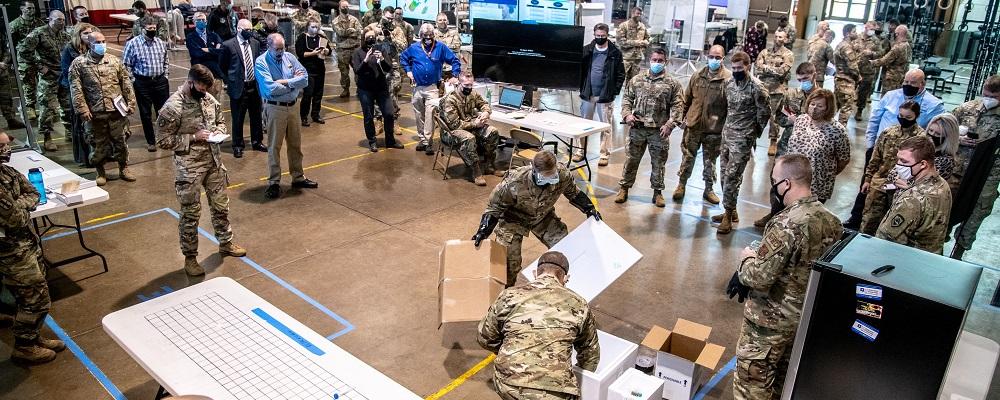 National Guard soldiers and airmen will not be required to get a COVID-19 vaccine, at least not at first, according to Pentagon leaders.
But the Guard will play a key role in the vaccine's distribution. And some members could be eligible to receive some of the first doses obtained by the Defense Department.
DoD leaders rolled out the department's vaccine distribution plan last week. It will distribute 43,875 doses of the COVID-19 vaccine to uniformed service members, family members, retirees, civilian employees and select DoD contractors.
The plan includes members of the National Guard, who will eventually be eligible to receive the vaccine at military medical treatment facilities.
Initial doses have been earmarked for key Pentagon leaders and health care and support personnel who are at greater risk of coming in contact with the virus, including Guardsmen.
Later phases will include critical national capabilities and personnel preparing to deploy overseas. Then comes other critical and essential support personnel, followed by high-risk beneficiaries. The final phase will include members of the DoD's healthy population.
Pentagon leaders said the vaccine will not be required, but added that it could be mandatory once it receives full FDA approval.
Sixteen military facilities have been chosen as initial DoD distribution sites for the vaccines, including two Guard facilities — one in Franklin, Indiana and another in Watervliet, New York.
Meanwhile, Guard soldiers and airmen in half the states and territories are preparing to play a key role in distribution on behalf of their state governments.
As of Monday, 26 states and territories had indicated they planned to use the Guard in some capacity for the vaccine distribution, according to the National Guard Bureau.
Some states had already received and administered their first doses of the Pfizer-made vaccine by mid-morning on Monday.
Maj. Gen. John Harris, the adjutant general of Ohio, said that was the case in his state, where Guardsmen had been practicing their role in the distribution plan for weeks.
Ohio soldiers and airmen are embedded in state Department of Health facilities to help ready the vaccine for redistribution across the state, he said.
The Pfizer vaccine, one of two that has received emergency authorization from the FDA, comes in packages of 975 doses and must be kept at ultracold temperatures, Harris said. Guardsmen have been working to quickly unpack and repack the vaccines.
Guardsmen in West Virginia have undertaken a similar task, according to Brig. Gen. Gene Holt, the assistant adjutant general for the state, which was also due to receive its first vaccines Monday.
Holt said the distribution effort was the culmination of 10 months of COVID-19 missions for the Guard and would hopefully mark the beginning of the end of the pandemic.
"We are now at a pivotal time in this response," he said.
In Oklahoma, Guardsmen will transport the vaccine from prepositioned sites to satellite locations, but will not directly handle the vaccine, according to Brig. Gen. Cynthia Tinkham, the assistant adjutant general.
Distribution plans, and how the Guard fits into them, will vary from state to state and are subject to decisions made by each governor, officials said. In every case, the Guard will work in support of another state agency, typically a health department.
Officials from the three states said they had no plans to use Guardsmen to administer the vaccine. And the vaccines themselves will be carried in vans and other nonmilitary vehicles.
Some states have activated as little as 15 Guardsmen for the distribution mission. While others have more than 100 on duty, depending on their needs. Some states, including West Virginia, said they plan to increase their numbers after the New Year, when additional doses of the vaccine are expected to be available.
Harris said the Guard is well-suited for the mission.
"We are a surge force for our state," he said. "When you have a special response requirement like this — this is exactly what the Guard does."
Tinkham agreed. She noted the Guard's efforts throughout the pandemic and said the receipt of the vaccines was a "momentous day."
"Our soldiers and airmen are very proud to serve their communities and be involved in something like this," she said.
As of Monday, more than 20,000 Guardsmen are involved in COVID-19 missions across the nation, as cases, hospitalizations and deaths have spiked in recent weeks.
At the peak of the Guard response, more than 47,000 Guard soldiers and airmen were on COVID-related duties in all 50 states, three territories and the District of Columbia.