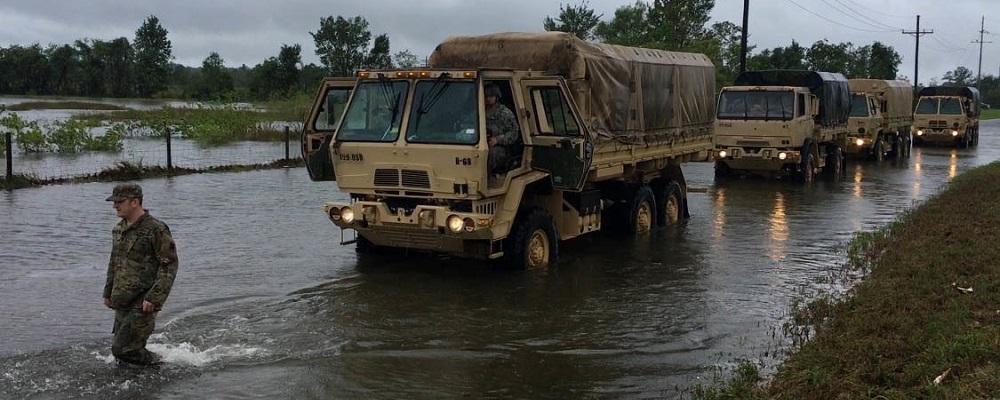 Service members who participated in disaster relief operations during Hurricanes Harvey, Irma or Maria in 2017 could now be eligible to receive the Humanitarian Service Medal.
The medal is open to all military branches and components, as long as they meet the eligibility requirements, according to the Defense Department. Eligibility is based on dates of service and location.
For Hurricane Harvey, the award period starts Aug. 23, 2017, and ends Oct. 31, 2017, for those who served in parts of Texas and Louisiana.
The Texas counties are: Aransas, Austin, Bastrop, Bee, Brazoria, Calhoun, Chambers, Colorado, DeWitt, Fayette, Fort Bend, Galveston, Goliad, Gonzales, Hardin, Harris, Jackson, Jasper, Jefferson, Karnes, Kleberg, Lavaca, Lee, Liberty, Matagorda, Montgomery, Newton, Nueces, Orange, Polk, Refugio, Sabine, San Jacinto, San Patricio, Tyler, Victoria, Waller and Wharton.
The Louisiana parishes are: Acadia, Allen, Beauregard, Calcasieu, Cameron, Iberia, Jefferson Davis, Natchitoches, Rapides, Sabine, Vermilion and Vernon.
For Hurricanes Irma and Maria, the dates for eligibility run from Sept. 8, 2017, to Oct. 20, 2017, and cover the state of Florida and the Caribbean Sea and adjacent waters from Barbados northward to Anguilla, and then westward to the Florida Straits.
National Guard units from multiple states performed disaster response duties during the hurricanes, which caused billions of dollars in damages.
In addition to the domestic response efforts, service members who provided aid following Typhoons Mangkhut and Yutu may also be eligible for the medal.