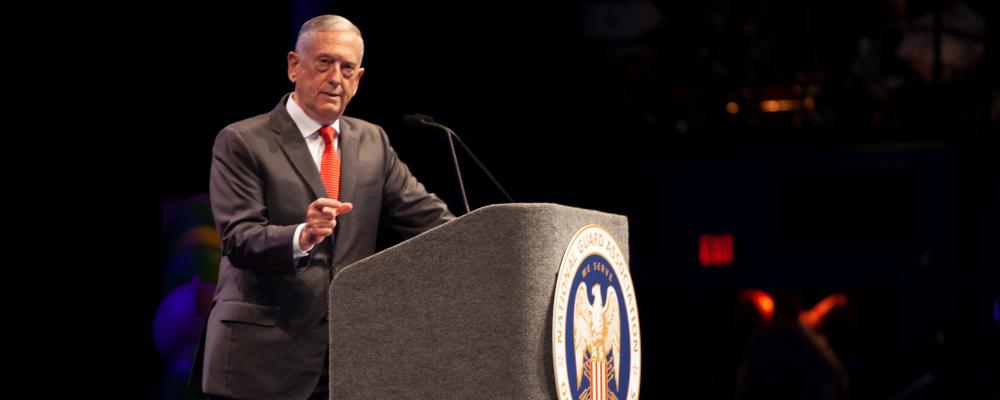 Defense Secretary James N. Mattis submitted his letter of resignation yesterday to President Donald Trump.
In the letter, Mattis laid out a series of differences with the president, whom he said "had the right to have a Secretary of Defense whose views are better aligned" with his. 
He also wrote that he was "proud of the progress that has been made over the past two years on some of the key goals articulated in our National Defense Strategy."
They include "putting the Department on a more sound budgetary footing, improving readiness and lethality in our forces, and reforming the Department's business practices."
Mattis indicated he would stay on until Feb. 28, 2019, a date "that should allow sufficient time for a successor to be nominated and confirmed as well as to make sure the Department's interests are properly articulated and protected at upcoming events."
The letter is posted in the Newsroom of the Defense Department website at www.defense.gov. 
The news comes a day after Trump said U.S. troops would leave Syria.  
The president announced Mattis's exit in a tweet. "General Jim Mattis will be retiring, with distinction, at the end of February, after having served my Administration as Secretary of Defense for the past two years," Trump wrote. "A new Secretary of Defense will be named shortly. I greatly thank Jim for his service!"
Mattis spoke at this year's NGAUS General Conference in August, reminding Guard officers that their job is to prepare the men and women they lead for action. 
"You must make our Guardsmen fit in body, mind and spirit by modelling it yourself, treating every month as if it was the last month of peace, the last week of benign behavior from Mother Nature," he said. 
Mattis, a former four-star Marine general, said his role as secretary has separated him from the people in the field, but he has not forgotten them. Of the Guard, he said, "I don't forget my debts." 
He retired from a decorated career in the Marines — capped by a stint leading Central Command — in 2013, but was lured out of retirement to join the Trump administration in late 2016. 
The president-elect sought current and ex-military leaders, including Mattis, John Kelly, Michael Flynn and H.R. McMaster, to join his team. 
In Mattis's case, he required a congressional waiver to serve as the head of the Pentagon, because he hadn't been retired the minimum seven years.
 
Related: View Secretary Mattis addressing the National Guard at the NGAUS 140th General Conference in New Orleans here.