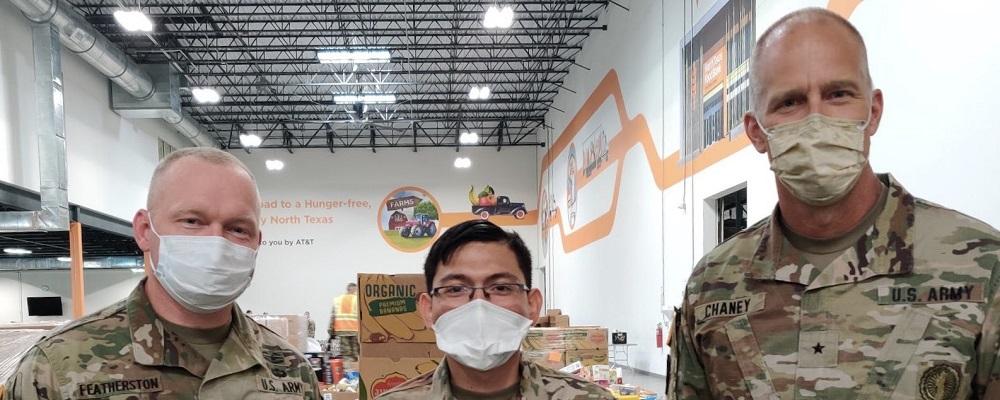 The chorus of national leaders calling for President Trump to extend the domestic deployment of Guardsmen past a June 24 deadline has grown to include top Pentagon officials.
Speaking on NBC's Today Show on Friday, Defense Secretary Mark Esper said he supports extending the deployment past the cutoff if needed to fight the ongoing COVID-19 pandemic.
Gen. Joseph Lengyel, the chief of the National Guard Bureau, went further the same day when he told Politico, "The mission is not done yet. The one thing we know for sure is that this mission is going to continue beyond the 24th of June."
A day earlier, Politico reported, the National Guard Bureau sent guidance to states on ending federal Title 32 deployments of Guardsmen. Title 32 allows states to receive federal funds, but keeps Guardsmen under the command and control of state leaders.
NGAUS has advocated for an extension of the orders beyond the June 24 deadline, which would not only cut the mission short but would also deprive Guardsmen of reaching the 90-days necessary to earn early retirement and education benefits. 
A June 24 deadline would end the mission at 89 days for the first wave of Guard soldiers and airmen mobilized under Section 502(f) of federal Title 32. And states would need to end their missions even earlier to account for end-of-mission quarantines and out-processing requirements.
NGAUS has been joined in its efforts by 125 members of Congress, who signed a letter addressed to President Trump, Esper and FEMA Administrator Peter Gaynor last week.
The bipartisan letter was part of an effort to urge the administration to act to keep Guardsmen in a federal status, provide flexibility for leave, ensure transitional health care and enable members to accrue education and retirement benefits. 
Specifically, the letter asks the administration to:
Keep all Guardsmen on federal Title 32 status rather than transitioning them to state active duty orders early next month. That will ensure access to health care and bring an end to bouts of uncertainty over Title 32 statuses that have plagued the response thus far.
Continue to provide National Guard members with flexibility in how they may utilize leave accrued during the COVID-19 response, including the ability to sell back unused leave without penalty or roll over accrued leave to another activated status.
Ensure all Guardsmen activated in support of COVID-19 are provided Transition Assistance Management Program benefits for 180 days after coming off orders, similar to their Reserve counterparts; and  
Ensure Guardsmen are not being inappropriately prevented from accessing GI Bill and retirement benefits earned by their service.
"Our national success in flattening the curve will not be possible without the contributions of the National Guard," the letter states. "We believe it is critical to ensure that all National Guard personnel are taken care of during this crisis and after, recognizing that the threat of COVID-19 will not immediately go away and the National Guard is likely to be called on again in the future."
NGAUS commended legislators for sending the letter.
"Guard soldiers and airmen on the front lines of this fight want to complete their missions, but this can only happen with the support of the federal government," said retired Brig. Gen. J. Roy Robinson, the NGAUS president. "I know our brave men and women in uniform greatly appreciate this letter, which reflects significant support from both sides of the aisle in both chambers of Congress."   
Others in Congress are taking a more direct approach to addressing their concerns.
Several bills introduced last week would seek to extend the deployments or ensure Guardsmen are eligible for early retirement and education benefits.
Sen. Tammy Duckworth, D-Ill., introduced the National Guard COVID-19 Response Stability Act (S. 3791), which would extend Title 32 authority for all troops activated in response to the pandemic until the end of the public health emergency previously declared by the president. 
Most recently, the public health emergency declaration was renewed in late April for a period of 90 days.
An outspoken critic of the Trump administration's handling of the pandemic response, Duckworth said officials have repeatedly attempted to nickel and dime members of the National Guard.
"This legislation would ensure that all National Guard troops activated to respond to the COVID-19 pandemic are provided with the full benefits they've earned and will give states much-needed certainty during these uncertain times," she said.
Companion legislation (H.R. 6980) was introduced in the House by Rep. Ann Kuster, D-N.H.
A separate, bipartisan proposal was also introduced in the House by Rep. Jimmy Panetta, D-Calif., Rep. Mikie Sherrill, D-N.J., and Rep. Peter King, R-N.Y.
The National Guard COVID-19 Earned Benefits Guarantee Act (H.R. 6957) would direct the secretaries of Defense and Veterans Affairs to treat full-time National Guard COVID-19 activation as not shorter than 90 days, thus qualifying all mobilized Guardsmen for benefits.
"Since the early days of this pandemic, National Guard members have stepped up, stepped forward, and stepped into our communities to help serve us and fight this disease," Panetta said. "Any purposeful plan to end their orders a day short so that they don't receive their proper benefits undermines their service and our security."
King said the Guard's work is far from over.
"These citizen soldiers are taking time away from their families and primary jobs to be at the forefront of this fight," he said. "We need to ensure that we protect their benefits while they are protecting us."