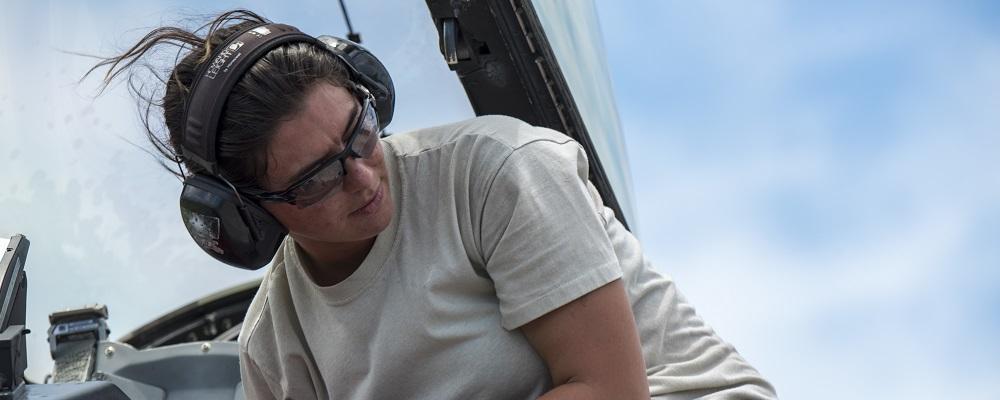 A Colorado airman who helped rescue a man following a catastrophic vehicle accident has been honored as the USO National Guardsman of the Year.
Staff Sgt. Jami DeVries, a crew chief with the 140th Aircraft Maintenance Squadron, 140th Wing was recognized during a ceremony in Washington, D.C. last week.
DeVries was honored alongside USO selections for Soldier, Marine, Sailor, Airman and Coast Guardsman of the Year during an event that featured senior military leaders from across the services and numerous members of Congress.
For DeVries, the recognition came as a complete surprise.
"No part of me thought I was going to get it," she said.
DeVries said she relied on her Guard training and experience in May 2019 after she saw a pickup truck strike a motorcyclist during the morning commute on I-25 near Denver. She was on her way home at 6:30 a.m., following a 24-hour shift at Buckley Air Force Base.
The motorcyclist's leg had been nearly cut in half when DeVries arrived on the scene. She quickly assessed the situation and began to direct the response that would be credited with saving the man's life.
"I ran up, I stabilized his head between my knees and I put pressure on his chest," she recalled. Another motorist offered a belt to serve as a tourniquet. Another called 9-1-1.
After a paramedic took over the response, DeVries turned to the driver of the truck, who was in shock and distraught following the accident.
Using her training as a victim advocate for the Thornton Police Department, DeVries calmed the man down while assisting law enforcement.
DeVries is no stranger to high-pressure situations. Her unit is responsible for keeping the Colorado Air Guard's F-16s in the skies in support of an Aerospace Control Alert mission, a 24/7 duty to protect the nation's airspace.
She said there's no doubt her Guard service helped prepare her for the moment and she said her colleagues in the Colorado National Guard were a big part of the honor she received.
"I wouldn't be here without them," DeVries said. "It's because of them."
Others recognized were credited for volunteer efforts, battlefield heroics and daring rescues at sea.
Gen. John Hyten, the vice chairman of the Joint Chiefs of Staff, said each did amazing things to earn their honors. But he said the best was yet to come.
"Your lives are just beginning," Hyten said. "What you're about to do is really the measure of your life."