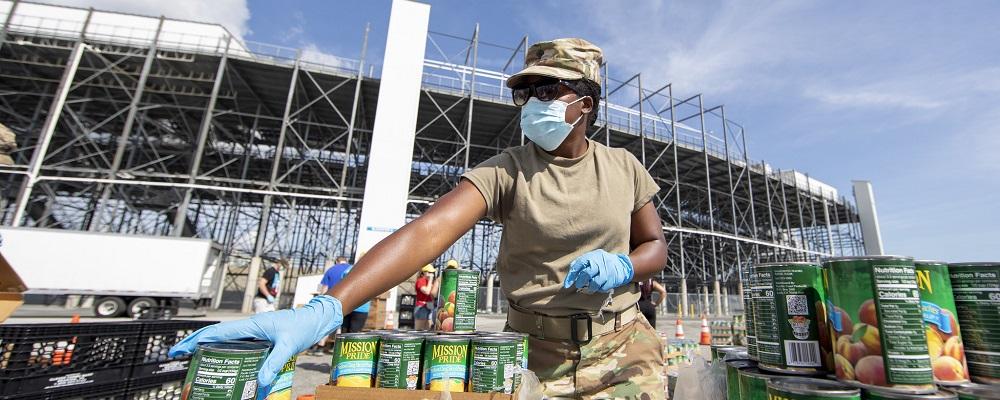 Service members who mobilized for the coronavirus response are authorized to receive the Armed Forces Service and/or Humanitarian Service medals, according to a Defense Department memo signed last week. 
The period of award for both medals is from Jan. 31, 2020, to a future "to be determined" termination date. The location is not specified, as long as the mission was in direct response to COVID-19. 
"Award authorities determine which operations and/or activities are deemed to be humanitarian in nature based off of HSM award criteria," says the memo, signed by Matthew Donovan, the defense under secretary for personnel and readiness.
National Guardsmen serving under federal orders will have their awards approved by their service secretaries, according to the memo. Those on state orders will be approved by the National Guard Bureau chief. 
Service members are not eligible for both medals based on the same activities, deployment or period of service.  
For the AFSM, a service member needs to have spent at least 30 days on pandemic response ― not necessarily consecutively ― after an activation specifically for the response, or after being reassigned from a primary duty to support it.
The time requirement is just one day on-the-job if the service member contracted COVID-19 as a result.
The Guard response to the pandemic hit its highpoint thus far in late May when more than 46,000 were involved. 
As of July 1, more than 31,600 Guard soldiers and airmen continue COVID-19 response efforts in all 50 states, Guam, Puerto Rico, the U.S. Virgin Islands and the District of Columbia.