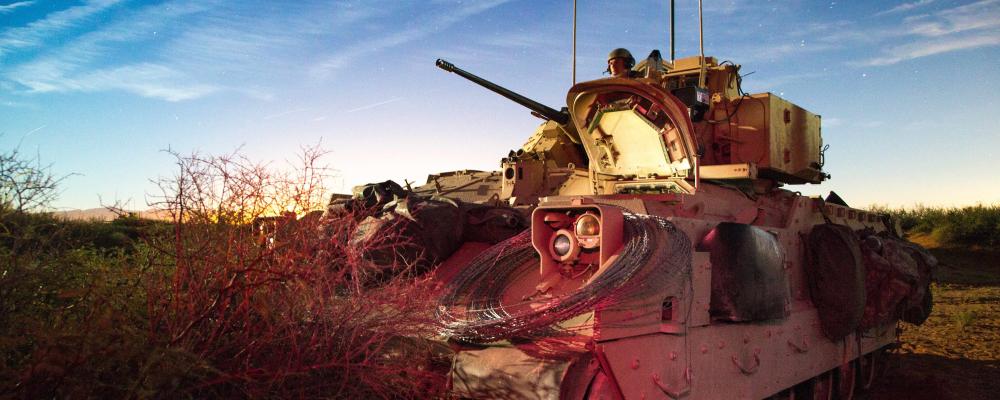 The Army plans to cut 93 programs and alter 93 more to accommodate future next-generation technology under its goal of rapid modernization.
Vehicles and aircraft are among the first to feel the change, as Bradley Fighting Vehicles and CH-47 Chinook helicopters will receive reduced and, in some cases, stop-production orders after fiscal 2020.
The Army is planning to stop procurement for the CH-47F model Chinook for the conventional force, as well as the EMD versions of the Block II Chinook after fiscal 2020. Army Under Secretary Ryan McCarthy said the Army will continue to purchase the G-model helicopters for Army Special Operations.
The service plans to cut modernization efforts for the Bradley Fighting Vehicle program, which currently does not support technologies like active protection systems. Budget documents released March 12 outlines a plan to cut Bradley A4 upgrade plans from 167 vehicles to 128.
Five more sets of Bradley A4 vehicles will be procured during fiscal 2020, with one going to pre-positioned stock in Europe and the other four replacing older-generation Bradleys. The program will stop in 2023 to make room for a Next-Generation Combat Vehicle.
The Army is also planning to curtail more modern systems, including the Joint Light Tactical Vehicle (JLTV) and the Armored Multipurpose Vehicle (AMPV).
The first prototype of the AMPV — designed to replace the Vietnam-era M113 personnel carrier — came off the line in 2016.
The Army has not yet reached a full-rate production decision for the JLTV. Soldier feedback, including larger windows and adding a muffler, pushed the decision from December 2018 to May 2019.
An initial plan to purchase 3,035 JLTVs for the Army in fiscal 2020 has since been reduced to 2,530.
The AMPV top-line requirement remains unchanged at 131 vehicles, but the service is slowing the procurement rate per year.
Overall, the Army moved an additional $3.6 billion into modernization funding accounts for fiscal 2020 over last year's levels, planning to spend $8.6 billion on programs that focus on a more modern force.