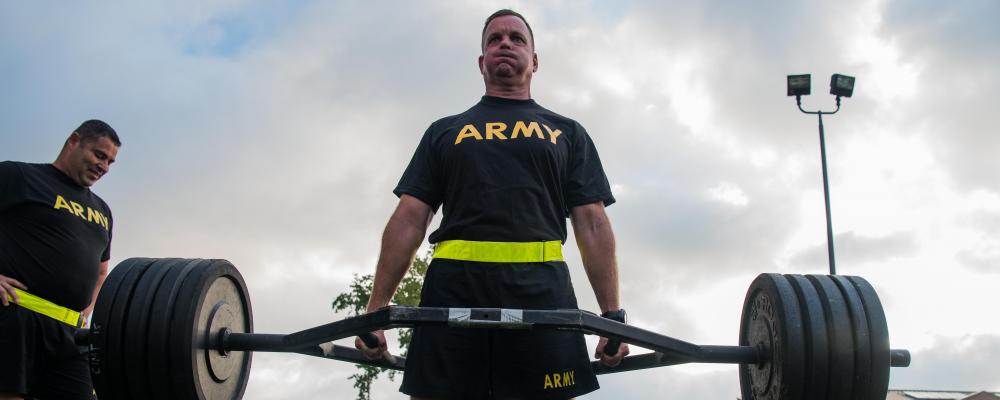 Soldiers with permanent injuries that prevent them from completing the Army's new fitness test could instead take an alternate test, Army officials said.
The Army Combat Fitness Test, scheduled to be finalized in October, includes a maximum deadlift, standing power throw, hand-release push-ups, a 250-meter sprint-drag-carry, leg tucks and a two-mile run. 
But alternate events may include a 15,000-meter stationary bike ride, 5,000-meter row and 1,200-meter swim, according to Task and Purpose. Each event would be finished within 25 minutes.
The alternate test would still require the sprint-drag-carry, deadlift and one of the aerobic events. 
But, for example, the leg tuck might be replaced with an alternative if the soldier had an injury that prevented that exercise. 
Michael McGurk, director of research and analysis at the Center for Initial Military Training, told Task and Purpose that a "permanent profile," or soldier's health status, is established where 'a year or more has passed and doctors have determined that the healing and retraining process is complete, and the condition is not going to get better.'"
The most common profiles are back and knee injuries.
Soldiers who carry the profile would still participate in the minimum number of tests, but are instructed to go "at their own pace and distance." McGurk said the tests are there to prove eligibility; the test is designed to determine whether a soldier can perform the tasks presented to them in a combat situation, not how well they perform.
Profiles like impaired hearing or eyesight will not be considered for alternate assessment, as they do not factor into the ACFT.
Soldiers with permanent profiles must also meet with a Medical Retention Board and Physical Evaluation Boards to determine their fitness for military duty. McGurk said ultimately, the decision to deploy a soldier lies with their commander, no matter what the medical assessment of their condition might be.