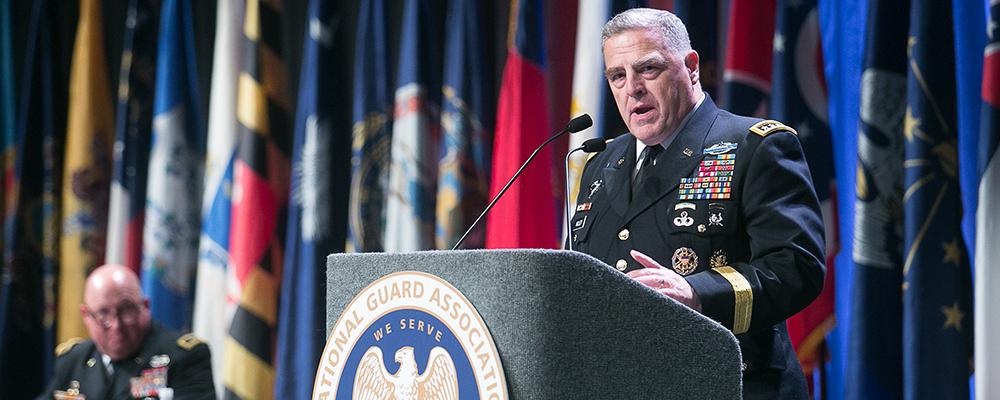 A general officer familiar to many in the National Guard will soon become the highest-ranking member of the U.S. armed forces. 
President Donald Trump announced his intent Saturday to nominate Gen. Mark A. Milley, the Army chief of staff, to become the chairman of the Joint Chiefs of Staff. 
He would succeed Marine Gen. Joseph Dunford, who is scheduled to retire in September 2019, when his second two-year term is complete.  
Milley has worked with NGAUS since becoming the Army chief in August 2015 and has spoken to three of the last four association conferences, including earlier this year in New Orleans. 
"General Milley knows and respects the Guard and NGAUS, and that will be helpful to our force as he assumes the role as the principle military adviser to the president and the secretary of defense," said retired Brig. Gen. J. Roy Robinson, the association president.
The next chairman will serve a four-year term under a reform in the fiscal 2017 National Defense Authorization Act that is designed to bridge any change of top military leadership between administrations. 
However, the chairman always serves at the pleasure of the president and can be fired at any time.
Dunford is expected to serve out his term, which means Milley, who will need to be confirmed by the Senate, would not take his new post until September. 
A native of Winchester, Massachusetts, and a big supporter of the Boston Red Sox and other city teams, Milley received his Army commission after graduating Princeton University in 1980. 
An infantry officer by training, he also commanded Special Forces units in a career that included deployments in the 1989 invasion of Panama, the peacekeeping mission in Bosnia-Herzegovina and the war in Iraq. He also has three tours in Afghanistan. 
The Milley move is the first in a series of military leadership changes in the coming months, including successors in 2019 for Adm. John Richardson, the chief of Naval Operations; Gen. Robert Neller, the commandant of the Marine Corps; and Air Force Gen. Paul Selva, the vice chairman of the Joint Chiefs.
 Trump will also will select a replacement for Milley as Army chief.
Related Content
General Mark A. Milley Speaks at 2018 NGAUS General Conference