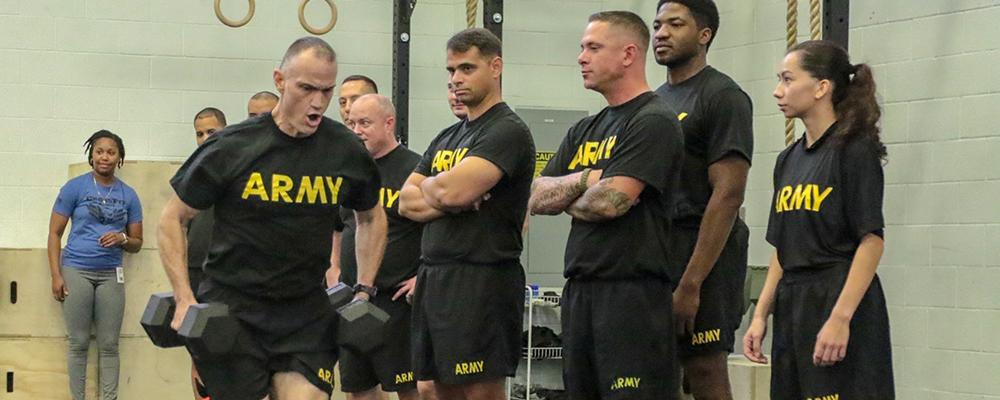 The Army chief of staff says troops will need to be able to pass the new Army Combat Fitness Test if they want to stay in service. 
"If you can't get in shape in 24 months, then maybe you should hit the road," Gen. Mark A. Milley told reporters Monday at the 2018 Association of the United Army's annual meeting in Washington, D.C.
He is referring to the Army's commitment to the new six-event ACFT, which becomes the service's official physical fitness test in October 2020. Field-testing of the ACFT begins across the Army's three components this month.  
"We don't want to lose thousands of soldiers to [the ACFT]. This fitness test is hard. No one should be under any illusions about it," he said. "But we really don't want to lose soldiers on the battlefield. We don't want young men and women to get killed in action because they weren't fit."
Army Secretary Mark Esper said he has heard nothing but support for the proposed replacement for the current Army Physical Fitness Test.
"Everywhere I go, I ask [soldiers] this question, 'What do you think about the Army Combat Fitness Test?' And hands down, you hear unanimous support for this move," he told reporters. "They think it's the right thing to do. They know it will be tough, but they know it will also help them win and survive in combat."
There are, however, some concerns among Guard leaders about the test. It takes more time than the current Army Physical Fitness Test and requires equipment not readily available. 
While the ACFT keeps the 2-mile run as its final event, it introduces five others to provide a broader measurement of a soldier's physical fitness. The six events include:
Strength Deadlift Soldiers will perform a three-repetition, progressively heavier maximum deadlift with a proposed weight range of 120 to 420 pounds. The event replicates picking up ammunition boxes, a wounded battle buddy, supplies or other heavy equipment.
Standing Power Throw Soldiers toss a 10-pound ball backward as far as possible to test muscular explosive power that may be needed to lift themselves or a fellow soldier up over an obstacle or to move rapidly across uneven terrain.
Hand-release Pushups In this event, soldiers start in the prone position and do a traditional pushup, but when at the down position they release their hands and arms from contact with the ground and then reset to do another pushup. This allows for the exercise of additional upper-body muscles. 
Sprint/Drag/Carry As they dash 25 meters five times up and down a lane, soldiers will perform sprints, drag a sled weighing 90 pounds, and then hand-carry two 40-pound kettlebell weights. This can simulate pulling a battle buddy out of harm's way, moving quickly to take cover or carrying ammunition to a fighting position or vehicle.
Leg Tuck Similar to a pull-up, Soldiers lift their legs up and down to touch their knees/thighs to their elbows as many times as they can. This exercise strengthens the core muscles since it doubles the amount of force required compared to a traditional situp.
2-mile Run Same event as on the current test. In the ACFT, run scores are expected to be a bit slower due to all of the other strenuous activity.
The ACFT gauges soldiers on the 10 components of physical fitness: muscular strength and endurance, power, speed, agility, aerobic endurance, balance, flexibility, coordination and reaction time. The current test only measures two: muscular and aerobic endurance, officials said.