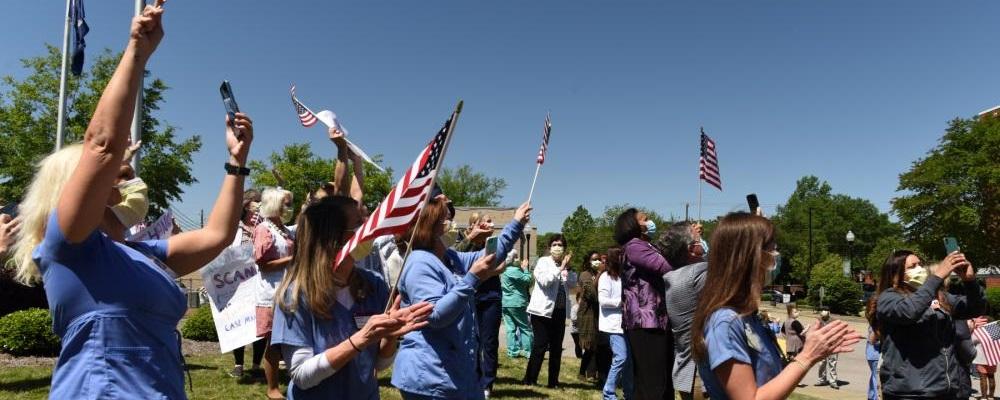 South Carolina Air Guardsmen took part in a round-the-state flyover on Monday, believed to be the first of many salutes to honor officials working to combat the ongoing COVID-19 pandemic.
F-16 Fighting Falcons flown by the 169th Fighter Wing based at McEntire Joint National Guard Base flew over hospitals, law enforcement facilities and other locations across the state as part of Operation American Resolve, which was announced by President Trump earlier this month.
The operation calls for pilots to conduct flyovers of hospitals and other facilities in conjunction with regularly scheduled training.
"This is our way of saying 'thank you' to the South Carolina heroes who are working on the front lines around the clock taking care of us during the COVID-19 pandemic," said Col. Akshai Gandhi, the commander of the 169th Fighter Wing. "Our intent is to boost morale in our great state."
South Carolina Guardsmen have helped deliver medical supplies to all 46 counties amid the state's coronavirus response. The 169th Fighter Wing also provides around-the-clock Aerospace Control Alert for defense of the homeland.
Operation American Resolve is set to involve wings across the Guard in the coming weeks involving numerous types of aircraft.
Over the course of several days this week, A-10s from the 122nd Fighter Wing in Fort Wayne, Indiana, will conduct flyovers of major cities in their home state.
Officials with the wing said the flyovers will demonstrate the Air Guard's continued readiness during the nationwide COVID-19 response while also saluting American heroes at the forefront of the fight.
"Defending the homeland has taken a new shape, and the 122nd Fighter Wing is proud to serve alongside the first responders and essential personnel in the COVID-19 response efforts," officials said.
The president officially announced Operation American Resolve earlier this month, after details of planned flyovers by the Navy's Blue Angels demonstration squadron and the Air Force's Thunderbirds were reported by the Washington Post.
Those units are slated to fly over some major cities, together and separately, according to reports.
Trump said the mission was "the idea of our great military men and women," and was designed to recognize healthcare workers.
"This is a tribute to them, to our warriors because they're equal warriors to those incredible pilots and all of the fighters that we have for the more traditional fights that we win," the president said.