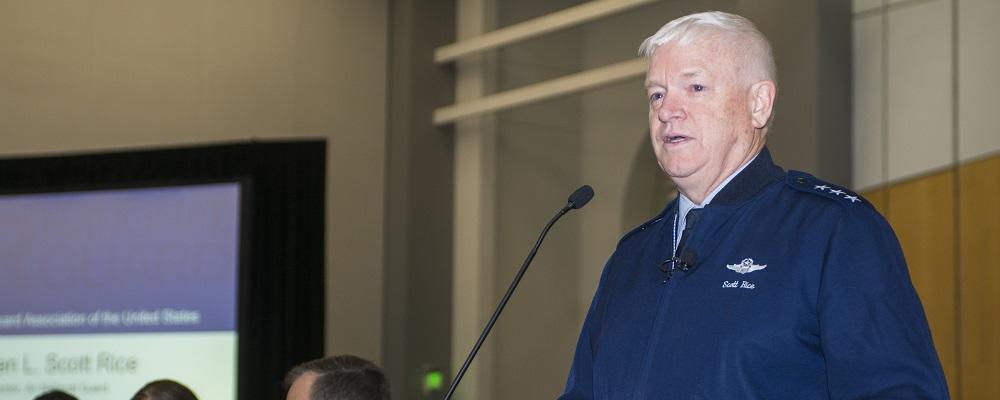 The Air National Guard could miss its personnel end-strength goal by up to 1,000 airmen amid the ongoing coronavirus pandemic, the director of the Air Guard said last week.
Lt. Gen. L. Scott Rice, who has been the Air Guard's top officer since 2016, spoke of the ongoing challenge to keep airmen in uniform during an event hosted by the Air Force Association's Mitchell Institute for Aerospace Studies. He said a lower retention rate was driving the projected deficit, even amid a minor increase in new airmen joining the force.
"Our recruiting is actually increasing slightly," he said. "Our retention has changed for probably the first time in 10 years."
Rice blamed some of that shortfall on recent Air Guard activations and the unpredictability of missions, specifically to respond to COVID-19.
"We had orders in hand in March and April just for 30 days, 31 days and then those are extended to the end of May, and to the end of June, and now we have the authorization to extend them through August," he said. "That's, you know, pretty impactful on people as we look to the future."
Rice said the Air Guard is not unique. The active-component Air Force and Air Force Reserve are also facing similar challenges.
He said one plan to counteract the end-strength shortfall would be to bring back retired pilots and other personnel, particularly those who work for commercial airlines that cut back service during the pandemic-related shutdown. 
Rice said he has some authority to bring back retirees, but said the Air Force secretary holds most of that power.
He also said that not all jobs are suffering from low retention rates. In the operations and maintenance fields, retention remains "very high."
Rice said the pandemic will have other impacts, particularly when it comes to the budget.
"If the [gross national product] goes down, definitely the defense budget at a minimum will remain flat if not go down," he said. "And we're going through drills on a 5, 10, 20% cut in the Department of Defense budget and real buying power. How do we cope with that and how do we drive into the future?"
A silver lining for the Air Guard is its relative cost-effectiveness compared to the active component, Rice said. While he doesn't want to see a smaller defense budget, tighter purse strings could highlight how Air Guard units add value to the total force.