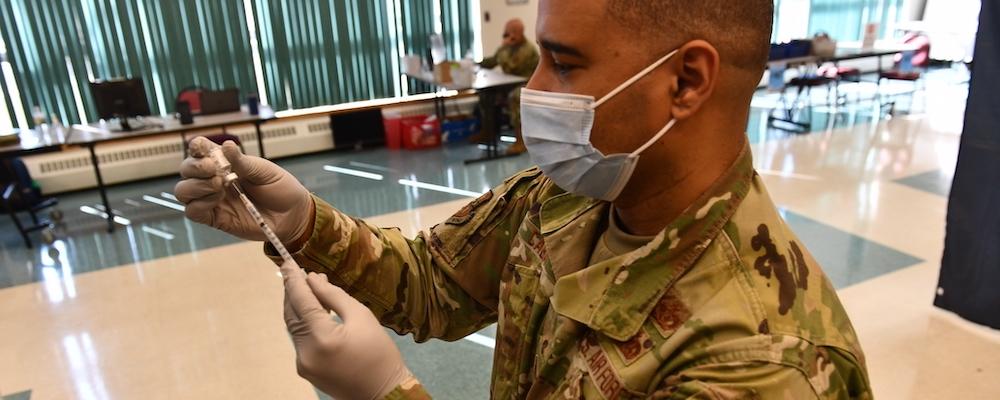 The Air Force has released its policy addressing the way forward for airmen who refuse to take the COVID-19 vaccine without an approved exemption.
The memorandum outlines next steps for airmen who have requested separation or retirement prior to Nov. 2, 2021, and those who have had medical or religious accommodation denied.
"For those who refused to obey a lawful order to receive the COVID-19 vaccine, commanders will continue to take appropriate administrative and disciplinary actions consistent with law and Department of the Air Force policy," officials said. "Additionally, this will result in the member being subject to initiation of administrative discharge proceedings and service characterization will be governed by the applicable Department of the Air Force Instructions."
Service members separated due to refusing the vaccine will not be eligible for involuntary separation pay and will be subject to recoupment of any unearned special or incentive pays, officials said.
Officials also released supplemental guidance for members of the Air National Guard. It states that the Air Force secretary withdraws consent for members not fully vaccinated to be placed on or to continue on previously issued Title 32 Active Guard and Reserve orders.
Unvaccinated Guardsmen who request a medical exemption or religious accommodation will be temporarily exempt from vaccination requirements. Others who do not initiate a vaccination regimen by Dec. 31 will be barred from participation in drills, training or other duty conducted under Title 10 or Title 32.
Service members whose exemption is denied have five days to begin a COVID-19 vaccination regimen or request a second medical opinion or appeal. If eligible to retire, drill status Guardsmen can request to retire with a date on or before April 1, 2022. Active Guard and Reserve members may be able to retire if they begin terminal leave no later than 60 days from notification of their request denial.
Those service members who leave the military due to refusal to receive a COVID-19 vaccine who have a remaining military service obligation will be involuntarily assigned to the Individual Ready Reserve, officials said.
The Air Force released its guidance Dec. 8. A day later, the top Guard officer in a state at the forefront of debate over the vaccine mandate warned his Guardsmen that their decision to not take the vaccine could be career ending.
The deadline for members of the Air National Guard to receive the vaccine was Dec. 2. Members of the Army Guard have until June 30. But Oklahoma Gov. Kevin Stitt has said he will not enforce the mandate, saying he controls the Guard when not in a federal status.
Brig. Gen. Thomas H. Mancino, the adjutant general of Oklahoma, issued a memo to the Oklahoma Guard the day after the Air Force released its guidance.
"I fully support the authority of the governor under the Constitution and Title 32 to govern his forces in Oklahoma, as does the National Guard Association of the United States," he said in a Dec. 9 letter to the force. "It is a legal question as to how far that authority extends. That question will have to be answered in the courts or be addressed in Congress.  
"As I have said, continued service in the national guard will require connections with Title 10 authority. Such connections including training events, schools, and mobilizations are going to eventually force you out of that safe harbor, and subject you to title 10 authorities. This is reality," he added. "Anyone exercising their personal responsibility and deciding not to take the vaccine, must realize that the potential for career ending federal action, barring a favorable court ruling, legislative intervention, or a change in policy is present."
Mancino has said the decision to receive the vaccine is a personal choice. He has noted repeatedly that he is fully vaccinated and believes the vaccine to be safe.
"The governor did not grant you the right to not take the vaccine, you have always had that right. The governor has used his authority under Title 32 to grant you a limited safe harbor within his authority to not be subject to Title 10 negative actions for not taking the vaccine," he said. "It is important you do not mistake my vigorous defense of the Governor's rights under Title 32 as a guarantee you will not face consequences from Title 10 authority. I have no such power."
The Air Force announced yesterday that it has discharged 27 service members for refusing to get the vaccine.