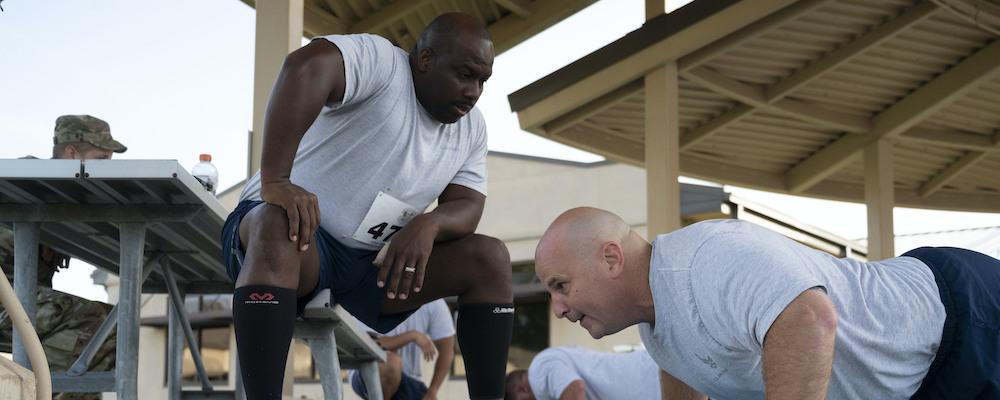 The Air Force is officially adding new alternative components to its physical fitness assessments beginning Jan. 1, 2022.
The new components will give airmen options for assessing their strength and cardiovascular health. They were first announced in July, with updated scoring charts released earlier this month following assessments of approximately 2,000 airmen from 23 installations.
For cardio, airmen will now have the choice of completing a traditional 1.5-mile run or a 20-meter high aerobic multi-shuttle run.
For strength, airmen can chose between traditional push-ups or hand release push-ups.
And for sit-ups, airmen can choose between traditional sit-ups, cross-leg reverse crunches or a plank.
Air Force leaders said they have received positive feedback on the alternative exercises.
"The changes to the physical fitness assessments reflect what we learned and our desire to provide airmen with additional flexibility in maintaining fitness standards," said Lt. Gen. Brian Kelly, the Air Force deputy chief of staff for manpower, personnel and services.
Waist measurement is no longer a component of the fitness assessment, but airmen will continue to be measured per Defense Department instructions, which require service members to be measured for and maintain healthy body composition.
The Air Force Surgeon General has determined waist-to-height ratio will be used to assess body composition, with plans to release additional guidance in future months.
Air Force leaders continue to test future alternatives that can be performed at any location. Based on insufficient equipment, swimming and biking will not be considered as future alternatives. A one-mile walk is also not an option, based on the need for continued testing. However, a two-kilometer walk remains an option for those not medically cleared to perform approved aerobic options.