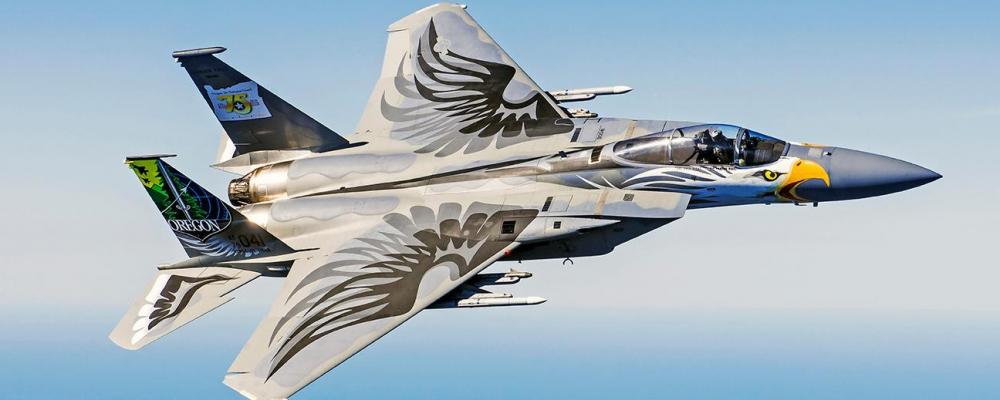 Air National Guard F-15 Eagle fighter units may be in line for a modernized version of their aging air-superiority jets.  
Several published reports indicate the Air Force will include 12 F-15Xs in the fiscal 2020 Defense Department budget request.
The F-15X will be a new variant of the F-15 that includes a new electronic warfare suite, radar, cockpit and the ability to carry more missiles. 
Bloomberg reports that the decision to buy the new aircraft comes from top Pentagon leaders who want new F-15s to replace the aging models in the Air Guard and not Air Force leaders. 
The Air Guard flies 139 F-15 C/Ds across six wings in five states (California, Florida, Louisiana, Massachusetts and Oregon). Five of the units are the backbone of the nation's aerospace-control-alert system. The sixth is the Air Force's only F-15 schoolhouse. 
The original F-15 first flew in 1972, and many of the Air Force's current Eagles entered service in the 1980s. The Air Guard F-15s are on average 35 years old. Most have received some upgrades, but many now need very expensive structure and technology fixes to stay in the fight. 
The Air Force has not purchased new F-15s since placing a 2001 order for five F-15E Strike Eagles, a two-seat version that can bomb ground targets and shoot down other aircraft. 
But Boeing continues to build the aircraft for U.S. allies, such as South Korea, Singapore, Saudi Arabia and Qatar.
The F-22 Raptor was supposed to be the replacement aircraft for the F-15, but the Air Force trimmed its buy to 187 of the stealth fighters and the plane is no longer in production.  
The reports indicate the 15X would only go to the Air Guard. The active-component Air Force operates nearly 100 F-15 C/Ds, including 54 at Kadena, Japan, but Air Force leaders have been resistant to buying new fourth-generation planes. 
In September, when asked whether the service was considering the purchase of the F-15X, Air Force Secretary Heather Wilson said the service needed to use its purchasing power to buy more fifth-generation fighter jets like the F-35 Joint Strike Fighter.
"We are currently 80 percent fourth-gen aircraft and 20 percent fifth-generation aircraft," she said. "In any of the fights that we have been asked to plan for, more fifth-gen aircraft make a huge difference, and we think that getting to 50-50 means not buying new fourth-gen aircraft, it means continuing to increase the fifth generation."
None of the budget decisions are final until the Pentagon submits its request on Feb. 4.