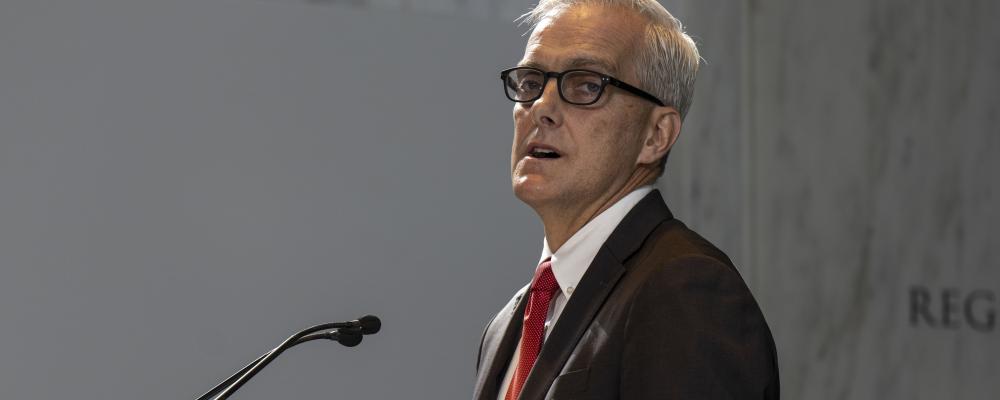 Veterans Affairs Secretary Denis McDonough said that a lack of trust in the Department of Veterans Affairs remains a key obstacle preventing veterans from filing benefit claims, including for benefits covered under the new PACT Act.
"There's just a general lack of trust issue in VA," McDonough conceded at last week's War Horse Symposium, a forum that discussed issues related to service members and veterans.
The Sergeant First Class Heath Robinson Honoring our Promise to Address Comprehensive Toxics, or PACT, Act was named after an Ohio Army National Guard soldier who served in Iraq and Kosovo.
Robinson died in 2020 from toxic exposure resulting from his military service.
Investigative reporters from The War Horse and other media outlets played a part in raising concerns about toxic exposures such as burn pits before the PACT Act passed.
Last week's Q&A with McDonough begins at 2:17 of this video.
McDonough said that as of last week, 450,000 out of roughly 5.3 million individuals eligible to file claims under the PACT Act had done so.
According to the VA, however, more than 2.5 million toxic exposure screenings have been conducted as of March 20.
McDonough said that he sees the 450,000 who've signed up since last August as a small number compared to the more than 5 million eligible beneficiaries.
"Trust is a hard thing to gain, but an easy thing to lose," he responded when asked why the number isn't larger.
McDonough added that some veterans may be reluctant to enroll in VA health care or claim benefits because of previous bad experiences.
Another reason, McDonough suggested, is that veterans may have received misleading information.
As an example, McDonough cited the incorrect belief that an existing service connection rating will be lowered by applying for PACT Act benefits.
McDonough additionally stated that Black and female veterans remain apprehensive of the VA because of past policies and actions.
Since the PACT Act was signed into law Aug. 10, 2022, a total of 172,515 PACT Act-related claims from veterans and survivors have been completed through March 18.
The lag in processing claims reflects major recruiting and retention issues facing both the Veterans Health Administration and the Veterans Benefits Administration.
The VA is conducting a comprehensive, targeted effort to reach veterans and survivors  so that they apply for PACT Act-related care and benefits immediately.
The agency has hosted more than 125 PACT Act "Week of Action" events in all 50 states, the District of Columbia and Puerto Rico.
During these events, the VA completed 5,600 toxic exposure screenings and received 2,600 claims for benefits.
McDonough also highlighted mistrust in the VA as a primary challenge during his 2021 confirmation hearing.
Last November, he told Military Times that "one of the big issues with VA is to make sure that the vets trust us."
— By Jennifer Hickey