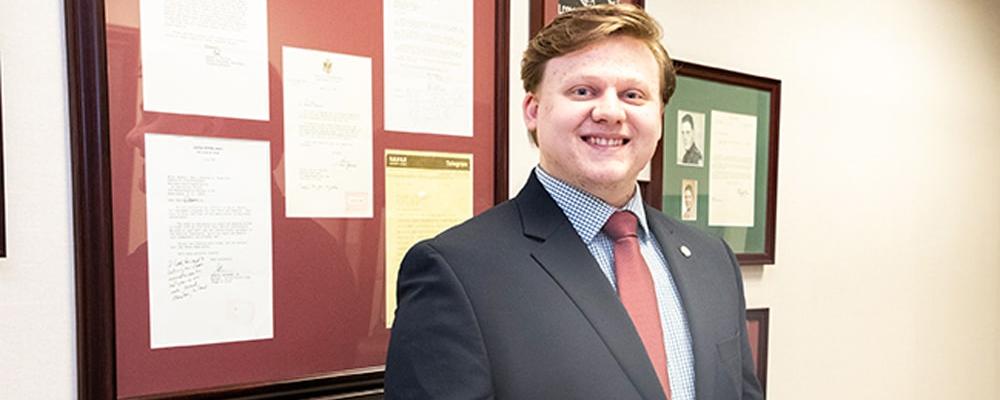 A staffer who has worked in the association's legislative department for four years will become the NGAUS industry liaison.
Blaise Lemke will finish serving as the association's legislative analyst Wednesday.
Lemke will be responsible for growing and maintaining relationships with the association's more than 300 corporate members.
He will also work with the NGAUS marketing team to develop marketing messages and collaborate with the association's Corporate Advisory Panel and board of directors.
Lemke said his new position is a "unique opportunity."
"It's kind of getting out of my comfort zone," he said.
"I really look forward to working with our industry partners and helping them deliver the capabilities our warfighters need to ensure that they do their job the safest and most lethal way that they can," Lemke added.
The NGAUS industry liaison will now operate under the association's membership and marketing department.
"We are excited about the opportunity to administer to corporate members, in many of the same ways that we do with our individual members," said Maria Kelly, the association's director of membership and marketing.
"Of all the various types of membership we have, corporate is the only one that's not currently operating out of the membership department," she continued.
"We just feel like there's a lot of efficiencies and that we'll be able to better serve our corporate members by having our industry liaison partner with the membership and marketing team."
The industry liaison role moving to Kelly's department will help strengthen the connection between NGAUS and its industrial partners.
The decades-old corporate members program is designed to create and sustain relationships among NGAUS, state associations, corporate members and the Army and Air National Guard.
NGAUS created the program to learn more about the latest products and technologies under development in the private sector and reinforce its message on Capitol Hill.
Most companies, organizations and consultants can become a NGAUS corporate member upon approval of an application and payment of an annual fee.
The program is a four-tier system that features various perks, including discounts when registering for the association's annual Industry Day and business strategy meetings with NGAUS members on various subjects.
The Corporate Advisory Panel also helps foster relationships between NGAUS and its industrial partners, helping enhance and promote modernization and readiness for the Army and Air Guards.
More information about the NGAUS corporate members program is available here.
— By Donald Lambert