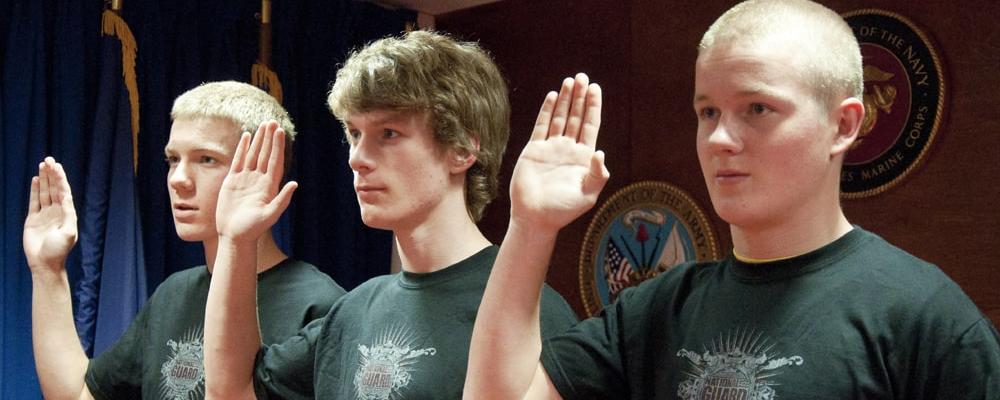 National Guard recruiting has risen in recent months, a pattern officials at the National Guard Bureau believe will continue.
According to NGB, the Air Guard saw an 11% increase over the first quarter of fiscal year 2023 (October through December 2022), while the Army Guard saw a 43% jump in January over the same month last year to push fiscal 2023 accessions up by 7% over the first four months of the fiscal year.
The Army Guard improvement was overstated in a Washington Report In Brief last week.
"We anticipate this trend to continue throughout the year due to the efforts of the recruiting force and the success of current recruiting initiatives," said Kurt Rauschenberg, an NGB spokesman.
Rauschenberg said seven states — Alabama, Idaho, Minnesota, Nevada, New Jersey, New York and Wyoming — are currently exceeding recruitment expectations for the Army Guard, while three states — Arkansas, Arizona and Mississippi — are leading the way for the Air Guard.
NGB says the Total Army's Future Soldier Prep Course at Fort Jackson, South Carolina, is one of the factors in the Army Guard's improvement.
The in-resident program provides otherwise unqualified recruits with up to 90 days to meet the accession fitness or academic standards necessary to ship to basic training.
Nearly 500 Army Guard recruits have graduated since the program began in August, according to NGB.
New enlistment incentives are another factor in the Guard's recent recruiting upswing.
The package includes the $20,000 Army National Guard Non-Prior Service Enlistment Bonus.
Rauschenberg said each state, territory and the District of Columbia has designated seven individual Army military occupational specialties that applicants can enlist in to receive this bonus.
There's also a $20,000 Prior-Service Enlistment Bonus in the Army Guard for Duty MOS-Qualified Soldiers.
But perhaps the biggest factor in the Guard's recent recruiting gains is the renewed ability for Army and Air Guard recruiters to return to schools and explain, in person, what the opportunities and benefits of Guard service are.
Such visits were often on hold during the COVID-19 pandemic.
"I think us being out in the community and people seeing what we do when we're needed is a recruitment tool for us," Lt. Col. Ryan Rossman, the head of recruiting for the Minnesota National Guard, told radio station KSTP. "I think we're on the upward trend right now."
The Montana Air Guard announced in early February that they had one of the highest enlistment quarters in a decade, with 27 people signing up.
"It shows that Montanans still want to serve," Master Sgt. Tyrel Cale, the senior enlisted leader for recruiting and retention for the Montana National Guard, told KRTV. "It's no secret across the nation that recruiting services in every branch are having trouble finding people to join the military in general."
— By Donald Lambert