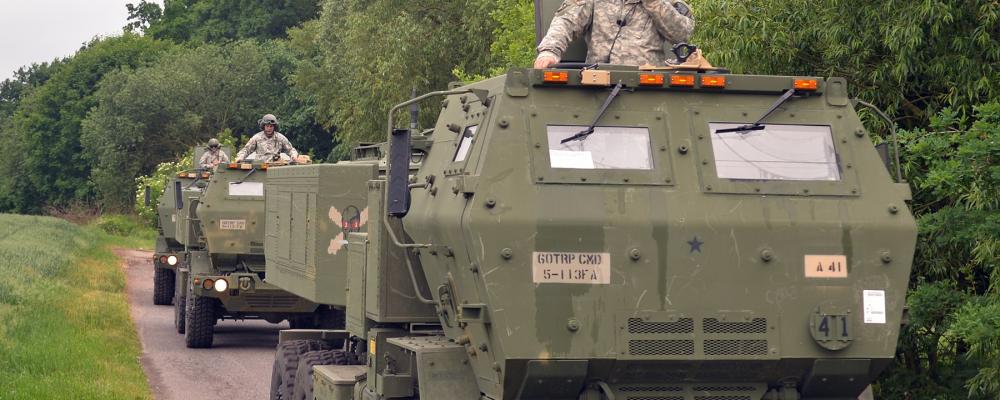 The Defense Department has announced another security assistance package for Ukraine, which will include additional High Mobility Artillery Rocket Systems, ammunition and a substantial number of Phoenix Ghost unmanned aerial systems.
The latest package contains about $175 million in equipment pulled from existing U.S. military stocks through presidential drawdown authority and $95 million in equipment from the Ukraine Security Assistance Initiative, a senior defense official said during a background briefing at the Pentagon last Friday.
The latest presidential drawdown authority package has four HIMARS systems, which will give Ukraine a total of 16; four command post vehicles; additional anti-armor weapons, spare parts and other gear; and 36,000 rounds of 105mm ammunition.
The ammunition supports a donation of howitzers from the U.K., the official said.
With the $95 million USAI outlay, the Pentagon has also committed to send up to 580 more Phoenix Ghost tactical unmanned aircraft systems to Ukraine.
Defense News reports the Phoenix Ghost, which was developed by the Air Force specifically for use in Ukraine, functions similarly to the AeroVironment Switchblade.
Like the Switchblade, the Phoenix Ghost is a loitering munition, meaning it remains airborne for an extended period before acquiring a target.
The Phoenix Ghost has infrared guidance, making it capable of operating at night and destroying medium-armored targets.
Under USAI, these systems will be purchased from manufacturers so they can be delivered to the Ukrainian military.
"The Ukrainians have been making excellent use of the Phoenix Ghost system," the senior defense official said. "This action allows us to go out and procure from industry additional capability. That's where USAI is different from drawdown — this is actually a procurement action."
White House National Security Council spokesman John Kirby additionally acknowledged U.S. officials have begun discussions on providing fighter aircraft to Ukrainian pilots.
"It's not something that would be executed in the near-term," he told reporters during a briefing last Friday, Reuters reported.
Last Wednesday, Air Force Secretary Frank Kendall suggested the U.S. could give some of its A-10 Thunderbolt II airframes to Ukraine.
"That's largely up to Ukraine," he said at the Aspen Security Forum in Colorado, according to Military.com. "Older U.S. systems are a possibility."
"We will be open to discussions with them about what their requirements are and how we might be able to satisfy them," Kendall added.
Last week, the adviser to Ukraine's defense minister said the F-16 Fighting Falcon would fit his nation's air defense better than the A-10.
"If we look at at these needs of the Ukrainian Air Force today, it kind of leads us to conclude that the most optimal option would be something fast and versatile, and fast and versatile are F-16s," Yuriy Sak told Air Force Magazine during a phone call from Kyiv last Thursday.
Last week, Gen. Charles Q. Brown, Jr., the Air Force chief of staff, suggested any aircraft benefiting Ukraine would be made by America or some of its European partners.
"It'll be something non-Russian, I can probably tell you that," he said last Thursday at the Aspen Security Forum, per Stars and Stripes. "But I can't tell you exactly what it's going to be."
Since Russia invaded Ukraine in February, Ukrainian pilots have flown MiGs and several other Soviet-era planes.
Ukrainian leaders have urged the West to give them more modern fighters capable of competing with Russia's air forces.
While a Western model, A-10s are an aging variety much slower than F-16s.
The Biden administration has grappled with how to support Ukraine without escalating tensions without Russia.
Russia's invasion of Ukraine marks the most serious conflict in Europe since World War II.
Moscow's nuclear stockpile has prompted the U.S. and its allies to tread carefully with the crisis.
 - By Mark Hensch