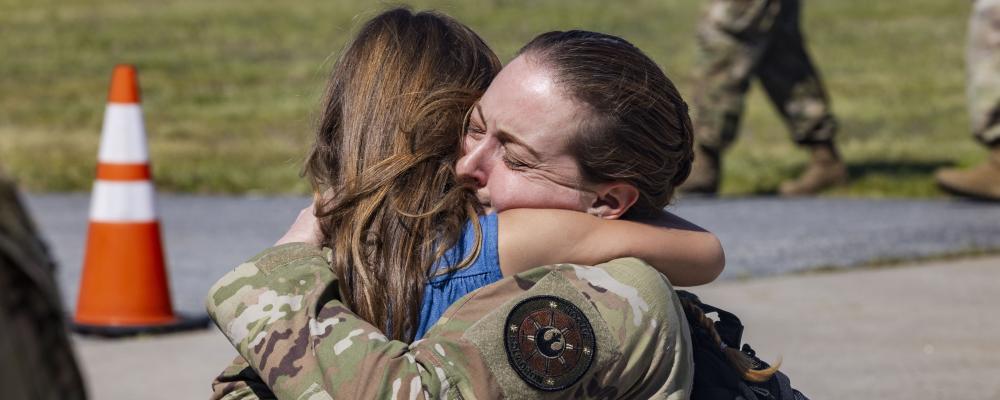 A bipartisan group of lawmakers from both chambers of Congress wants National Guardsmen and Reservists to have the same parental leave benefits as their active-duty counterparts.
Sens. Maggie Hassan, D-N.H., and Lisa Murkowski, R-Alaska, and Reps. Jeff Jackson, D-N.C., and Zach Nunn, R-Iowa, are pushing congressional negotiators to include the idea in the final version of the annual defense policy bill.
The four lawmakers sent the leaders of the House and Senate Armed Services committees an Oct. 20 letter urging them to keep a provision expanding parental leave for the U.S. military's reserve components in the fiscal 2024 National Defense Authorization Act.
"At a time when we are seeing recruiting and retention challenges across the services, this simple fix helps to ensure that parents are fully supported as they build their families," the group wrote.
"It closes a gap for Reserve and National Guard members and allows their parental leave benefits to apply to mothers as well as fathers bringing a new child into the home," they added.
Currently, active-duty birth mothers, spouses, partners and adoptive and foster parents are eligible for 12 weeks of leave.
While this policy covers reserve-component service members on active status, it doesn't help Guard and Reserve personnel on drill status.
These service members must use the Reserve Component Maternity Leave Program instead, which only provides three months of excused absences from drill with retirement points for birth mothers.
"There is no reason why someone drilling with the National Guard and Reserves shouldn't have access to the same paid leave as someone serving on active duty," Hassan said in a statement emailed by her office Monday.
"I am proud to lead this bipartisan push with Senator Murkowski to ensure that all parents who are serving in the National Guard or Reserves — including spouses and parents who are adopting or fostering a child — can access paid leave," she added.
The disparity between the active-duty and reserve components began in January, when the Pentagon released a memo detailing how all new active-duty parents had expanded parental leave eligibility.
Before the change, new mothers received six months of leave, while non-birthing parents got three.
Although the memo applied to the spouses of active-duty personnel or both parents with active-duty ties who have adoptive or foster children, the policy didn't assist Guard and Reserve service members on drill status.
Hassan and Murkowski introduced the Reserve Component Parental Leave Parity Act in the Senate on April 6 to correct this gap, while Jackson and Nunn introduced the House version April 13.
The House version of the NDAA passed earlier this year included the group's provision.
But the measure didn't make it into the Senate's version of the fiscal 2024 NDAA, leaving the proposal's future unclear.
Rep. Mike Rogers, R-Ala., is chairman of the HASC, while Rep. Adam Smith, D-Wash., is the committee's ranking member.
Sen. Jack Reed, D-R.I., is chairman of the SASC, while Sen. Roger Wicker, R-Miss., is the committee's ranking member.
While the four congressional leaders haven't started formal negotiations over the fiscal 2024 NDAA yet, they have been informally discussing the bill.
Also known as a conference committee, these negotiations must reconcile differences between the House and Senate versions of the NDAA before sending it to President Joe Biden for his potential signature into law.
NGAUS sent HASC and SASC leadership a letter in September that listed parental leave parity between the active and reserve components as one of the association's priorities for the NDAA.
— By Mark Hensch