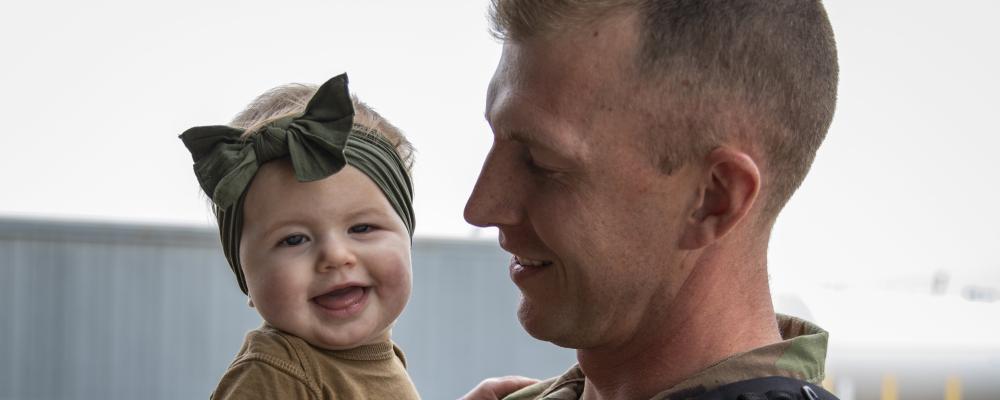 A bipartisan push to expand parental leave eligibility to all National Guard and Reserve parents is happening in both chambers of Congress.
Currently, the reserve-component maternity program gives birth mothers three months of excused absences from drill with retirement points.
The Reserve Component Parental Leave Parity Act would extend the program's benefits to include spouses and both parents with new adoptive or foster children.
Earlier this year, new active-duty parents started receiving all these benefits.
The Reserve Component Parental Leave Parity Act is now being considered in the House and Senate.
Sen. Maggie Hassan, D-N.H., and Sen. Lisa Murkowski, R-Alaska, introduced the bill April 6.
Rep. Jeff Jackson, D-N.C., and Rep. Zach Nunn, R-Iowa, introduced the House version April 13.
"Parental leave should be available to all new parents, and service members in the Reserves and the National Guard should have all the same access to parental leave as those serving on active duty," Hassan said in a press release on the Senate bill.
Murkowski added the measure is "a common-sense solution" that corrects "significant inequities" in existing law.
NGAUS supports the legislation.
Freshman lawmakers with Guard and Reserve ties introduced the House bill.
Jackson drills with the North Carolina Army Guard, while Nunn is a former Iowa Air Guardsman now with the Air Force Reserve.
Nunn has six children — including two adopted April 5 — while Jackson has three.
"Fathers and adoptive parents in the Reserves and Guard deserve the same time with their children as their active-duty counterparts," Jackson said in a press release on the House bill.
"Any service member who serves our country deserves time with their new children," Nunn noted.
In January, the Defense Department released a memo detailing how all new active-duty parents had expanded parental leave eligibility.
The change was required by the Fiscal 2021 National Defense Authorization Act.
Since then, active-duty birth mothers, spouses, partners and adoptive and foster parents have been eligible for 12 weeks of leave.
Before the move, new mothers received six weeks of leave, while non-birthing parents got three.
Now, the Pentagon covers all active-duty personnel, including reserve-component service members on active status.
But DoD's expansion doesn't help Guard and Reserve members on drill status, who must use the Reserve Component Maternity Leave Program.
This leave must be taken within 12 months of giving birth.
Critics have argued DoD's parental leave expansion in January created disparity between active-duty and reserve-component parents.
On April 14, Jackson told Queen City News in Charlotte, N.C., he would've valued more parental leave earlier in his 20 years of Guard service.
"Honestly, it would have made me eligible as a father for some more weekends with my kids, which I would have appreciated," he said.
— By Mark Hensch