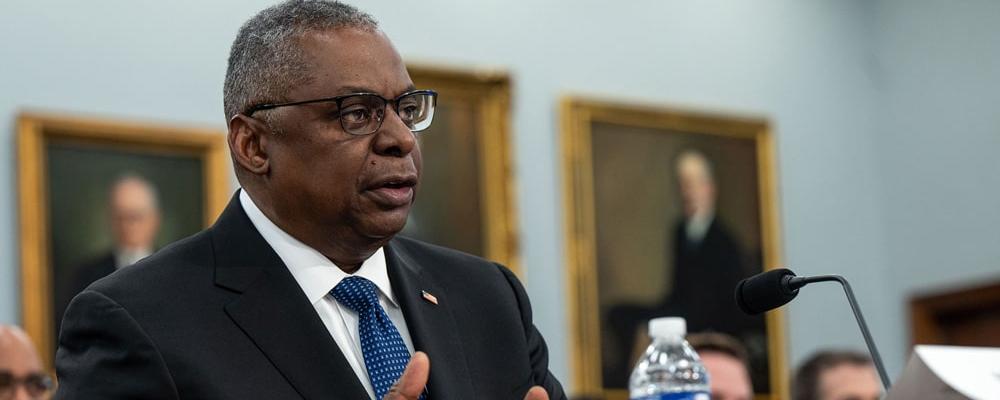 For the second week, senior Defense Department and Department of Veterans Affairs officials are testifying before various congressional panels about President Joe Biden's fiscal 2024 budget proposal, recruiting challenges, personnel policies and overall defense posture.
On Tuesday, the full Senate Armed Services Committee heard from Defense Secretary Lloyd J. Austin III and Gen. Mark A. Milley, the chairman of the Joint Chiefs of Staff.
Come Wednesday, lawmakers will receive testimony from Army Secretary Christine Wormuth and Gen. James C. McConville, the Army's chief of staff, about the service's budget.
Both Milley and McConville plan on retiring this summer.
Austin told the SASC that DoD's $842 billion budget request in fiscal 2024 is "strategy-driven" and critical to advancing three priorities: defending the nation, taking care of our people and succeeding through teamwork.
Sen. Roger Wicker, R-Miss., the SASC's ranking member, called on the Biden administration to ensure that Ukraine has everything it needs as soon as possible.
Wicker also cautioned against any efforts to cut defense.
Conversely, Sen. Elizabeth Warren, D-Mass., argued against spending any more than Biden's request — just as she did last Congress.
Warren asked Austin whether he was comfortable with the figure in Biden's budget to meet DoD's priorities.
"Yes, I am," he answered.
Warren was a signatory on a bipartisan, bicameral letter sent to Austin in February calling on DoD to "begin with eliminating the practice of sending Congress bloated wish lists for additional funds on top of its core budget submissions," according to CQ Roll Call.
The letter was signed by a coalition of progressives and fiscal conservatives who are a potential obstacle to maintaining or increasing current defense spending levels.
The annual "unfunded priorities lists" are defense projects funded with money outside of requests included in the president's budget.
Unfunded priorities lists became statutorily required with the fiscal 2017 National Defense Authorization Act.
Warren asked Austin if he supports ending the requirement and if he believed it could be done without harming DoD's ability to respond to emerging threats. Austin said yes.
The Air Force recently submitted to Congress its $2.5 billion unfunded list, including money to speed up E-7 Wedgetail production and $1.2 billion for 21 military construction projects, Defense One reports.
The Army's $1.9 billion wish list includes funds for Apache replacements and MILCON projects for the Army National Guard.
Proponents of additional funding requests provide legislators information about defense programs that may have merits but aren't favored by the White House.
Sen. Gary Peters, D-Mich., noted that current policy restricts consistent Guard engagement with Taiwan under the same authority as the State Partnership Program.
Instead, Peters said, the policy creates a maze of funding that restricts consistent engagement.
Peters questioned what DoD is doing to reassess relevant authority to streamline this process.
"We're taking a hard look at all the things we can do to increase the capability of our reserve forces," he said, noting the need to remain in compliance with the Taiwan Adjustment Act.
Austin added that the Guard has done amazing work worldwide, noting success in training Ukrainian troops.
The SPP's role as a key element in future engagements with China also arose during last week's House Appropriations subcommittee hearing.
Austin was asked by Rep. Steve Womack, R-Ark., if SPP can or does play a role in assisting Taiwan with preparing for contingencies.
"I think it is [helpful]," Austin responded. "This program adds value wherever we are, wherever we are partnered with around the globe."
Austin added that the work of Guardsmen in Taiwan complements DoD efforts in the Indo-Pacific region.
On Tuesday, the House Oversight Committee also conducted a hearing on "progressivism in the military," which examined the impact of diversity policies on military readiness and recruitment.
On Thursday, the House Veterans' Affairs Committee will mark up several bills related to economic and educational opportunities for veterans.
Congress next heads for its spring break at the end of this week, with both chambers returning to shape their respective budgets soon thereafter.
If recent history is any indicator, the House will move on its budget by early summer.
— By Jennifer Hickey