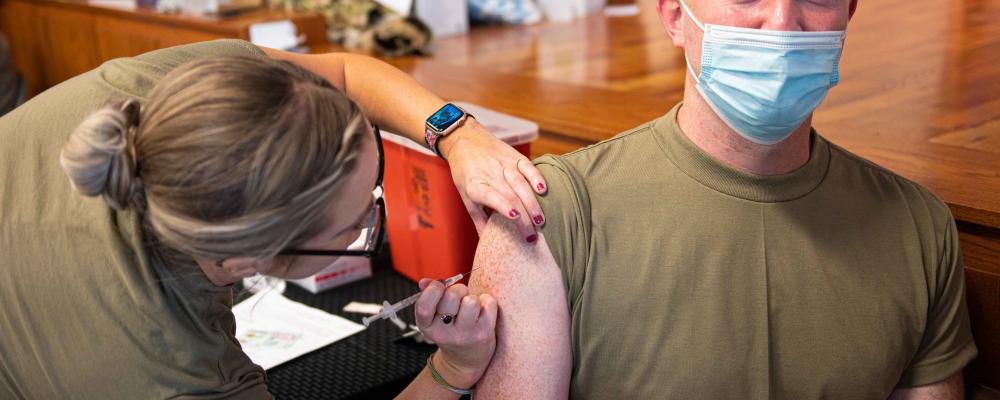 A federal court in Ohio on Thursday blocked the Air Force from enforcing the military's COVID-19 vaccine mandate for two weeks, multiple reports say.
The order means the Air Force cannot discharge personnel whose application for a religious exemption to the Pentagon-mandated vaccine was denied or is being processed.
Judge Matthew McFarland's decision brings the case, Doster v. Kendall, closer to trial as a class-action lawsuit.
McFarland criticized the Air Force for failing to fully consider the merits of each exemption request.
"Members face the same injury: violation of their constitutional freedom by defendants' clear policy of discrimination against religious accommodation requests," wrote McFarland, of the U.S. District Court of the Southern District of Ohio.
The case is one of multiple legal cases against the COVID-19 vaccine mandate.
Lawyers are waiting to see if a federal court in Georgia will stop the vaccine mandate nationwide through another class-action preliminary injunction as well.
"The government has recently ordered imminent punitive action against those men and women of faith who cannot in good conscience take these experimental vaccines, and this order stops the government in its tracks," Adam Hochschild, a lawyer with the Thomas More Society and lead counsel in Air Force Officer v. Austin, said in a release.
About 97% of Air Force personnel — active, Air Guard and Air Force Reserve — are fully vaccinated. The Air Guard figure is 94.15%.
Air Force data as of July 11 shows 624 approved medical exemptions (193 of which are in the Guard), 817 administrative exemptions (712 of which are in the Guard) and 104 approved religious exemptions (no Guard number provided), with nearly 3,000 requests pending.
The Air Force has administratively separated 834 airmen for refusing the vaccine.
 - By John Goheen