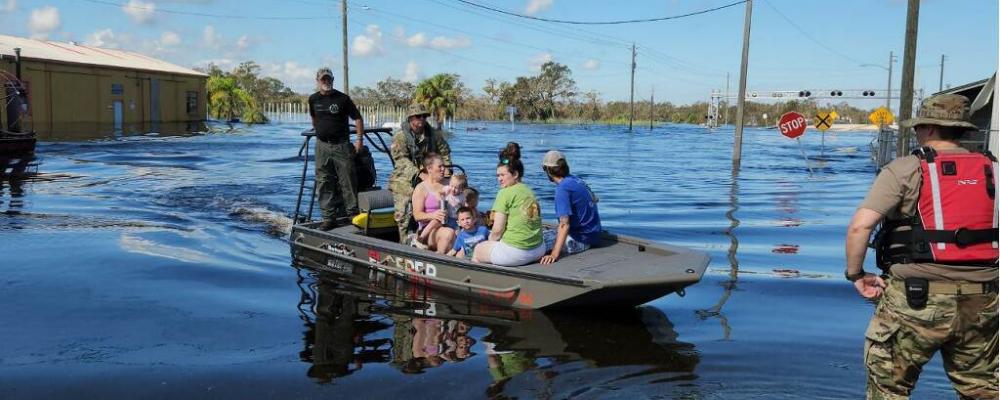 The 2023 Atlantic storm season is underway, and National Guard officials say they're ready to respond wherever and whenever hurricanes strike.
The National Oceanic and Atmospheric Administration is predicting near-normal hurricane activity this year, with 12 to 17 named storms with winds of 39 mph or higher.
Five to nine of these storms could become hurricanes with winds of 74 mph, and one to four storms could become major hurricanes with winds of 111 mph or more.
Hurricane season in the U.S. runs from June 1 to Nov. 30.
"We are standing by to assist as needed when the governors call our states' National Guard members to assist," said Deidre Forster, a National Guard Bureau spokeswoman.
Guard officials in many of the states most likely to be impacted by hurricanes have already met with state and local first responders; many of these officials have also pre-positioned equipment to streamline any disaster response.
Last year, there were 14 named storms, including two which intensified into major hurricanes — Hurricane Ian and Hurricane Fiona.
In 2023, the Guard has already provided relief for Typhoon Mawar, a Category 4 storm that hit Guam in late May. Mawar was the strongest storm to hit Guam in more than two decades, causing $112 million in damage to the island's commercial sectors.
The difference between typhoons and hurricanes is purely geographic. In the North Atlantic and Northeast Pacific oceans, the term "hurricane" is used, while in the Northwest Pacific Ocean, these storms are called "typhoons."
After Mawar struck Guam, Guam National Guard members immediately assisted relief efforts by clearing roads, removing debris, directing traffic and helping restore power. NGB, the Hawaii Guard, U.S. Army Pacific and Army Reserve personnel also assisted the island's recovery.
"It's our duty to protect people and property, whether that be [in the U.S.] or overseas," said Brig. Gen. Jonathan Beddall, the vice director of NGB's Joint Operations Center. "We offer highly trained and tested personnel capable of responding anywhere they're needed."
The emergency response to Ian served as the Guard's largest single-event disaster relief operation for 2022, with more than 63,000 Guardsmen from 11 states involved with recovery efforts related to the Category 4 storm.
According to NOAA, 156 people died during Ian, and it became the third costliest storm in U.S. history, causing $114 billion in damage.
Ultimately, the Guard saved more than 2,000 people and 50 pets from Ian's devastation.
Last September, the Guard conducted simultaneous relief operations for Fiona and Typhoon Merbok.
More than 14,000 Puerto Rico and Virgin Islands Guardsmen responded to Fiona. Fiona caused widespread damage, flooding, mudslides and power outages in Puerto Rico, prompting Guard rescuers to evacuate more than 1,000 people there.
After Merbok hit Alaska's west coast, approximately 1,500 members of the state's Guard were activated for Joint Task Force Alaska. The task force cleared more than 125,000 pounds of debris from 16 Alaskan communities.
NGB estimates over half of the Guard's roughly 450,000 personnel participated in life-saving natural disaster responses last year.
"When our National Guards are called in to help, it's usually because a disaster has exceeded the capability of the local officials or what we would call our first responders," Gen. Daniel R. Hokanson, the chief of NGB, said earlier this year.
"And that's our promise: 'Always Ready, Always There' for our nation, for our communities and for each other," he concluded.
— By Donald Lambert