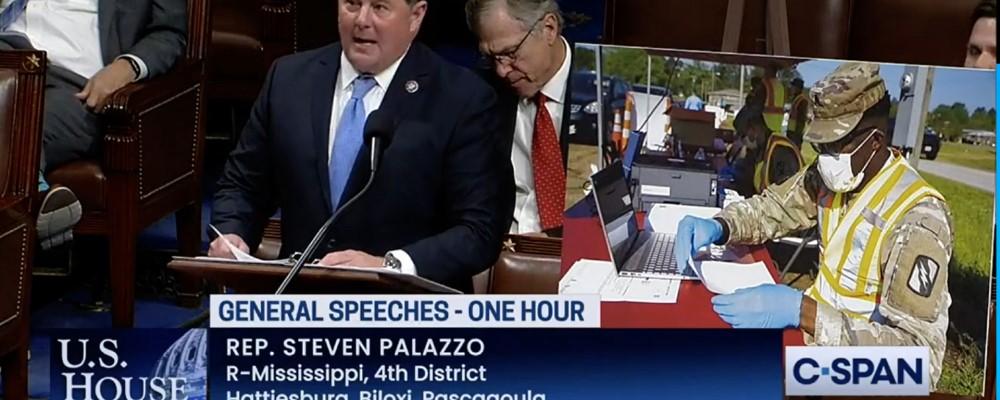 Some members of the House of Representatives gathered to recognize the National Guard and its accomplishments with a series of special order speeches Thursday on the House floor. 
"Over the last few years, our National Guard soldiers have been more in the spotlight than ever before," said Rep. Steven Palazzo, R-Miss. "These men and women prove true to their motto of 'Always Ready, Always There.'"
Palazzo, the Republican co-chair of the House National Guard and Reserve Caucus and a member of the Mississippi Army National Guard since 2007, said the presentations highlighted the work the Guard has done in recent years, including response to the COVID-19 pandemic and 2021 deployment to defend the U.S. Capitol. 
"There are a lot of issues that divide our nation and Congress, but I know support for our National Guard and Reserve continues to be bipartisan," Palazzo said. 
Rep. Kaiali'i Kahele, D-Hawaii, spoke about Congress passing legislation aiding the Guard, including the 1095 Rule Amendment Act, which provides more opportunities for full-time National Guard and active-duty reserve members by increasing the number of days they can serve before counting against active end strength.
"An important aspect of my job is to listen and hear from our men and women in the National Guard," said Kahele, who also serves as a member of the Hawaii Air National Guard. "Many of my policy proposals are the result of hearing directly from our Guardsmen."
Kahele is the Democratic co-chair of the House National Guard and Reserve Caucus.
Rep. Mike Carey, R-Ohio, recognized the Ohio National Guard's response to the pandemic. He singled out the Guard's work at a drive-through testing site where the Guard collaborated with Ohio State University to ensure more than 1,000 people could be tested.
"It was an amazing operation that could not have worked without the experience and efficiency of our National Guard members," he said. 
Rep. Brian Babin, R-Texas, spoke highly of the Texas Guard's response to natural disasters and how it has handled border security at the U.S.-Mexico border. 
"As a former member of the Texas Army National Guard, I stand behind you Guardsmen who are called with every capability to do any job and offer my heartfelt admiration," he said.
Other speakers included Rep. Buddy Carter, R-Ga., Rep. Andrew Clyde, R-Ga., Rep. Jack Bergman, R-Mich., Rep. Michael "Mike" Guest, R-Miss., Rep. Trent Kelly, R-Miss., Rep. Kevin Hern, R-Okla., Rep. Burgess Owens, R-Utah, and Rep. Ben Cline, R-Va.
Kelly is a major general in the Mississippi Army Guard. 
The video, which features every speech, can be viewed here.